January 20-21 lunar eclipse: This is worth staying up late for, North Carolina
January 14, 2019
By Amy Sayle
On late Sunday evening, January 20, 2019, into early Monday morning the 21st, you can watch the full moon pass into Earth's shadow: a lunar eclipse.
The main action starts Sunday night, Jan. 20, with a partial eclipse beginning at 10:33 p.m. The eclipse will be total from Sunday 11:41 p.m. to Monday 12:43 a.m., then it becomes partial again, ending at 1:50 a.m. Monday, Jan. 21. (All times Eastern.)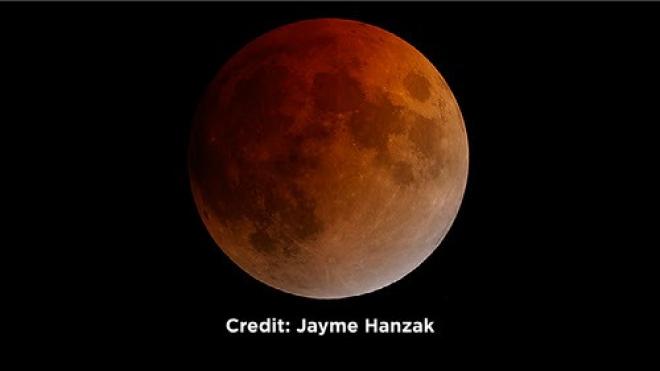 Here's why this lunar eclipse is worth staying up for, North Carolina.
It's been a while. The last total lunar eclipse with totality visible from North Carolina was back in 2015. Although there was a total lunar eclipse in January 2018, only the initial partial phase of the eclipse was visible from North Carolina.
It'll be awhile until the next one. The next total lunar eclipse after this one is May 26, 2021.
During this eclipse the Moon will be especially well placed – high in the sky – for the eastern United States.
We'll be able to see all phases of the eclipse, including totality and the partial phases before and after.
The eclipse happens on a holiday weekend. Possibly you won't have work or school on Monday and can more easily miss some sleep.
It's easy to observe a lunar eclipse.
You need only your eyes and clear (enough) skies. And warm clothing. Although the Moon will be a striking sight through binoculars or a telescope, you can use just your unaided eyes to view the eclipse.
You will still be able to see the Moon. It does not completely disappear during totality because Earth's atmosphere will bend sunlight into Earth's shadow and out into space to strike the Moon. Generally, the eclipsed Moon turns an interesting shade of red or orange, though sometimes it's more gray or brownish. Don't be surprised if you have to hunt around the sky for a moment to find the Moon. It can look dark enough that it may be harder to spot than you expect.
You don't need to worry about ruining your eyes. A lunar eclipse is safe to look at with your unaided eye, as well as through binoculars and telescopes. Those eye safety warnings you may remember from the August 2017 solar eclipse don't apply with a lunar eclipse.
You don't need a dark site. Light pollution is less of a factor for viewing a lunar eclipse than for events such as meteor showers.
Join us in making eclipse memories.
Experience a simulation of the eclipse in our planetarium sky at Star Families: Moon Stories on Saturday, Jan. 19, at 3:30 p.m., or during the Carolina Skies show on Sunday, Jan. 20, at 3:30 p.m. There is also a special eclipse edition of Carolina Skies on Sunday night, Jan. 20, but it is sold out. You can also see an eclipse simulation online at https://www.timeanddate.com/eclipse/lunar/2019-january-21 but it's more fun in our planetarium sky. And it's way more fun to . . .
. . . Experience the real thing. If the weather permits, please join us at the Morehead Sundial for a free skywatching event. Morehead educators and volunteers from the Chapel Hill Astronomical and Observational Society will have telescopes set up for you to look at the Moon and other objects, from 10:30 p.m. Sunday, Jan. 20, 2019 until 12:30 a.m. Monday, Jan. 21. Morehead Observatory will also be open.