*IMPORTANT NOTICE: COVID-19*
Thank you so much for your interest in planning a field trip to Morehead Planetarium & Science Center. At this time, we are not accepting reservation requests. Please check back soon, or reach us at mpsc_reservations@unc.edu with questions.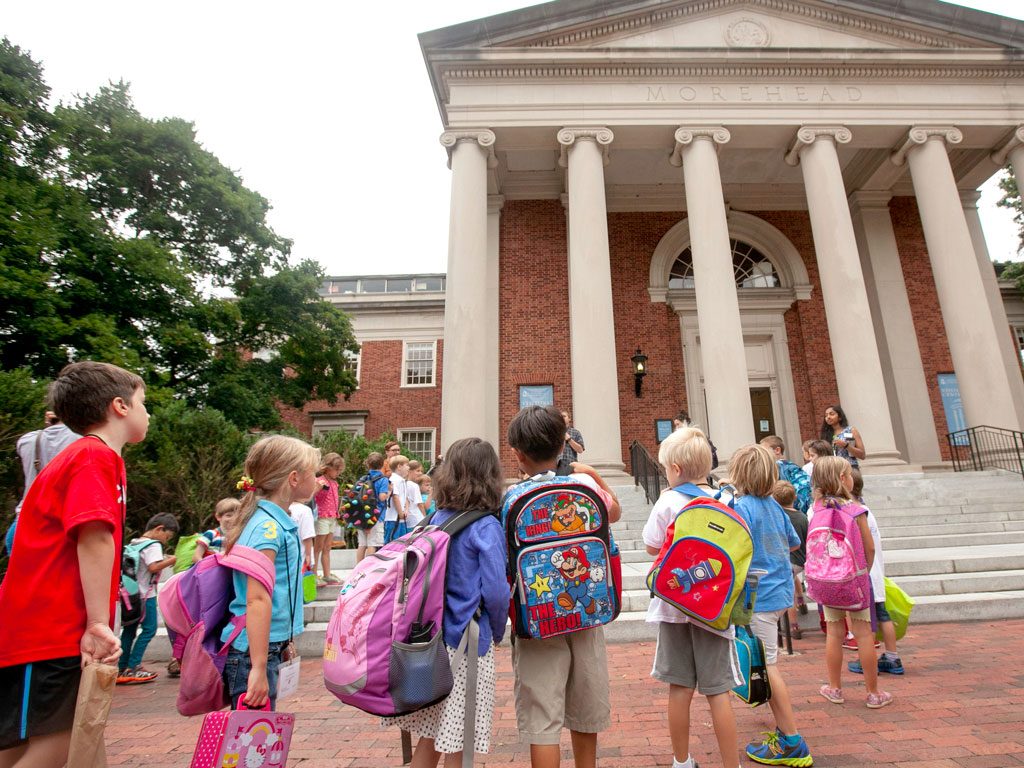 Field trip groups have visited Morehead Planetarium & Science Center for more than 65 years.
Morehead knows how to bring science to life, with exciting and inspiring programs designed to engage young explorers.
Our programming aligns with North Carolina Essential Standards, ensuring that your field trip will enhance your classroom instruction. Morehead's Reservations team works closely with you, so your field trip will be a great educational experience.
Pricing
Students/Children: $6.25
Adults: $7.25
1 FREE adult admission per 10 students.
Add-Ons
$4.00 per person (for each additional same-day program)
Tax
A tax of 7.5% for state and local sales & use for admissions is applicable
to all tickets for planetarium shows only.
Reservations are available for any group of 10 or more people. We can accommodate groups of most any size, but depending on the total attendance and number of programs your group wishes to see, we may not be able to accommodate the entire group in one day.
Reservations must be requested (and confirmed) at least 1 week in advance. We are unable to accommodate reservation requests less than a week in advance.
Complete an online request form above to start the reservations process. You can make field trip reservations for dates that fall between Sept. 10, 2019 and May 29, 2020.
Morehead's Reservations team will then contact you to discuss your reservation options and help complete your reservation.
Please call our Reservations Team at 919.962.1236 if you need additional assistance.
Terms
Balances for reservations are due by 5 p.m. on or before 3 business days prior to the visit date.
Payments are accepted via business check (no personal checks please), or by VISA/MasterCard.
North Carolina public schools (K-12, charter, and college/universities), NC state agencies, and/or NC county agencies such as school districts, libraries, etc. may receive net-30 payment terms upon request. Contact our Reservations Team with questions.
Policies
Every student and adult (educators, parents and bus drivers) in your group requires a ticket, and must be counted in your group reservation numbers.
Children or adults who have a Morehead membership cannot use their member benefits for admission during a school field trip or other group visit.
---
Private Planetarium Shows*
Students/Children: $7.25
Adults: $8.25
Minimum charge of $400 must be met for any private show reservation.
Tax of 7.5% is applicable to private shows.
*Only available after 4:30 p.m. on weekdays, and non business hours on weekends
For field trip reservations, it is Morehead's policy to communicate directly with the school or group visiting in addition to the third party or charter operator. Please include the name of the school and a contact person at the school who we can copy on all email communications.
If a third party arranges a field trip visit, they are financially responsible for the visit, and payment is required two weeks in advance of the visit. "Third party" is defined as a company, organization or individual (charter operator, travel agent, etc.) who is not an employee of the school or group.
*Please note that the priority date to be considered for a 2019-2020 scholarship has passed.
Thorough the generous gifts of many donors, Morehead is able to offer field trip subsidies, or scholarships, to schools meeting certain criteria. You can learn more about available scholarship programs and criteria for each by visiting this page.
If you would like to request a scholarship for your reservation, you will be able to do so when you make your online request. If you have already booked a reservation and would like to be considered for a scholarship, contact our Reservations Manager at 919.843.3522 or by email at rwatt@email.unc.edu.​
Requests for the 2019-20 school year will be reviewed on a first-come, first-serve basis and will be added to wait-lists in the order they are received if no funds are available.
Morehead does not coordinate lunch orders as an add-on for field trip groups; however, schools are welcome to place catered lunch orders with area vendors. Please contact the Reservations Team at 919.962.1236 for additional information.