Plan a Field Trip – In Person or Virtual!
Plan a Field Trip – In Person or Virtual!
Virtual Field Trips – Virtual STEMville!
An expedition of science for Grades K-12!
Will you take Astronomy Avenue or the Experiment Expressway to get to STEMville? Will you stop by the Scientist Block Party on your way?
On this epic journey, students will explore a variety of STEM concepts through engaging virtual workshop sessions with Morehead educators and scientists from our state. We'll use special planetarium software to learn about the sky and other current astronomy topics. We'll conduct exciting science experiments in our lab, and talk with scientists about different scientific methods for their research.
But the fun won't stop there! Read below for more program details.
We are currently accepting requests for Virtual STEMville for schools for limited dates this summer.
Available Sessions
Summer 2021:
By reservation on limited dates.
In this Virtual STEMville experience, participants will join a 360° planetarium show viewing, explore current astronomy topics, learn about hidden science stories, and observe our night sky using planetarium software.
Elementary School (Grades K-5)
These standards-aligned lessons will focus on objects in our solar system, how they move and change over time, and how they fit together to make our place in space so great. 
Middle/High School (Grades 6-12) 
These standards-aligned lessons will focus on current space missions, aeronautics, and the exploration of the solar system and beyond. Groups will also have the opportunity to dive deeper into current Physics/Astronomy topics. These lessons will focus on topics ranging from navigating our sky with seasonal constellations to exploring the nature of black holes. 
Morehead astronomers and guest scientists may also provide live Q&A and additional activities and resources for further at-home science enrichment.  
This program's duration is 45 minutes.
Best For: Grades 3-12
Join the dynamic duo of educator and scientist while they conduct a fun scientific demonstration or activity for your students! Your students will meet a real scientist and learn about their path to becoming a scientist and how they use the scientific method in their research!
This program's duration is 45 minutes.   
Elementary School (Grades K-5) 
All the fun and energy of a Science Stage show delivered directly to you. A live presenter will demonstrate exciting science experiments on your screen and answer your questions. Participants will have the opportunity to see what might be the world's strongest balloon, learn what a "non-Newtonian fluid" is, and we might even start a fire tornado!  
Middle/High School (Grades 6-12) 
Some experiments are just too dangerous to do at home… fortunately we have some trained scientists ready to do them from the safety of our lab and on your screen! Expect to see both fire and ice as a live presenter answers your questions and performs exciting chemistry and physics demonstrations in this one-of-a-kind experience. 
This program's duration is 45 minutes.   
Pricing
Educators & Other Groups
Fees
$125 + tax for 1 session
*Bundle
$325 + tax for 3 sessions
Additional Information
Virtual STEMville sessions are available by reservation this summer on limited dates. You can choose your own program content and tailor the experience for your students! There is no minimum or maximum attendance requirements for the program.
Sessions will be held via Zoom webinars. Links and instructions on how to access the virtual session will be sent by email a week prior to the session.
Payment is due 1 week prior to your program date. Public K-12 schools, charter schools, and state or local agencies may request Net 30 terms.
Cancellations must be submitted one week in advance. Cancellations submitted less than a week in advance are due in full.
Contact our reservations team at mpsc_reservations@unc.edu with additional questions!
In-Person Field Trips
*IMPORTANT NOTICE: AVAILABILITY & COVID-19*
Thank you so much for your interest in planning a field trip to Morehead Planetarium & Science Center. At this time, all available summer 2021 weekday times for in-person field trips have been booked. You are still welcome to complete a reservation request to be added to the Summer 2021 waitlist.
Groups wishing to visit on weekends may purchase tickets to their show of choice through the Calendar when the show goes on sale 2 weeks prior.
Some COVID-19 limitations do remain in place at Morehead Planetarium. Namely, requirements around masks, and maximum number of guests per group. See below for more information about COVID-19 limitations.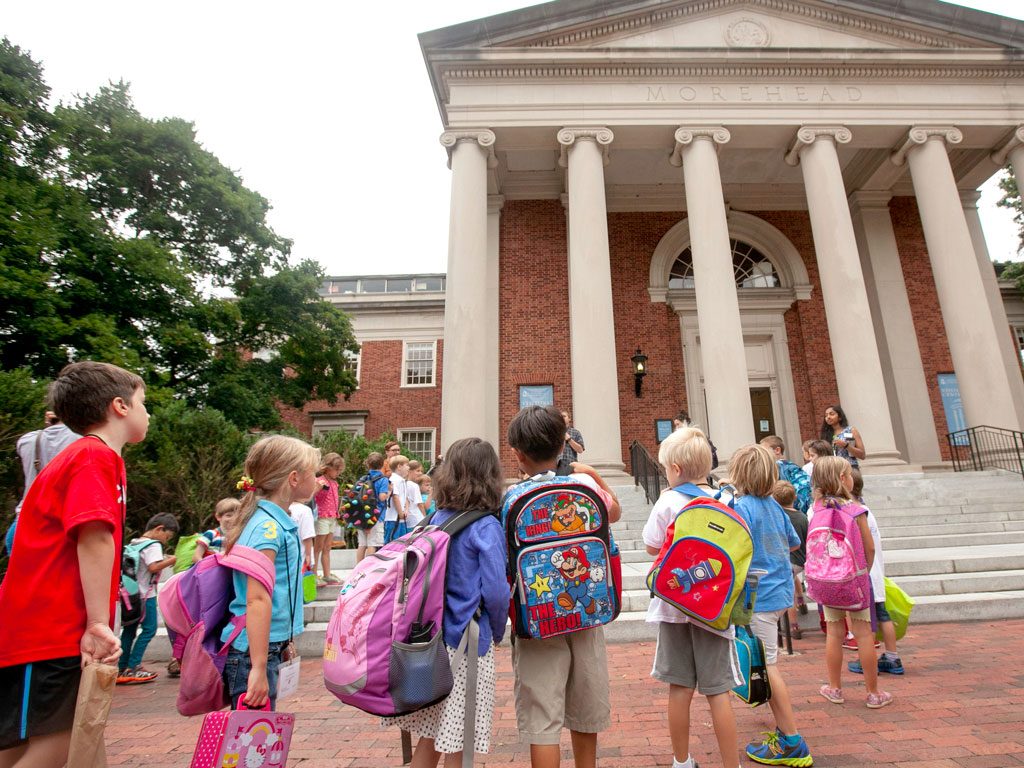 Field trip groups have visited Morehead Planetarium & Science Center for more than 65 years.
Morehead knows how to bring science to life, with exciting and inspiring programs designed to engage young explorers.
Our programming aligns with North Carolina Essential Standards, ensuring that your field trip will enhance your classroom instruction. Morehead's Reservations team works closely with you, so your field trip will be a great educational experience.
Pricing
Students/Children: $9.50 + tax*
Adults: $11.50 + tax*
1 FREE adult admission per 10 students.
Price includes admission to museum exhibits and one program of your choice.
Add-Ons
$4.00 per adult and $3.00 per student, for each additional same-day program.
Program Options
We'll help you customize your field trip by scheduling any combination of available programs.
Questions? Check out the Field Trip FAQs.
---
COVID-19 Discount: While COVID-19 precautions remain in place, an additional $1.50 discount will be applied to the above rates. This price specifically includes a full-length planetarium show, an abbreviated science stage show, and time to explore exhibits, for a 2-hour total experience.
COVID-19 Group Minimum:
All group reservations scheduled while COVID precautions are in place must meet a $150 pre-tax minimum, which will include admission up to 15 total guests. Guest admissions beyond 15 total participants will be priced at the above per-person rates and will include any appropriate discounts.
*Tax
A tax of 7.5% for state and local sales & use for admissions is applicable to all tickets.
Reservations are available for any group of 10 or more people. We can currently accommodate groups up to 40 guests per 2 hour period.
Reservations must be requested (and confirmed) at least 1 week in advance. We are unable to accommodate reservation requests less than a week in advance.
Complete an online request form above to start the reservations process. We are currently accepting reservations for Summer 2021 in July and early August on weekdays only. Availability is extremely limited at this time. We are not accepting Fall 2021 reservation requests at this time. Groups wishing to visit on a weekend may purchase tickets online through our calendar when they go on sale.
Morehead's Reservations team will then contact you to discuss your reservation options and help complete your reservation.
Please call our Reservations Team at 919.962.1236 if you need additional assistance.
At this time, the following limitations apply to school field trips and large group reservations:
We are currently only able to book visits for Schools and large groups on limited weekdays in July and August, and reservations must meet a $150.00 minimum, which covers the first 15 guests. Each additional guest ticket is priced at the current COVID-19 discounted rate.
Maximum group size is 70 guests, including teachers or chaperones. Groups of over 70 are advised to split their visit into more than one date.
To limit interactions with other groups/schools, the building will be closed to only one school/group of 70 at a time, and will also be closed to the public.
The same precautions on our re-opening page apply to school groups and other large groups. All guests must wear face coverings while inside the building, regardless of vaccination status.
If your school chooses to bring lunch, the group must eat outdoors and must be socially distanced while doing so on UNC property.
Terms
Balances for reservations are due by 5 p.m. on or before 3 business days prior to the visit date.
Payments are accepted via business check (no personal checks please), or by VISA/Discover/MasterCard.
North Carolina public schools (K-12, charter, and college/universities), NC state agencies, and/or NC county agencies such as school districts, libraries, etc. may receive net-30 payment terms upon request. Contact our Reservations Team with questions.
Policies
Every student and adult (educators, parents and bus drivers) in your group requires admission, and must be counted in your group reservation numbers.
Children or adults who have a Morehead membership cannot use their member benefits for admission during a school field trip or other group visit.
---
Private Planetarium Shows*
Students/Children: $9.95
Adults: $10.95
Minimum charge of $400 must be met for any private show reservation.
Tax of 7.5% is applicable to private shows.
*Only available after 4:30 p.m. on weekdays, and non business hours on weekends
For field trip reservations, it is Morehead's policy to communicate directly with the school or group visiting in addition to the third party or charter operator. Please include the name of the school and a contact person at the school who we can copy on all email communications.
If a third party arranges a field trip visit, they are financially responsible for the visit, and payment is required two weeks in advance of the visit. "Third party" is defined as a company, organization or individual (charter operator, travel agent, etc.) who is not an employee of the school or group.
Thorough the generous gifts of many donors, Morehead is able to offer field trip subsidies, or scholarships, to schools meeting certain criteria. You can learn more about available scholarship programs and criteria for each by visiting this page.
If you would like to request a scholarship for your reservation, you will be able to do so when you make your online request. If you have already booked a reservation and would like to be considered for a scholarship, contact our Reservations Manager at 919.843.3522 or by email at rwatt@email.unc.edu.​
Requests for Spring 2020 are being offered on a first-come, first-serve basis, and funds are very limited.
Morehead does not coordinate lunch orders as an add-on for field trip groups; however, schools are welcome to place catered lunch orders with area vendors. Please contact the Reservations Team at 919.962.1236 for additional information.