September 20, 2019
By Amy Sayle
On Friday, September 20, 2019, from 8 to 10 p.m., you are invited to join Morehead at the House in the Horseshoe state historic site for a free skywatching event. The address is 288 Alston House Rd, Sanford, NC 27330.
We'll provide telescope viewing with the support of members of Chapel Hill's astronomy club, CHAOS, as well as laser-guided constellation tours. You can also tour the Alston House (built around 1772) by candlelight.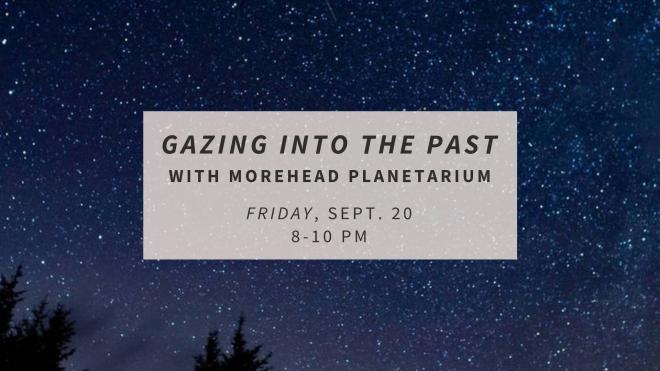 At this event, we will be gazing into the past – literally. The sky is like a time machine: you see every celestial object as it was in the past, at the moment the light left it to travel to your eyes.
We'll show you planets whose light left just minutes ago, stars whose light left years ago (including one whose starlight is as old as the Alston House), and galaxies whose light left millions of years ago.
This particular location and date also provide an excellent opportunity to see the Milky Way, the hazy band of starlight that's the plane of the galaxy we live in. That's because this site has less light pollution and thus darker skies than other Morehead skywatching locations, and at this time of year the Milky Way is very well placed during evening hours. Also, on September 20, 2019, the Moon won't rise until after the skywatching is over, meaning that its light won't hide dimmer objects from view.
As a bonus, a special guest will arrive right at the beginning of the event: the International Space Station.
From 7:58 to 8:04 p.m., the space station will appear in the sky, starting low in the southwest and passing almost directly overhead before vanishing low in the northeast. It'll look like a bright white moving "star" that is not blinking. When we spot it, we can wave hello to our fellow North Carolinian, Christina Koch, a NASA astronaut who has been living on the International Space Station since March.
For more information about this and other Morehead skywatching events, please visit our skywatching page here.