Ignite curiosity with live science demonstrations
Live shows on Morehead's Science Stage captivate students of all ages! Each Science LIVE! program engages the audience with exciting science demonstrations. Specific demonstrations may vary depending on grade level.
Science LIVE! shows are included with admission to Morehead Planetarium and Science Center.
Public show schedule:
Fridays: 2:30 pm, 3:15 pm, 4:00 pm
Saturdays: 11:30 am, 12:15 pm, 1:00 pm, 2:30 pm, 3:15 pm, 4:00 pm
Sundays: 2:30 pm, 3:15 pm, 4:00 pm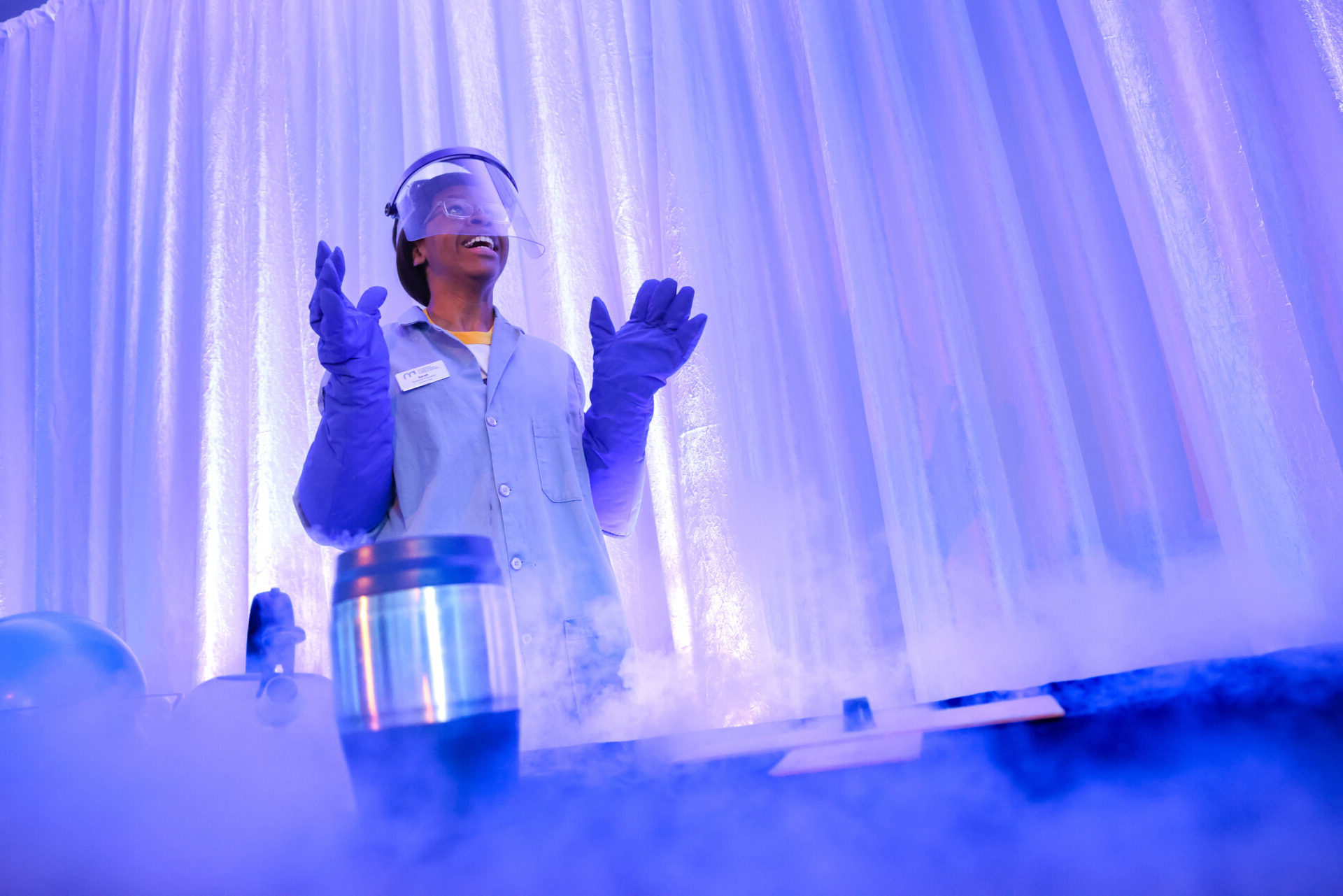 Our bodies need to be "all systems go" for us to get through each day. Join us to take an in-depth look at skin, hair, and fingernails with a digital microscope; create an electrical circuit with your body; ignite a jelly bean to demonstrate metabolism; and test reaction times of your eyes and hands!
Matter makes up everything around us, but how much do you really know about it? We'll learn about the three states of matter and what makes me them similar or different; look at non-Newtonian Fluids to learn about substances that love water (and some that are absolutely terrified of it); then we might even light a few things on FIRE to learn about chemistry!
Sir Isaac Newton himself would have loved this hands-on exploration of the fundamentals of physics! This show puts tons of science under pressure and shows off just how amazing physics can be when it gets moving.  Launch rockets, observe transfers of energy with basketballs, and do the coolest demonstration ever (no, seriously – it's that cool).
For the very young scientists (minimum age of 4 years old), we'll demonstrate some of Morehead's most exciting science experiments. This show's biggest goal is to help our youngest learners get excited about exploring science moving forward.
Let's put science under pressure by examining the properties of pressure – like when we try to pop a balloon on nine hundred sharp nails. Then we'll demonstrate Bernoulli's principle with some 10-foot-long bags and just your breath, show you how much air actually weighs by crushing a can with it, and make a huge combustion reaction with our "whoosh bottle."