Science is more fun with friends!
Thank you for your interest in planning a group visit to Morehead Planetarium and Science Center.
Bringing a group of 10 or more people?
Whether you're bringing a large family, adult group, Scout group, or daycare, you can purchase tickets in advance at a group rate.
For non-school groups looking to visit during our public hours, you may purchase group tickets at a discount by calling the box office (919.843.7997). Group rate tickets are available when purchased by phone more than 2 weeks in advance (up to 30 days prior). Once a show is on sale to the general public (2 weeks prior), group rate discounts are no longer available. See below for more information about group tickets to public shows.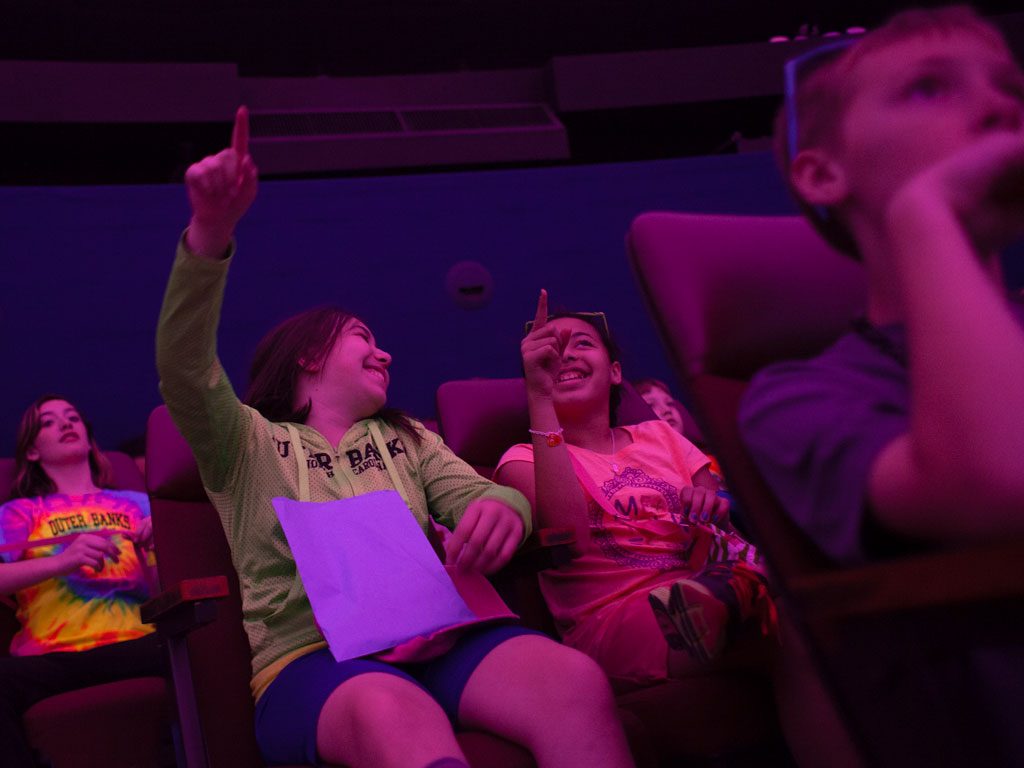 Are you looking for information about field trips for schools – including homeschools?
Please visit the Field Trips page here.
Group Visits
Tuesday, Wednesday, Thursday, or Friday, only through advance reservation.
Group size: Minimum of 10 guests, Max of ~150.
Pricing includes admission to exhibits and one program of your choice.
Weekend reservations available through our box office, but subject to availability and additional limitations.
Request a Reservation
Children (ages 3-12) + Seniors
$12.95 + tax*
Add-ons | priced per additional same-day program
$4.00 per student + senior
$5.00 per adult
*A tax of 7.5% for state and local sales & use for admissions is applicable to all tickets for planetarium shows only
Group reservations are available Tuesdays through Fridays, as availability permits.
Private shows during non-business hours will be priced as listed in the Payment Terms and Policies tab.
Please request a reservation for your group of 10 or more people using the Request a Reservation button on this page.
Reservations must be requested and confirmed as far in advance as possible, and no less than 2 weeks in advance. We are unable to accommodate reservation requests less than two weeks in advance.
From September through May the weekday program schedule is not pre-determined, and groups are welcome to choose their programs as availability permits. Reservations for this period typically open in early summer.
During the summer (June through August) weekday programs are pre-scheduled, and groups may choose from shows on the pre-set schedule. Reservations for summer typically open in mid to late spring.
After we receive your request, Morehead's reservations team will contact you to discuss your reservation options and help complete your reservation within a few business days. During high-volume months (August-October and January-February), the reservations team may take up to a week to reply to new reservation requests.
Please email our reservations team at mpsc_reservations@email.unc.edu call our Reservations Team at 919.843.7993 if you need additional assistance.
Terms
Balances for reservations are due by 5 p.m. on or before 3 business days prior to the visit date.
Payments are accepted via business check (no personal checks please), or by VISA/MasterCard/Discover.
North Carolina state agencies, and/or NC county agencies such as school districts, libraries, etc. may receive net-30 payment terms upon request. Contact our Reservations Team with questions.
Policies
Every child and adult (educators, parents, and bus drivers) in your group requires a ticket and must be counted in your group reservation number.
Children or adults who have a Morehead membership cannot use their member benefits for admission during a school field trip or other group visit.
---
Private Planetarium Shows*
Students/Children: $9.95
Adults: $10.95
Minimum charge of $500 must be met for any private show reservation.
Tax of 7.5% is applicable to private shows.
*Availability varies and exceptions may be considered on a case-by-case basis. Morehead reserves the right to decline requests. Private show reservations include a 1-hour planetarium show and do not include access to exhibits or other programs.
Morehead has a limited capacity to accommodate schools and non-school groups on weekends due to differences in operations on weekends vs. weekdays. Both schools and non-school groups are able to book reservations on weekends with the following limitations:
A limited number of tickets in each weekend show are available for purchase by schools or non-school groups. Remaining tickets are not available for schools or non-school groups and are only available to the general public once tickets are on sale starting 2 weeks prior to the show. The maximum number of tickets available for group sales to public planetarium shows is 50 total. Tickets to science stage programs are not reservable on weekends. Seating is first-come, first-serve for groups and the general public to those programs.
Weekend reservations cannot be scheduled less than 2 weeks prior to the visit. Groups wishing to visit in less than 2 weeks may purchase tickets online at the general public rate. Group and school rate discounts are not available less than 2 weeks in advance.
Weekend reservations must be paid for at the time tickets are reserved. Ticket sales are final and non-refundable.
Weekend groups travelling in buses or oversize vehicles may drop off in the parking lot, but buses and oversize vehicles must park elsewhere and return later to pick up groups after their visit. We do not offer shuttle service for bus drivers on weekends.
Similar to weekday programs, weekend shows and programs start promptly on time. We are unable to late seat large groups once the show has begun since this would disrupt the show. Morehead does not offer refunds for late groups.
Morehead reserves the right to limit availability for school and non-school group reservations on certain weekends throughout the year due to impacts on operations that further limit our ability to support large groups of visitors on those days.
For group reservations, it is Morehead's policy to communicate directly with the group visiting in addition to the third party or charter operator. Please include the name of the organization and a contact person who we can copy on all email communications.
If a third party arranges a group visit, they are financially responsible for the visit, and payment is required two weeks in advance of the visit. "Third party" is defined as a company, organization, or individual (charter operator, travel agent, etc.) who is not an employee of the organization or group.
The parking lot in front of Morehead Planetarium & Science Center is owned and operated by UNC Chapel Hill, and is not available for parking buses or oversize vehicles. Buses and large vehicles are able to pull into the parking lot and drop off guests, but must park off site.
For schools and groups that require their bus drivers to be chaperones:
UNC Chapel Hill has designated a limited amount of space along Skipper Bowles Drive on south campus for bus parking, where we can shuttle drivers back to the planetarium.
If your school/group requires the driver to help chaperone the group, please request a shuttle from our reservations team at least a week in advance.
Parking for groups that have requested this shuttle service is available along Skipper Bowles Drive in the right-most travel lane between Tar Heel Boulevard/Carolina Basketball Museum and Kenan Drive, in front of the Dean E Smith Center. Buses may not block driveways/vehicle entrances, crosswalks, or the Chapel Hill Transit bus stop in front of the Smith Center. Printable directions to this parking area are available here, and available as a google maps link here.
For all other schools and groups:
Because parking along Skipper Bowles drive is limited, and shared between other UNC organizations that serve field trips, schools and groups whose drivers will not be chaperoning should plan to park off campus rather than on Skipper Bowles Drive.
Morehead recommends buses park off-site at New Hope Commons shopping center, about 5 miles off campus. You can find directions to the shopping center from Morehead here. It's located directly down Franklin Street and Hwy 15/501, just past the intersection with Interstate 40.
Morehead no longer recommends parking at University Place mall due to ongoing construction and limited ability for buses to navigate parking lots in the area.
Please see information about public parking on our Plan A Visit page. The lot in front of Morehead is managed by UNC as a campus-wide parking lot, and spaces are often limited or unavailable due to reservations by the University.
Reservation Minimums
Group visit reservations on weekdays when Morehead Planetarium is closed to the public must have at least 10 total guests. Some add-on weekday programs, such as Enrichment Experiences and Launch Lab classes, may require at least 10 children for the program's activities and may not be available for groups with less than 10 children.