*IMPORTANT NOTICE: FALL 2021 AVAILABILITY & COVID-19*
Thank you so much for your interest in planning a group visit to Morehead Planetarium & Science Center. Group reservations for Fall 2021 are now open for Thursdays and Fridays only, beginning on October 7.
Groups wishing to visit on weekends may purchase tickets to their show of choice through the Calendar when the show goes on sale 2 weeks prior, though please note that at this time, group rate pricing is not available on weekends.
Some COVID-19 limitations do remain in place at Morehead, namely, mask requirements and maximum number of guests per group. See below for more information about COVID-19 limitations.
Bringing a group of 10 or more people?
Whether you're bringing a large family, adult group, Scout group, or daycare, you can purchase tickets at a group rate in advance!
For non-school groups looking to visit Morehead, you can request a group reservation using our online request form. We use the same form for both school and non-school group reservations – please ignore or leave blank any questions that apply to schools.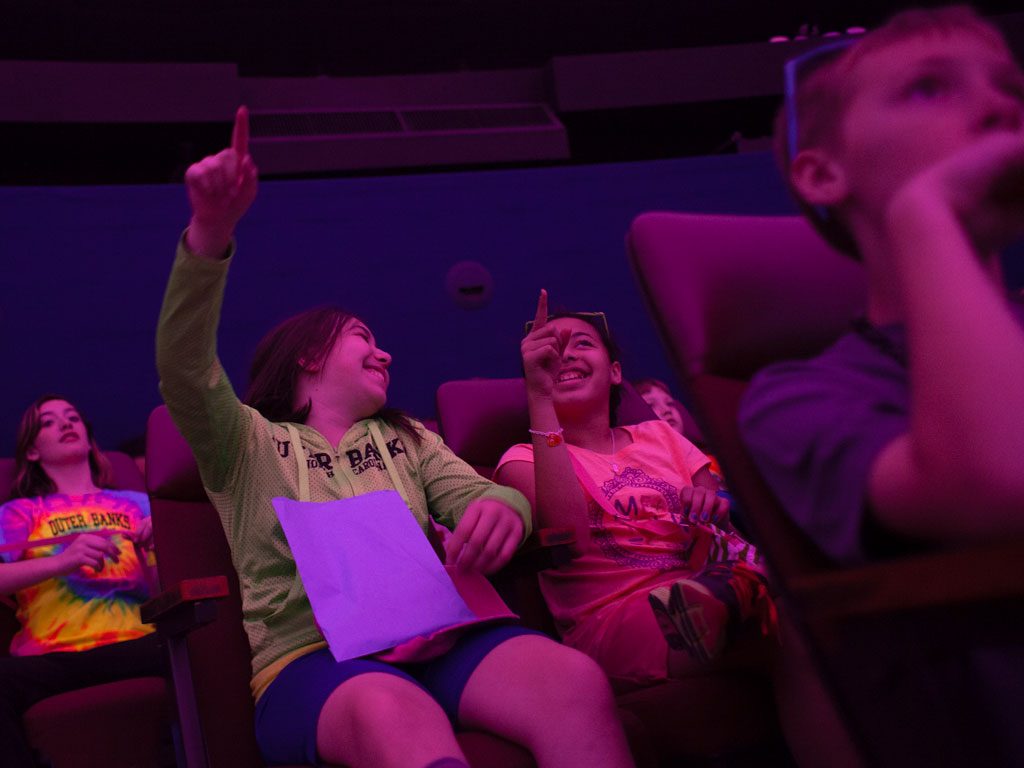 Group Visits
Thursdays and Fridays only, by reservation. Availability starting on 10/7/21
Group size limit: 120
Pricing includes admission to exhibit spaces and one program of your choice.
Group reservations must meet a $150 price minimum.
Request a Reservation
Seniors (60+), Students w/validID
$12.95 + tax
Add-ons | priced per additional same-day program
$3.00 per student
$4.00 per adult
A tax of 7.5% for state and local sales & use for admissions is applicable to all tickets for planetarium shows only
We are currently only accepting group reservations on Thursdays and Fridays starting October 7.
Reservations must meet a $150.00 minimum.
Private shows during non-business hours will still be priced as listed in the Payment Terms and Policies tab.
Please request a reservation for your group of 10 or more people using the button on this page.
At this time, group reservations are available on Thursdays and Fridays only in starting on October 7.
Reservations must be requested (and confirmed) as far in advance as possible, but no more than 2 weeks in advance. We are unable to accommodate reservation requests less than two weeks in advance.
Morehead's Reservations team will then contact you to discuss your reservation options and help complete your reservation within a few days.
Please call our Reservations Team at 919.962.1236 if you need additional assistance.
Terms
Balances for reservations are due by 5 p.m. on or before 3 business days prior to the visit date.
Payments are accepted via business check (no personal checks please), or by VISA/MasterCard/Discover.
North Carolina state agencies, and/or NC county agencies such as school districts, libraries, etc. may receive net-30 payment terms upon request. Contact our Reservations Team with questions.
Policies
Every child and adult (educators, parents and bus drivers) in your group requires a ticket, and must be counted in your group reservation numbers.
Children or adults who have a Morehead membership cannot use their member benefits for admission during a school field trip or other group visit.
---
Private Planetarium Shows*
Students/Children: $9.95
Adults: $10.95
Minimum charge of $500 must be met for any private show reservation.
Tax of 7.5% is applicable to private shows.
*Availability varies and exceptions may be considered on a case-by-case basis. Morehead reserves the right to decline requests.
For group reservations, it is Morehead's policy to communicate directly with the group visiting in addition to the third party or charter operator. Please include the name of the organization and a contact person who we can copy on all email communications.
If a third party arranges a group visit, they are financially responsible for the visit, and payment is required two weeks in advance of the visit. "Third party" is defined as a company, organization or individual (charter operator, travel agent, etc.) who is not an employee of the organization or group.
Reservation Minimums
Group visit reservations must meet a $150 pre-tax minimum. Reservations with too few guests to meet the minimum will have a small fee added to their reservation to meet the $150 minimum. Some add-on programs, such as Enrichment Experiences, and Launch Lab classes may require at least 10 children for the program's activities, and may not be available for groups with less than 10 children.