Bringing a group of 10 or more people?
Whether you're bringing a large family, adult group, Scout group, or daycare, you can purchase tickets at a group rate in advance!
For non-school groups looking to visit Morehead, you can request a group reservation using our online request form. We use the same form for both school and non-school group reservations – please ignore or leave blank any questions that apply to schools.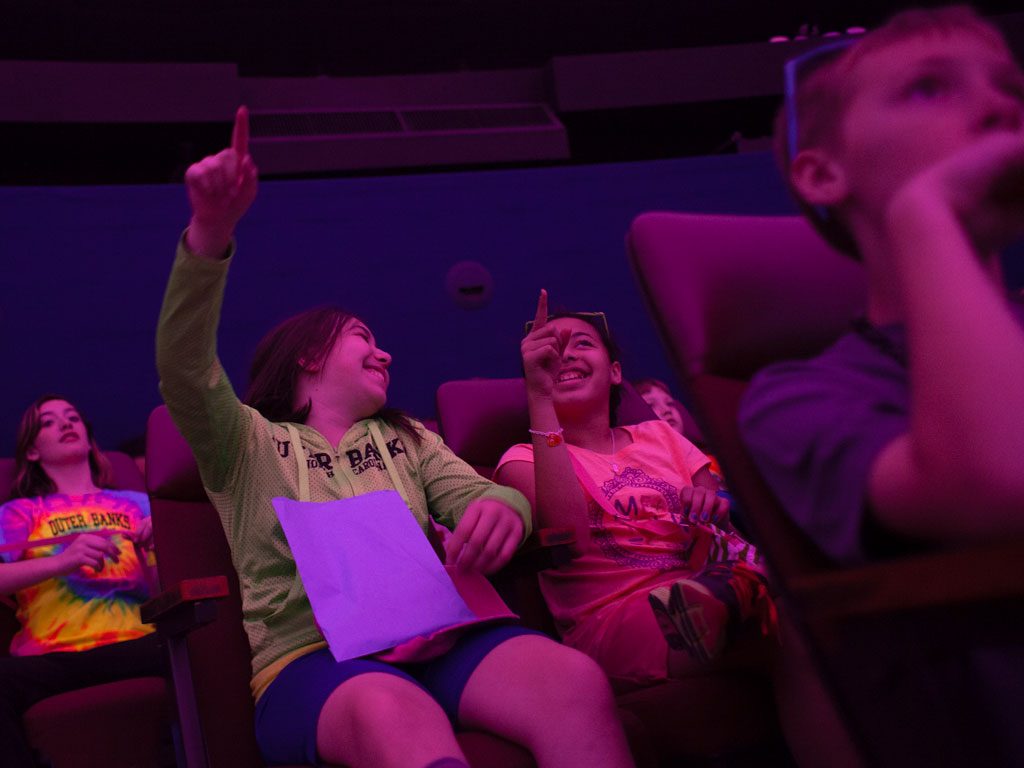 Group Visits
Available during business hours or on Tuesdays or Thursdays by reservation only
Group size limit: 40
Pricing includes admission to exhibit spaces and one (1) planetarium show.*
*Does not include Science Stage shows. 
Request a Reservation
Seniors (60+), Students w/validID
$12.95 + tax
Add-ons | priced per additional same-day program
$3.00 per student
$4.00 per adult
A tax of 7.5% for state and local sales & use for admissions is applicable to all tickets for planetarium shows only
A $3.00 discount will be applied to all tickets. We understand that the current COVID-19 safety protocols and restrictions may impact how you experience our new building. The discount is automatic – you do not need to include a separate discount code.
For a limited time, Thursdays are reserved for group visits at a reduced price. Reservations must meet a $150.00 minimum which provides tickets for up to 15 guests. Each additional guest ticket is priced at the current COVID-19 discounted rate.
Private shows during non-business hours will still be priced as listed in the Payment Terms and Policies tab.
Please make a reservation for your group of 10 or more people using the button on this page. Due to current state and local COVID-19 restrictions, we can only accommodate groups of up to 40 guests per 2-hour timed entry. Larger groups may be scheduled over the course of a day or multiple days depending on the total attendance and number of reserved programs.
Reservations must be requested (and confirmed) at least 1 week in advance. We are unable to accommodate reservation requests less than a week in advance.
Morehead's Reservations team will then contact you to discuss your reservation options and help complete your reservation within two weeks.
Please call our Reservations Team at 919.962.1236 if you need additional assistance.
Terms
Balances for reservations are due by 5 p.m. on or before 3 business days prior to the visit date.
Payments are accepted via business check (no personal checks please), or by VISA/MasterCard.
North Carolina public schools (K-12, charter, and college/universities), NC state agencies, and/or NC county agencies such as school districts, libraries, etc. may receive net-30 payment terms upon request. Contact our Reservations Team with questions.
Policies
Every child and adult (educators, parents and bus drivers) in your group requires a ticket, and must be counted in your group reservation numbers.
Children or adults who have a Morehead membership cannot use their member benefits for admission during a school field trip or other group visit.
---
Private Planetarium Shows*
Students/Children: $9.95
Adults: $10.95
Minimum charge of $500 must be met for any private show reservation.
Tax of 7.5% is applicable to private shows.
*Availability varies and exceptions may be considered on a case-by-case basis. Morehead reserves the right to decline requests. 
For group reservations, it is Morehead's policy to communicate directly with the group visiting in addition to the third party or charter operator. Please include the name of the organization and a contact person who we can copy on all email communications.
If a third party arranges a group visit, they are financially responsible for the visit, and payment is required two weeks in advance of the visit. "Third party" is defined as a company, organization or individual (charter operator, travel agent, etc.) who is not an employee of the organization or group.