Now booking request for Fall 2023. Availability Limited.
Birthday parties have never been more fun for kids (or easier for you).
Morehead Planetarium and Science Center was recently named a Best Place to Host a Kid's Birthday Party by Chapel Hill Magazine. Celebrate a new orbit around the sun with free admission, a planetarium show, science activity, and party room.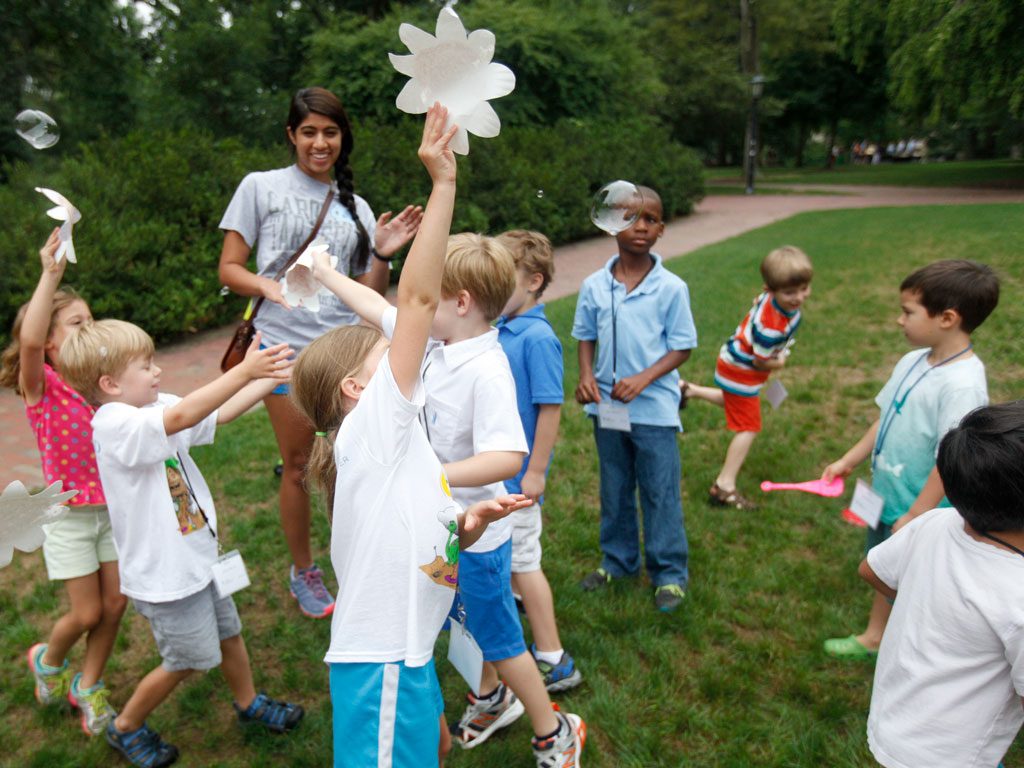 Choose the Standard or Deluxe party package:
Standard
Admission for up to 20* guests to exhibits and one planetarium show airing during our public hours (suggested ages are noted for each show)
At-your-pace activities that families can enjoy during the party
Classroom reserved for an additional 45 minutes for party
Downloadable, customizable party invitation
Decorations, paper goods, and utensils
Use of a refrigerator for your party food and beverages
On-site support from a Morehead party coordinator
Deluxe
Receive everything in the Standard package PLUS:
One educator-led activity, similar to those offered in the "basic" party type. See "Deluxe Party Activities" in the menu below for more details.
*Extra guests (up to 30 total guests max) available for additional charge.
A Reservations team member will contact you within one business day to confirm your reservation. For additional information, contact our Reservations team.
Morehead Members*
Basic: $350+ tax
Deluxe: $400 + tax
General Public
Basic: $375 before tax
Deluxe: $425 before tax
Additional guests beyond 20 may be added to your party reservation (up to 30 total guests). Additional guests are charged at the rate of the full-price ticket for the planetarium show that your group will be attending. See our pricing page for current admission prices at our planetarium shows.
*You must be a Morehead member on the date of the party to receive the discount. Become a member today!
PAYMENT:

Payment in full is required to confirm the reservation. If you need to add additional guests to your reservation after confirming, payment for those additional guests is due at the time the tickets are added.

FOOD:

You are welcome to bring your own food and beverages for your party. If you require a refrigerator or freezer to store ice cream/other food/beverages during your show, please let us know in advance. Morehead will provide plates, utensils, napkins, cups, and ice.

DECORATIONS:

Morehead provides a few space-themed decorations for birthday parties. If you wish to bring your own decorations, please let us know in advance as there are additional considerations for bringing your own decorations, and we cannot always accommodate different decorations.

SETUP/CLEANUP:

Your reservation is set to allow 15 minutes before the start of your programs/party for early arrival and setup. You may arrive as much as 30 minutes prior if you require additional setup – if so, please let us know in advance so our staff can plan accordingly.

Cleanup should be completed within 15 minutes after the end of the party, so that our staff may re-set the room for other reservations. If you are scheduled to see a show after your party, we can store food requiring refrigeration/freezing until your group is finished with your show. If you would like to request this, please let us know in advance.

ADDITIONAL GUESTS:

If you need to add additional guests, please do so by the Friday prior to your party. If you need to add guests day-of, you may purchase tickets to the show separately at the box office, as availability permits.

CANCELLATION:

  Birthday Party reservations canceled more than 2 weeks prior to the party are refundable except for a $50 cancellation fee. Reservations canceled less than 2 weeks in advance, but more than 1 week in advance are eligible for a refund of 50% of paid fees. Reservations canceled 7 days or fewer in advance are not eligible for refund of any fees paid.

Morehead may waive this cancellation policy in the event of inclement weather or other circumstances resulting in Morehead's closure or cancellation of your scheduled planetarium show.

PARKING:

The lot in front of Morehead Planetarium and Science Center is University owned and operated. Parking is free on weekends unless the University has reserved the lot for a special event. Morehead is not always made aware of these reservations, but we will make every effort to keep you informed if the lot has been reserved.
Morehead has developed special science activities as part of the Standard party package. Choose one of these entertaining experiments for your child's party:
Rockets! – Recommended for ages 5-8.  See if you can land a rocket on Mars (or another planet).  Test you piloting skills with our pre-made rockets and explore trajectory and force.
Building a Birthday – Recommended for ages 5-12.  Participants explore concepts such as balance and angles while using materials such as Brain Flakes or K'nex blocks to complete a building or design challenge. 
Morehead has developed special science activities as part of the Deluxe party package. Choose one of these entertaining experiments for your child's party:
Catapults – Recommended for ages 6-12. Build your own catapults and TEST THEM. Can you improve your catapult to launch the highest or the farthest? Try this activity to learn about trajectory, potential and kinetic energy.
Science Party – Recommended for all ages. Join our educators for a live science demonstration show. Learn about pressure, motion and other birthday-related science topics during this program performed just for your group.