*Important Notice: Birthday Party Availability*
Morehead Planetarium & Science Center is currently unavailable to book birthday party reservations. We expect to resume offering birthday party programming in Fall 2022.
Please check back in late summer 2022 for updated information on birthday party offerings, pricing, and availability.
Birthday parties have never been more fun for kids (or easier for you).
Celebrate your child's special day at Morehead Planetarium and Science Center!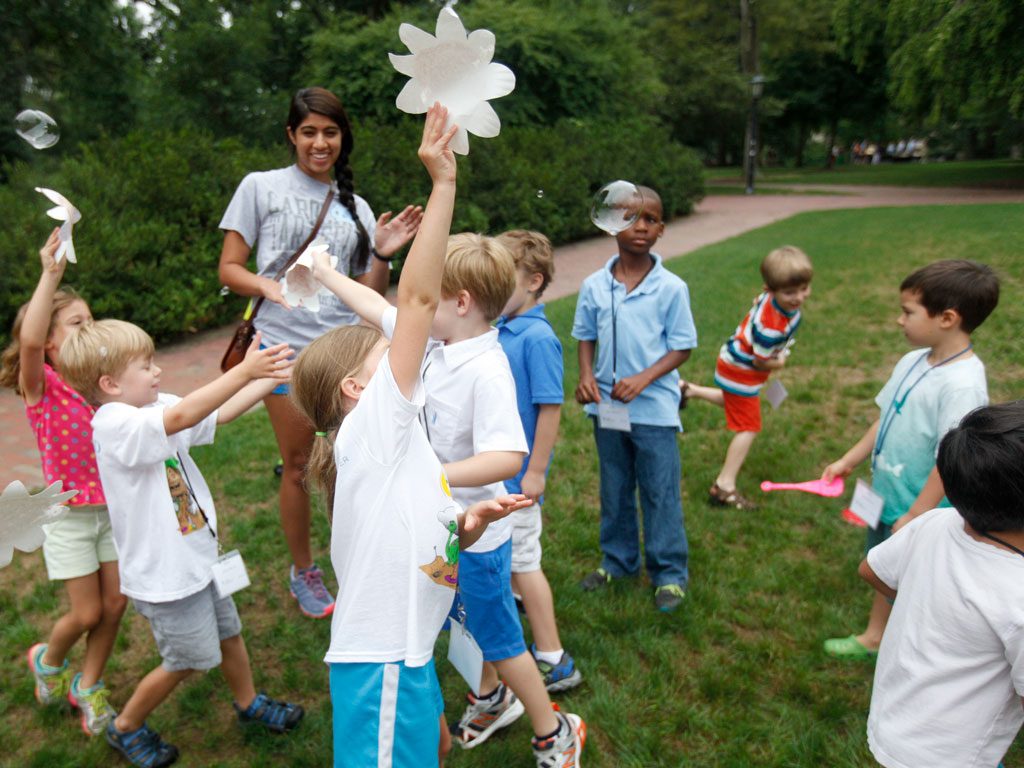 Choose the Standard or Deluxe party package:
Standard
downloadable, customizable party invitation
party room for one hour
decorations, paper goods and utensils
drinking water/cups
use of a refrigerator for your party foods
ticket for each party guest to the public planetarium show regularly scheduled at your party time
on-site support from a Morehead party coordinator
Deluxe
Receive everything in the Standard package PLUS:
party room for one and a half hours
special science activity for your party guests
A Reservations team member will contact you within one business day to confirm your reservation and take a deposit. A nonrefundable $50 deposit is required to reserve a date. For additional information, contact our Reservations team.
Morehead Members*
Basic: $150 + tax.
Deluxe: $250 + tax.
General Public
Basic: $175 + tax.
Deluxe: $275 + tax.
For more than the standard 20 guests, please add $10 (Basic) or $15 (Deluxe) per each additional guest.
You may add party options, including a cake or guest gift bags, to your Morehead birthday party.
*You must be a Morehead member on the date of the party to receive the discount. Become a member today!
Party packages are for 20 guests (children and adults). You may add up to 10 extra guests for an additional fee.
Birthday parties can be booked on Saturdays and Sundays only (subject to availability).
Birthday party reservations must be made at least two weeks before the party date. Reserve Here
Deposit of $50 is required to confirm your reservation.
Final guest count and full payment are due the Wednesday before your party date.
Children must be accompanied inside by an adult, no drop-offs.
Let Morehead take care of the party details, from a delicious birthday cake to gift bags for your guests.
Birthday cake options:
Solar System Cake, $40 + tax, serves 16-24, click HERE for image preview.
Gift bag options:
Group gift bags may be purchased from our Gfit Shop. Contact our Gift Shop Manager by email by clicking here to inquire about gift bags for your birthday party reservation.
Morehead has developed special science activities as part of the Deluxe party package. Choose one of these entertaining experiments for your child's party:
Ice Cream Science: Recommended for ages 5-8. Nothing is tastier than homemade ice cream! In this hands-on, delicious experiment, watch how milk transforms into a delicious, creamy dessert that kids love. Science never tasted so good! When selecting this option, please note that some children may have milk allergies.
Project Rocket: Recommended for ages 5-8. Let's make rockets that fly farther and faster than ever! For this activity, kids play with the principles of flight and trajectory. Test these creations and see how well the rockets fly with a jump and a stomp! This activity can be done in one big group or with two smaller groups alternating "launch times."
Eggzellent Challenge: Recommended for ages 9-12. This hands-on activity offers an "eggstremely eggzillerating" mission: Can a crash-test egg survive the miniature "Zipline of Doom" and land safely? Kids put engineering skills to the test!