Currently Unavailable
Our birthday party schedule for Spring 2023 is now full. Due to Summer Camp and other venue conflicts and staffing limitations, Birthday Party reservations are unavailable from May-early September.
Birthday party dates will be available again in mid-September, and the request form to book birthday parties will re-open in late summer.
Birthday parties have never been more fun for kids (or easier for you).
Morehead Planetarium and Science Center was recently named a Best Place to Host a Kid's Birthday Party by Chapel Hill Magazine. Celebrate a new orbit around the sun with free admission, a planetarium show, science activity, and party room.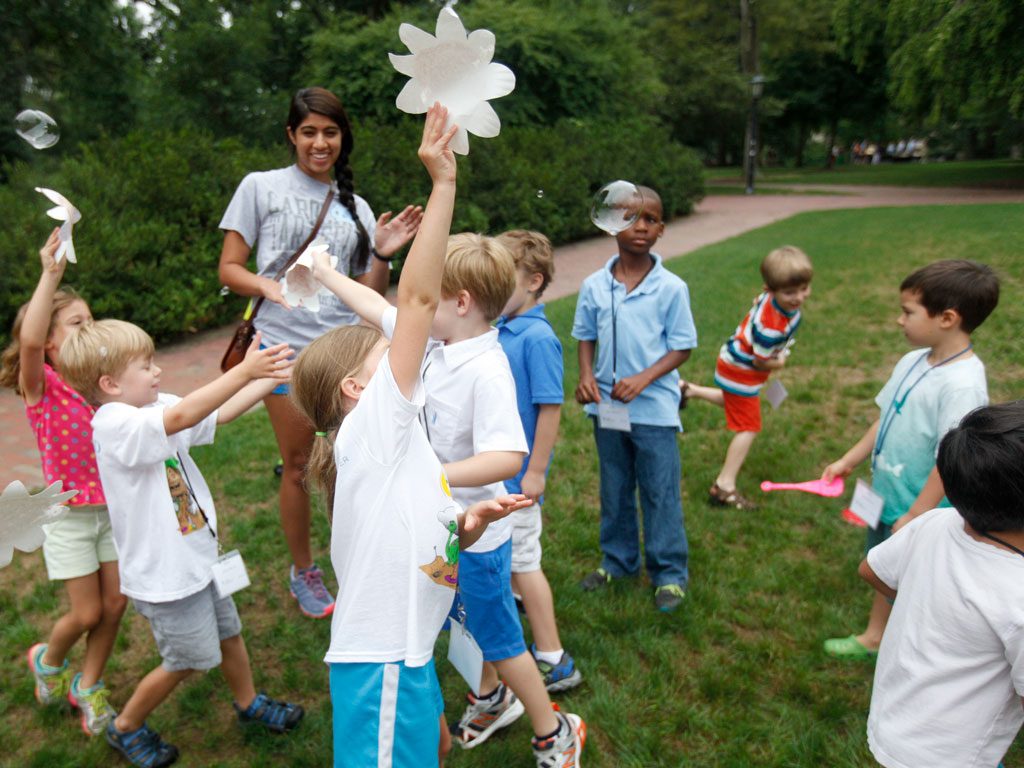 Choose the Standard or Deluxe party package:
Standard
Admission for up to 20* guests to exhibits and one planetarium show airing during our public hours (suggested ages are noted for each show)
One classroom science activity of your choice, about 45 minutes – see options below
Classroom reserved for an additional 45 minutes for party
Downloadable, customizable party invitation
Decorations, paper goods, and utensils
Use of a refrigerator for your party food and beverages
On-site support from a Morehead party coordinator
Deluxe
Receive everything in the Standard package PLUS:
One science activity of your choice in the Launch Lab (45 minutes)**
*Extra guests (up to 30 total guests max) available for additional charge. **Launch lab activities must occur in the first or last hour of public hours.
A Reservations team member will contact you within one business day to confirm your reservation. For additional information, contact our Reservations team.
Morehead Members*
Basic: $325+ tax
Deluxe: $375 + tax
General Public
Basic: $350 + tax
Deluxe: $400 + tax
Additional guests beyond 20 may be added to your party reservation (up to 30 total guests). Additional guests are charged at the rate of the full-price ticket for the planetarium show that your group will be attending. See our pricing page for current admission prices at our planetarium shows.
*You must be a Morehead member on the date of the party to receive the discount. Become a member today!
PAYMENT:

Payment in full is required to confirm the reservation. If you need to add additional guests to your reservation after confirming, payment for those additional guests is due at the time the tickets are added.

FOOD:

You are welcome to bring your own food and beverages for your party. If you require a refrigerator or freezer to store ice cream/other food/beverages during your show, please let us know in advance. Morehead will provide plates, utensils, napkins, cups, and ice.

DECORATIONS:

Morehead provides a few space-themed decorations for birthday parties. If you wish to bring your own decorations, please let us know in advance as there are additional considerations for bringing your own decorations, and we cannot always accommodate different decorations.

SETUP/CLEANUP:

Your reservation is set to allow 15 minutes before the start of your programs/party for early arrival and setup. You may arrive as much as 30 minutes prior if you require additional setup – if so, please let us know in advance so our staff can plan accordingly.

Cleanup should be completed within 15 minutes after the end of the party, so that our staff may re-set the room for other reservations. If you are scheduled to see a show after your party, we can store food requiring refrigeration/freezing until your group is finished with your show. If you would like to request this, please let us know in advance.

ADDITIONAL GUESTS:

If you need to add additional guests, please do so by the Friday prior to your party. If you need to add guests day-of, you may purchase tickets to the show separately at the box office, as availability permits.

CANCELLATION:

  Birthday Party reservations canceled more than 2 weeks prior to the party are refundable except for a $50 cancellation fee. Reservations canceled less than 2 weeks in advance, but more than 1 week in advance are eligible for a refund of 50% of paid fees. Reservations canceled 7 days or fewer in advance are not eligible for refund of any fees paid.

Morehead may waive this cancellation policy in the event of inclement weather or other circumstances resulting in Morehead's closure or cancellation of your scheduled planetarium show.

PARKING:

The lot in front of Morehead Planetarium and Science Center is University owned and operated. Parking is free on weekends unless the University has reserved the lot for a special event. Morehead is not always made aware of these reservations, but we will make every effort to keep you informed if the lot has been reserved.
Morehead has developed special science activities as part of the Standard party package. Choose one of these entertaining experiments for your child's party:
Ice Cream Science: Recommended for ages 5-8. Nothing is tastier than homemade ice cream! In this hands-on, delicious experiment, watch how milk transforms into a delicious, creamy dessert that kids love. Science never tasted so good. When selecting this option, please note that some children may have milk allergies.
Project Rocket: Recommended for ages 5-8. Let's make rockets that fly farther and faster than ever! For this activity, kids play with the principles of flight and trajectory. Test these creations and see how well the rockets fly with a jump and a stomp. This activity can be done in one big group or with two smaller groups alternating "launch times."
Eggzellent Challenge: Recommended for ages 9-12. This hands-on activity offers an "eggstremely eggzillerating" mission: Can a crash-test egg survive the miniature "Zipline of Doom" and land safely? Kids put engineering skills to the test!
Morehead has developed special science activities as part of the Deluxe party package. Choose one of these entertaining experiments for your child's party:
Grasping At Straws: Robotic Hands!: Recommended for ages 6-8. Learn the basics of hand movement by using common materials to create a model hand that actually moves.  Students will use straws, yarn, and cardboard to build artificial ligaments and bones and see how these things work together inside your hand.
Valves Inside: Recommended for ages 9-12. Valves are all around us and inside us as well! Using a variety of materials, students will create simple types of valves, test their effectiveness, and discover research being done in the use of artificial heart valves inside the human body.
Water Ways: Recommended for ages 9-12. Learn about water pollution and contaminants as you work together to create water filters and technology to help keep water clean. Students will learn about water quality testing, basic filtration, and ecology.
Light Pollution Circuits: Recommended for ages 11 and up. Light pollution affects animals, astronomers, and human health. Learn about this growing issue and what can be done to solve it by designing better streetlights and measuring equipment. Students will create simple circuits and use testing equipment to see how light can be kept on Earth where it is needed.