Celebrate with your Valentine (and Medusa) under the planetarium sky
February 13, 2020
By Amy Sayle
If you're seeking a unique way to celebrate with your Valentine this time of year, join us under Morehead's planetarium sky to experience some of the epic love stories playing out among the stars.
During Carolina Skies: Valentine edition (evenings of Feb. 8, 14, 15, 2020) you'll hear love stories from around the world, including the famous story of Perseus and Andromeda. This story features a large cast of characters represented in the sky as constellations, such as:
a vain queen (Cassiopeia)
a beleaguered king (Cepheus)
a hungry sea monster (Cetus)
a naked princess (Andromeda)—you'll have to come to the show to see how we manage that constellation picture
a hero who slays Medusa and then discovers the benefits of carrying her decapitated head everywhere he goes (Perseus)
There's also a bizarre cameo by an upside-down flying horse.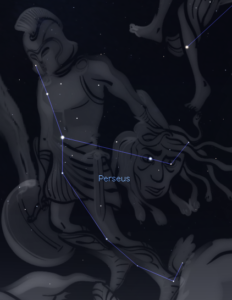 And because you decided to celebrate Valentine's Day by going to a science center—which means you're our kind of people—there will also be science.
You'll learn, for example, how Cassiopeia's specific placement in the northern sky was punishment for her vanity, and why the star Algol looks like Medusa's eye still winking after the head has been cut off.
Along the way, you'll also learn to identify the planets, stars and constellations that appear in the stories—skills you can impress your sweetie with.
For a grand finale, we'll fly through the universe to experience its immense size and beauty. Someone claims to love you to the moon and back? We'll go way, way, way farther than that.
---
You have five opportunities to see Carolina Skies: Valentine edition:
Saturday, Feb. 8, 2020 at 7 p.m.
Friday, Feb. 14, 2020, at 7 p.m. & 8:30 p.m. 
Saturday, Feb. 15, 2020, at 7 p.m.* & 8:30 p.m.
*The 7 p.m. Feb 15th show is the anti-Valentine edition for the cynics out there.
The content and style of these live Valentine shows are designed for adult audiences (older teens also welcome). For children with an interest in stars or storytelling, we recommend our monthly Star Families series.