Private Skywatching Science Nights
Private Skywatching Science Nights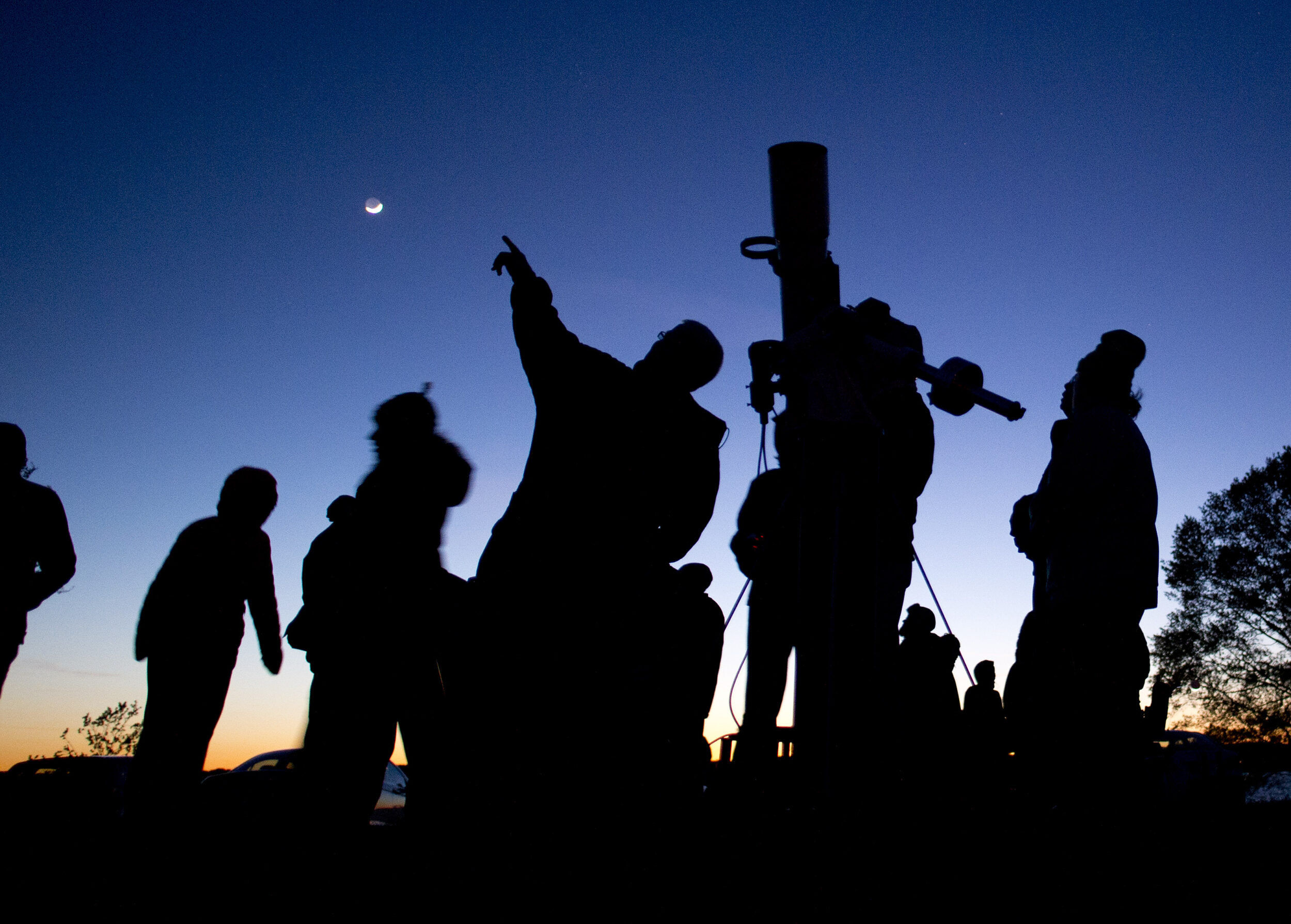 Book a Skywatching Science Night at Your Location
See the stars with us! Morehead's astronomy team offers Skywatching Science Nights at your location. Each program includes hands-on astronomy activities, telescope viewing of night-sky objects, and a customized tour of the night sky, in which participants learn to tell directions using the sky and to identify planets, stars, and constellations. 
Skywatching Science Night
For your group
Session length: up to 2 hours
Maximum participants: 200
Rate: $750 (A discounted rate of $585 is available for schools and nonprofits. Scholarship assistance may be available pending qualifications.)
Additional fees apply for sites more than 90 miles from Chapel Hill
Session length: up to 2 hours
Maximum participants: 200
At a Skywatching Science Night, your group will:
Participate in hands-on astronomy activities. Activities can be customized for your audience. For example, you might touch a rock from outer space and figure out how to distinguish a meteorite from a "meteor wrong." Or you might build and launch a stomp rocket, model the star-formation process, create a pipe cleaner constellation, make a star wheel, or discover how colored filters can reveal more about an image. 

 

Use telescopes to observe celestial objects, such as the Moon and planets (if visible), star clusters, nebulae, etc. If skies are overcast or worse, telescopes can be set up as an indoor display, or used to view terrestrial objects. 

 

Take a laser-guided tour of the night sky. Learn to identify stars and constellations and hear some of the stories they have to tell.

 
For nighttime observing, you'll want to choose a location on your property that will allow for good views of the night sky, e.g., horizons not blocked by nearby tall trees or buildings, minimal light pollution. Outside lights should be turned off if possible.
Ideally, you'll also provide indoor space so that we can move the entire event indoors in case of poor weather.
If you don't have a suitable outdoor location for your event, we may be able to host your skywatching at the Morehead Sundial, adjacent to Morehead Planetarium and Science Center. Please note that the night sky is moderately light polluted in our downtown Chapel Hill location.
The sky is always changing. We'll work with you to schedule a date and time that accounts for the sunset time, moon phase, and any visible planets. If your event needs to happen at a certain date and time because it's part of a larger event, just let us know.
If you prefer a daytime event, we can provide safe views of our daytime star, the Sun—as well as the Moon, if it's in the sky during your event—plus hands-on activities related to the Sun, Moon, stars, and eclipses.
In our experience, the weather does not have to be perfect during your Skywatching Science Night. Partly cloudy skies generally allow for a satisfying viewing experience.
But what if it's forecasted to be overcast or raining on your event date? In that case, we can switch to an indoor-only plan, with hands-on astronomy activities and an indoor display of the telescope equipment.
Reservations for this program occur rain or shine and are not cancelled in the event of poor weather. However, in the event of severe or inclement weather that forces a closure of your school or organization, or makes travel to/from your location unsafe, Morehead may waive this policy. Reservations impacted by such severe weather may be rescheduled or refunded if a suitable date cannot be found to reschedule the reservation.