Wave hello to people in outer space (at May 18th skywatching, Dorothea Dix Park)
May 15, 2019
By Amy Sayle
Want to wave hello to someone in outer space?
You have several chances coming up, including during our skywatching session this Saturday evening (May 18, 2019) at Dorothea Dix Park, when the International Space Station (ISS) is predicted to pass almost directly over the park.
That night, watch for the ISS to cross the sky from southwest to northeast between 9:26 and 9:32 p.m. At 9:29 p.m. it will pass nearly directly over your head. (Note: Although almost everyone in the eastern U.S. can see this particular pass, the pass details will vary depending on the viewer's location.)
You'll be waving to the six people who are on board, including Christina Koch, who has North Carolina connections. To learn about what research she and her fellow crew members from the U.S., Canada, and Russia are doing on this orbiting microgravity laboratory, you can read their blog.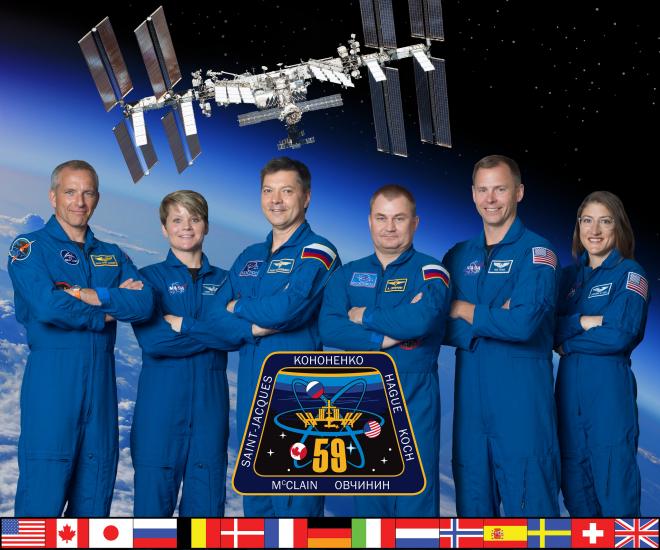 What the ISS will look like:
The International Space Station looks like a very bright star that is noticeably moving. It's flying at 17,500 miles per hour and about 250 miles up.
What the ISS won't look like:
An airplane. Admittedly, it can sometimes be tricky to tell the difference, but if you see red or green or blinking lights, that's not the space station.
A meteor. People seeing the ISS for the first time often report it appears to move faster than they expected, but it still won't look as fast as a meteor streaking through the sky.
Another satellite. Other satellites are generally much dimmer.
What you'll need:
Knowledge of the times and directions to look from your location. Check NASA's Spot the Station website. You can sign up for text alerts here, too.
A reasonably clear and open view of the sky.
Your eyes. The space station is the size of a football field, and it's bright—brighter than any star in the night sky. You don't need a telescope or other special equipment. You don't even need a particularly dark sky.
It's especially fun to spot the International Space Station with a crowd. So that's why we arranged for a pass of the space station over our next skywatching session! (Just kidding, of course. We just happened to get lucky.)
In any case, if the weather permits, please join us at Dorothea Dix Park for skywatching from 9 to 11 p.m. on Saturday, May 18, 2019. The event is free, but please sign up here to help us estimate numbers.
Hope to see you Saturday, and we'll be sure to wave to Christina and her crew members in outer space.