Morehead in Motion: Science on Stage
School Year 23-24 Visits
We will begin accepting reservation requests for the 2023-24 school year on Monday 7/24.
Flexible, portable programming for schools and special events
Get your students excited about science! Science on Stage's assembly-style format will captivate participants with interactive experiments and demonstrations performed by a Morehead educator in the school's gym, auditorium, or outdoor stage. Students will investigate force and motion, experiment with phase changes and chemical reactions, and explore other topics to support and supplement classroom learning. Program content is customized by grade level.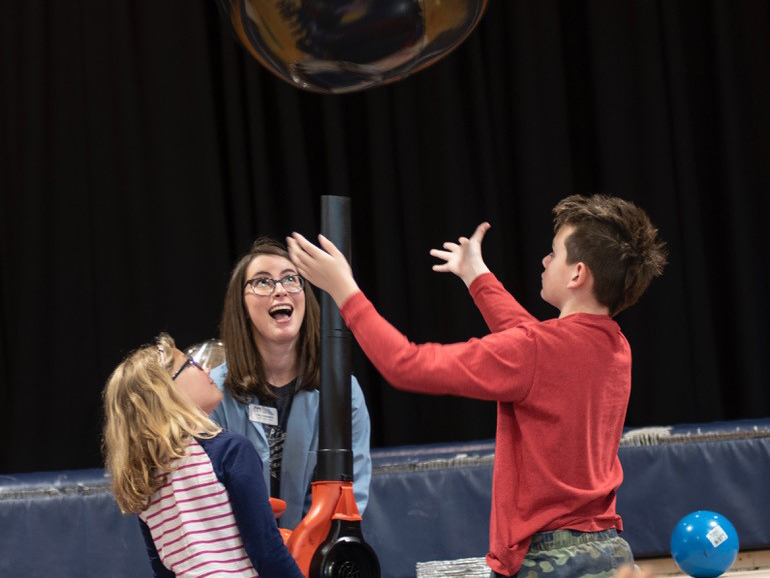 Morehead in Motion: Science on Stage
For Grades K-12
Length: 45 minutes to 75 minutes
Maximum Participants: Varies (please see "fees" section)
Maximum Sessions: 2 (please see "fees" section)
Learn about forces and motion as we launch rockets and make objects levitate in midair. Experiment with phase changes using balloons and bubbles, perform chemical reactions to create cascades of colorful foam, and so much more. This show will have younger audiences on the edge of their seats as we introduce them to the wonderful world of science. Session length: 45 minutes
Explore Newton's laws of motion with "magic" tricks and rocket launches, then conduct hair-raising experiments with electricity using a Van De Graaff generator. Learn about human body systems with a digital microscope, discover phase changes with liquid nitrogen, and more. We'll even perform a chemical reaction to create a giant, colorful foam explosion as our grand finale! This dynamic show will amaze your students while reinforcing key scientific concepts. Session length: 60 minutes
---
Schools
Daily Rate: $445

Maximum number of sessions: 2 per day
Maximum number of students per session: 150

Session Length: 60 minutes
Travel Fees
Sites more than 90 miles from Chapel Hill: .10 per mile
Reservations requiring overnight stay: $190/day
All travel fees are calculated using Google Maps.
Scholarship assistance is available pending qualifications.
Visits canceled two weeks prior to visit date are eligible for a refund of fees. Visits canceled less than two weeks prior to visit date are not eligible for a refund of fees.
Morehead may waive this policy if the visit is canceled due to school closure for inclement weather, fire or other emergency condition.
Whit McMillan | Manager, School + Interpretive Programs
whitmcm@email.unc.edu
919.843.7951