Morehead in Motion: Earth & Beyond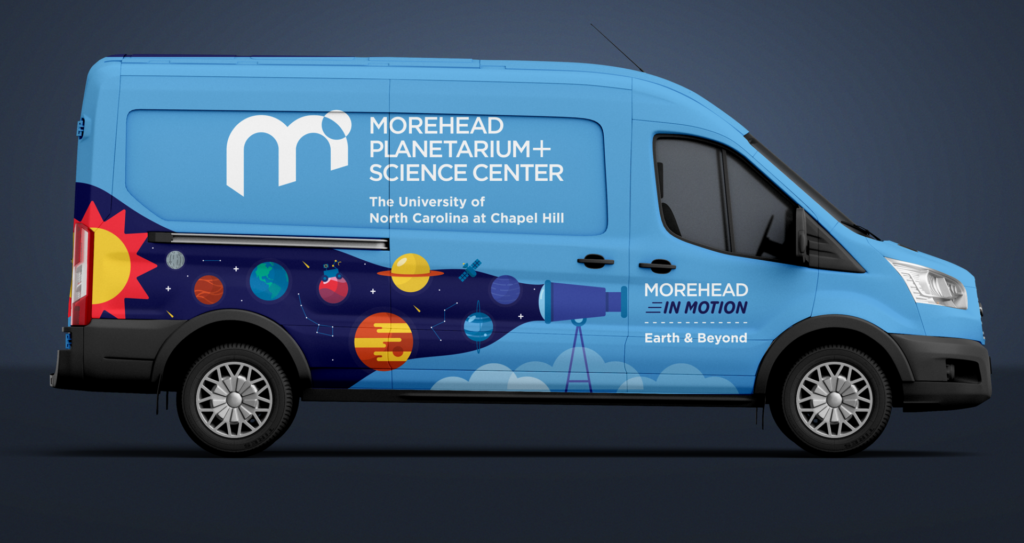 Explore earth science and astronomy in our new at-your-school program
In this new Morehead program, students participate in NCSCOS-aligned lessons that explore earth science and astronomy concepts. Students explore moon phases and light, learn to map planetary surfaces, hunt for exoplanets, and much more!
One-day visit: $300

Maximum number of sessions: 2 per day

Session Length: 60-75 minutes
Each additional, consecutive day: $150 per day
Maximum participants: Please see COVID-19 Safety Precautions for Earth & Beyond page 3, #6 & 7, for details.
Travel Fees
Sites within 90 miles of Chapel Hill: $50 per day
Sites more than 90 miles from Chapel Hill: $200 per day
All travel fees are calculated using Google Maps.
Scholarship assistance is available pending qualifications.
Because of COVID-19 safety precautions, this program requires an outdoor space that can accommodate a visit, including in poor weather (e.g. rain, extreme heat), and the ability to create social distancing between students and the MPSC educator.
If activities are completed inside, the program space must include more than one window to increase ventilation throughout the room and the door must remain open during each session. The room must be larger than a traditional classroom to help increase distancing.
A staff member must also be present to greet the educator when they arrive at your school. This person should be available to help unload and set up.
If your visit is for one day, the lab must be in the same location all day. If your visit is for multiple days, the lab should remain in the same location for each day.
Visits canceled two weeks prior to visit date are eligible for a refund of fees. Visits canceled less than two weeks prior to visit date are not eligible for a refund of fees. Morehead may waive this policy if the visit is canceled due to school closure for inclement weather, fire or other emergency condition.