Introducing UNC Science Week
NCSciFest is proud to introduce UNC Science Week—an entire week to celebrate the amazing and important STEM research that happens right here on campus!
Join us from April 12-17 as we host an array of opportunities for scientists and research teams to engage with the public in fun and COVID-safe ways.
To cap the week off, Morehead and NCSciFest will host a Virtual Science Expo on Friday, April 16 followed by Scientist Saturday on April 17 (masked and physically distanced) at our newly renovated building and surrounding grounds.
Read below in the dropdown for our complete schedule!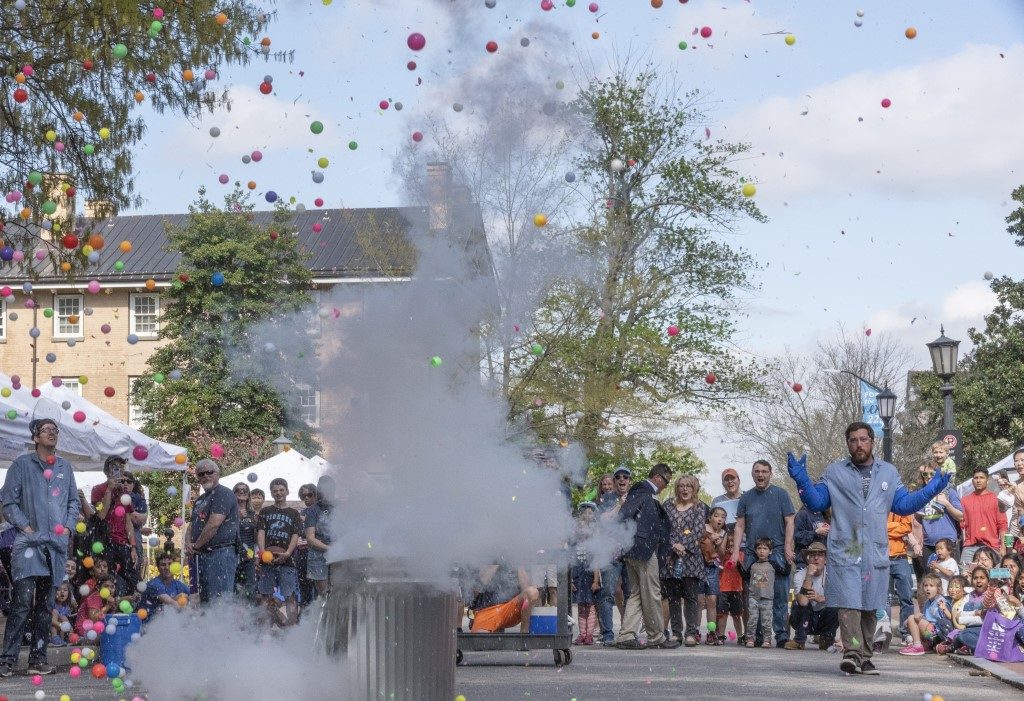 2021 UNC Science Week
When: April 12- April 17
Where: Virtual and Morehead Planetarium & Science Center (250 E Franklin St)
Current Schedule of Events (subject to change):
Monday, April 12: Drive-in Science Movie Night at Carraway Village
Tuesday, April 13: Stargazing on the Sundial at Morehead
Wednesday, April 14: Carolina Science Café
Thursday, April 15: Teen Science Cafe
Friday, April 16: Virtual Science Expo
Saturday, April 17: Scientist Saturday at Morehead Planetarium and Science Center
Are you a UNC campus member that wants to share your enthusiasm for STEM during UNC Science Week?
Want to know more about what to expect as a participating STEM Professional?
Onsite
Access to the building and interior exhibits will be granted with cost of admission. Admission to all outside exhibits is FREE.
To ensure the safety of our attendees, exhibitors, and staff, Scientist Saturday will operate under three main principles:
Effective Social Distancing
Required Masks
Sanitation
Virtual
Virtual events require pre-registration – check back soon for more details.
About the UNC Science Expo
The UNC Science Expo is an annual opportunity for students and faculty at UNC – as well as our partners from around the triangle – to share their research with families via hands-on science demonstrations and activities.
In a typical year, this free event allows visitors to engage with scientists and researchers from a wide variety of backgrounds, including chemistry, physics, marine sciences, archaeology, and over 30 other organizations at UNC-Chapel Hill.
With over 125 tents, 7 stage performances, and 25 tours of 11 different labs, the 2019 UNC Science Expo offered 10,000 visitors of all ages and backgrounds opportunities to pursue their passion for STEM. Check out the 2019 UNC Science Expo report for additional information.