UNC Science Expo
April 9th | 11 AM – 4 PM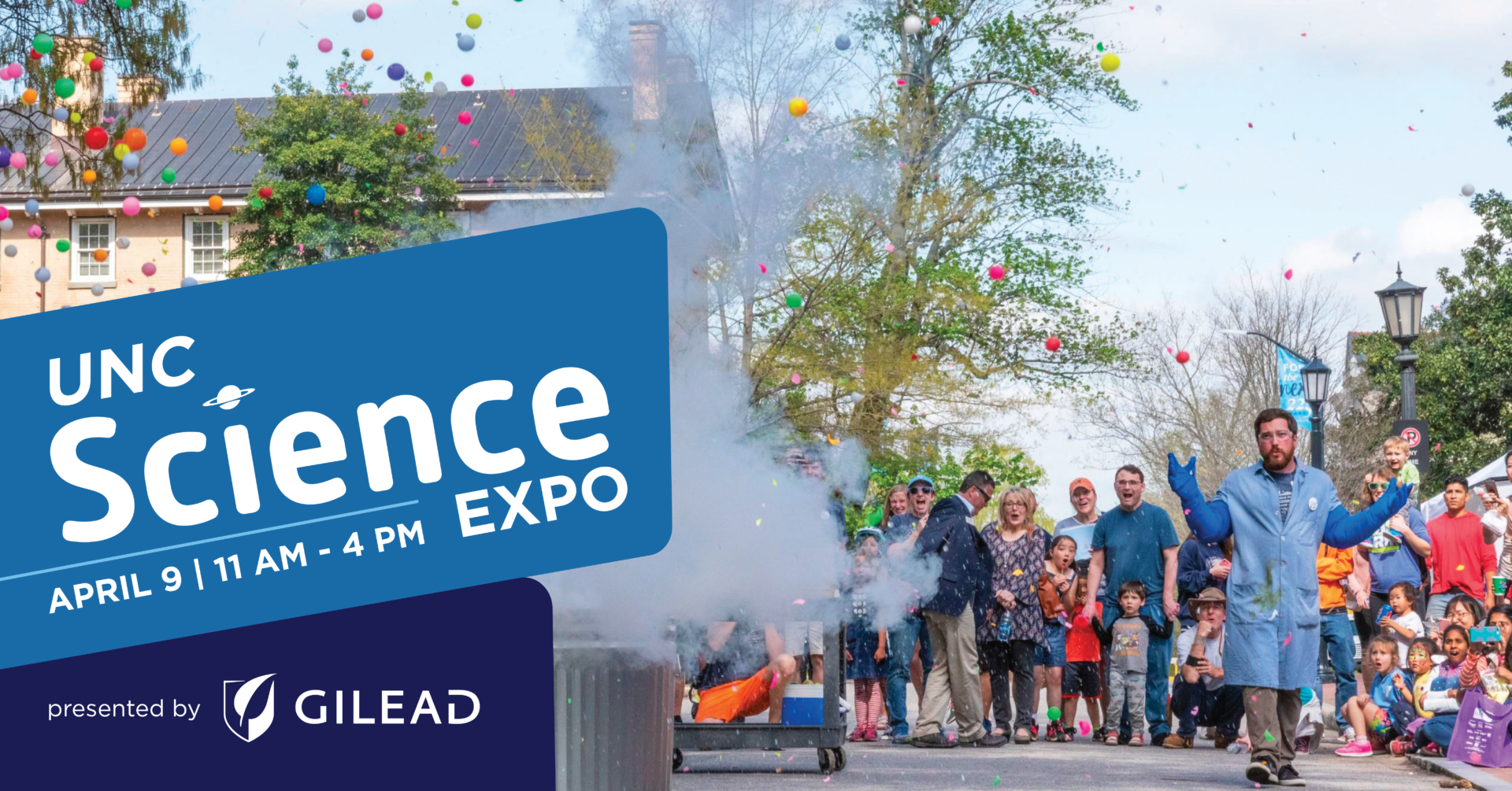 Our signature event returns, featuring UNC scientists and researchers sharing their work with the community. Join us for hands-on activities, food trucks, demonstrations, games, and performances — it's one of the biggest celebrations of science in the state!
Come celebrate all the hard work and research UNC scientists do right here on campus!
---
About UNC Universe Week
Join us for daily events from April 2-9 that celebrate the science and scientists from UNC-Chapel Hill!
Morehead Planetarium and Science Center, in partnership with the students and faculty at UNC, will once again celebrate science with our community — as a part of the North Carolina Science Festival!
Universe Week showcases the best of UNC science, provides the public with a behind-the-scenes look at a major research university, and promotes STEM as a vital part of our culture – all in a fun and engaging way!
UNC Universe Week
---
SATURDAY, APRIL 2
1:30 PM – STEMville Science Spectacular
---
SUNDAY, APRIL 3
2:00 PM – Solar Viewing at the Morehead Sundial
---
MONDAY, APRIL 4
9:30 AM – Virtual Program: Hop to the Spot
Join the STEM Innovation for Inclusion in Early Education (STEMIE) team as we play around with some of the foundational concepts in computational thinking. Participants will engage in representation-based movement games and following and developing directions, algorithmic style!
---
TUESDAY, APRIL 5
9:30 AM – Virtual Program: Good Vibrations
What do images of babies, bats looking for food, self driving cars, and levitating particles have in common? Learn about fascinating applications of sound in the world around us and find out how you can make your own speakers!
---
WEDNESDAY, APRIL 6
9:30 AM – Virtual Program: Street Smarts
You are a transportation worker in your city who's been asked to find ways to improve a stretch of local road in a residential area. What can you do to make the road safer? What will make it easier to travel by foot or bike? Seth LaJeunesse from the UNC Highway Safety Research Center will guide
6:00 PM – Teen Science Cafe
Bite Into Geology
When people hear "geology" they usually think "rocks." This talk will explain that the study of geology extends beyond just rocks- into rivers, soils, and even teeth!
Speaker bio: Emily Robinson is a senior at UNC Chapel Hill. She is studying geology and geography, and has worked in the geology department's isotope geochemistry lab for the past three years.
---
THURSDAY, APRIL 7
10:30 AM – Virtual Program: Fun with Physics
UNC physics faculty will present phenomenal physics demonstrations that will surprise and excite curious minds. Come prepared to make predictions and ask questions about physics experiments that are seriously phun!
1:30 PM – The Science of Art Tour
5:30 PM – Career Stories: Celebrating Women Leaders in STEM
---
FRIDAY, APRIL 8
9:30 AM – Virtual Program: Carolina Skies
With the help of planetarium software, we'll tour the North Carolina night sky and identify stars and constellations you can see with just your unaided eye on the next clear night. You'll also discover how you can participate in the annual North Carolina Statewide Star Party, featuring 35 public skywatching events from the mountains to the coast on April 8 and 9, 2022.
1:30 PM – The Science of Art Tour
---
SATURDAY, APRIL 9
10:00 AM – AfroPix
11:00 AM – UNC Science Expo