In 2021 we're going virtual!
Join us for the first-ever UNC Virtual Science Expo on Friday, April 16 to meet UNC scientists from around the world as they share what it's like to try to answer Science's toughest questions.
The slate of appearances includes scientists from UNC's Center for Galapagos Studies, demonstrations from the Department of Physics and Astronomy, deeper dives into environmental justice data with the Gillings School for Global Public Health, live skywatching with Morehead Planetarium and Science Center, and more.
Sessions will run from 9:00 a.m. to 9:00 p.m. with something for all ages (including adults!). Read each session description below and register today!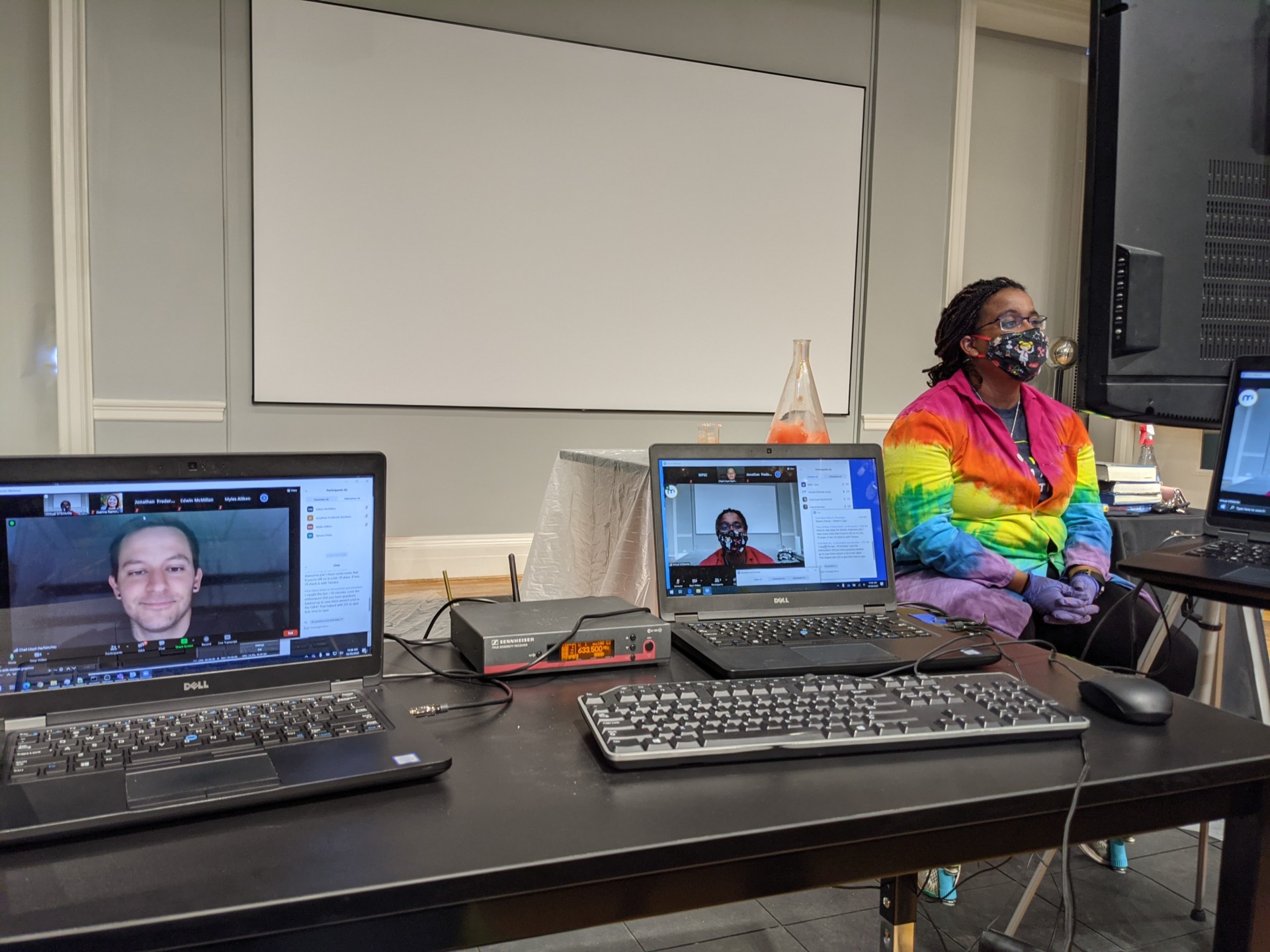 Lineup of Sessions
9:00 am | STEM Storytime
Early Childhood
Join the STEM Innovation for Inclusion in Early Education (STEMIE) team from FPG Child Development Institute at UNC as we share a story using dialogic reading techniques to encourage conversations and activities focused on STEM Topics. This session is for young children (0-5 years) but will include additional resources for families and educators to use this technique with their children.
Presenter: Frank Porter Graham Child Development Institute
10:00 am | Marti the Hammerhead and Shark Conservation
Elementary School
Shark researcher Alex Hearn of the Galapagos Science Center will read the exciting story of Marti the Hammerhead and answer your questions about shark research. Post-program activities and resources will be shared with registered participants.
Presenter: Alex Hearn
11:00 am | Live Physics Demonstration Hour
All Ages
UNC physics faculty will present phenomenal physics demonstrations that will surprise and excite curious minds. Come prepared to make predictions and ask questions about physics experiments that are seriously phun!
Presenters: UNC Physics & Astronomy
12:00 pm | BARCODE Galapagos
High School and Adults
Join us over lunch for an informal meet up with the team from BARCODE Galapagos, the most ambitious citizen science project to document biological life in Galapagos.
Lead researchers from UNC and USFQ explaining the Barcode Galapagos project, its importance to both help the community and its intended outcomes. Hear about the genetics side of the project and get an 'on the ground' account collecting samples and using the mini-Ion barcoding machines to capture this important data.
Presenters: Jaime Chaves, Corbin Jones, and Diana Pazmiño
1:00 pm | Environmental Justice at Home (EJ@HOME): UNC Gillings School of Global Public Health
High School and Adults
Join us to learn about environmental justice. Dr. Rebecca Fry will introduce this important topic and how it relates to people and places in North Carolina. Student researchers from the Department will show you how to use sophisticated online mapping tools to answer relevant questions about environmental justice in North Carolina. Eric Brown will highlight the links between poverty and chemical exposure. Jeliyah Clark will focus on children's environmental health and how we can protect kids from chemicals in air and water. Lauren Eaves will explain how to identify resources for environmental health protection. A student researcher from the Department's UNC Superfund Research Program will share resources that can be used to identify and protect communities at higher risk of exposure to chemicals in drinking water.
Presenters: Rebecca Fry, Eric Brown, Jeliyah Clark, Lauren Eaves
The UNC Department of Environmental Sciences and Engineering at the Gillings School couples environmental scientists and engineers. This year we are celebrating our 100th anniversary! For a century, we have tackled the environmental challenges that affect the health of people locally and globally, including climate change, clean water, air quality and transmission of diseases like COVID-19, which pass through the air. We strive to find environmental health solutions and build public health resilience to climate and environmental change.
2:00 pm | Stopping the Spread! Understanding Germs, Bacteria, and Viruses
Ages 5-8
Join members of UNC's Department of Pediatrics and the Children's Research Institute to go inside the microscopic world of germs! We will be learning about how germs spread from person to person and what you can do to stop them in their tracks.
Presenter: Michelle Hernandez, Marsha Russell, and Kate Matthews
2:00 pm | Why care about breathing "toxic" air? Because our lungs can't vomit!
High School
Did you know that our lungs breathe in over 2000 gallons of air every day and that this air can contain many different chemicals harmful to our health? Hear from a team of graduate students in a toxicology lab at UNC who are investigating the health effects of exposure to air pollutants ranging from e-cigarette aerosols to ozone to wood smoke.
Presenters: Stephanie Brocke, Elise Hickman, Alexia Perryman, Keith Rogers
3:00 pm | Hammerhead Sharks, Epic Migrations, and Island Conservation
Ages 10-14
Shark researcher Alex Hearn dives deeper into the world of shark conversation as he reads from the Galapagos Conservation Trust's first ever educational book: Marti the Hammerhead Shark; and answers your questions about sharks, SCUBA diving, science and more!
Presenter: Alex Hearn
4:00 pm | STEM for One, STEM for All: Resources for Including all Children in STEM Learning Opportunities
Educators and Families
The STEM Innovation for Inclusion in Early Education (STEMIE) center from FPG Child Development Institute at UNC is focused on ensuring all children with and without disabilities can access and participate in STEM learning opportunities. This session will describe how and why STEMIE is working to accomplish this goal. The session will include specific resources and strategies for early childhood educators and families to support all children in STEM learning.
Presenter: Frank Porter Graham Child Development Institute
5:00 pm | UNC and the Galapagos Science Center
High School and Adults
The Galapagos Science Center (GSC) represents a unique facility and a special opportunity to make the world a better place by enriching our understanding of coupled human-natural systems in a world-renowned National Park, Marine Reserve and World Heritage Site.
Three researchers from the Center will discuss what it's like to walk in the footsteps of Charles Darwin as they work across social, terrestrial and marine subsystems to help tackle threats to island sustainability. Amanda Thompson will focus on public health and nutrition. Diego Riveros-Iregui will focus on water and land dynamics. Adrian Marchetti will talk about marine ecology and biological productivity in Galapagos.
Presenters: Amanda Thompson, Diego Riveros-Iregui and Adrian Marchetti
8:00 pm | Star Party! with Morehead Planetarium and Science Center
All Ages
In this virtual skywatching experience, participants will explore current astronomy topics, learn about hidden science stories, and observe our night sky using both planetarium software and video feeds from live telescopes! Plus, we'll be joined by special guest Dr. Sheila Kannappan, who studies the evolution of galaxies and the larger cosmic structures in which they live.
Presenters: Morehead Planetarium and Science Center, UNC Physics and Astronomy
---
Introducing UNC Science Week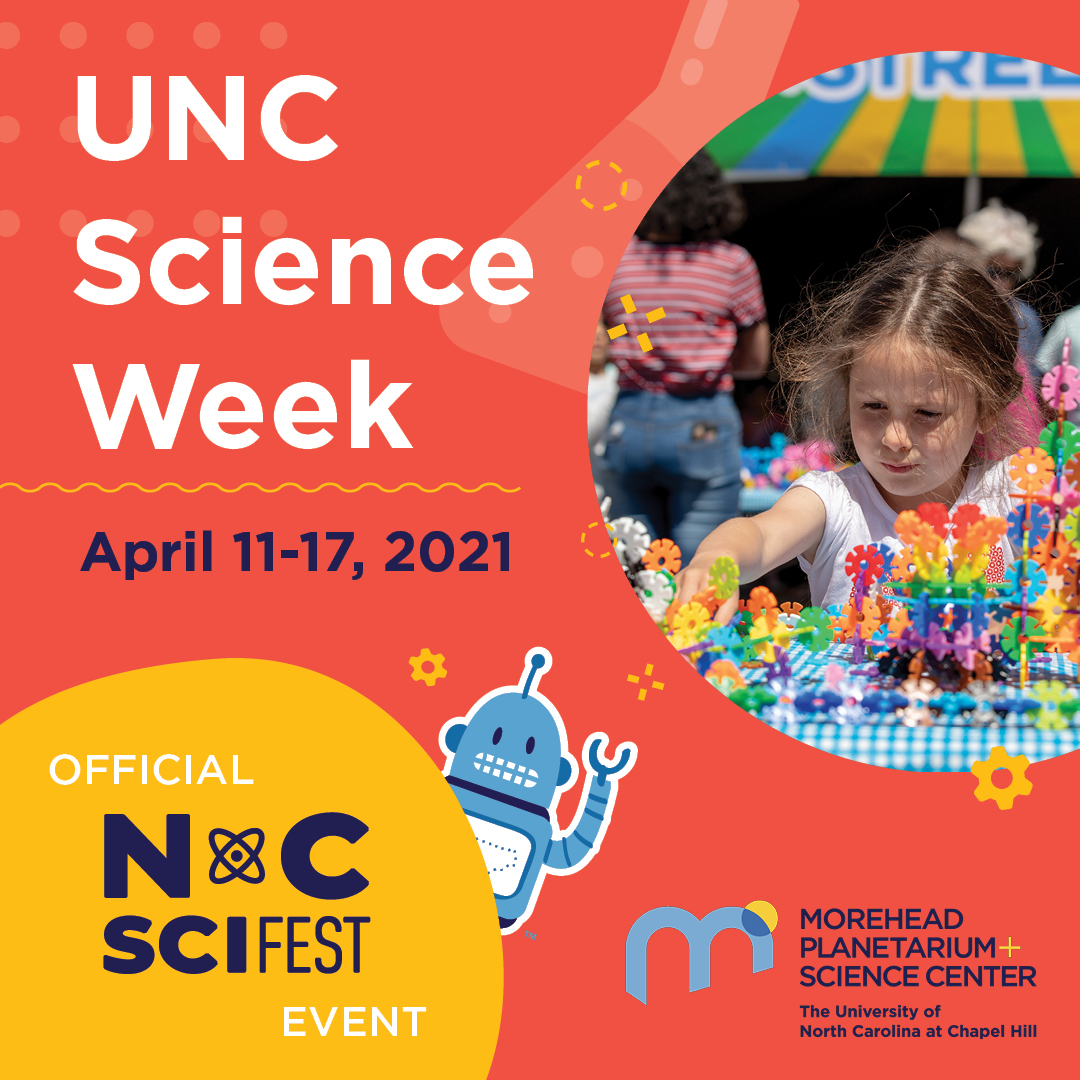 Morehead Planetarium and Science Center is proud to introduce UNC Science Week—an entire week to celebrate the amazing and important STEM research that happens right here on campus! Join us from April 11-17 as we host an array of opportunities for scientists and research teams to engage with the public in fun and COVID-safe ways. Click each link below for more information:
*Scientist Saturday will be included as a part of a regular ticket purchase for Saturday, April 17. Visitors will be able to view a planetarium show, followed by an exploration of current science research through individual display tables hosted by UNC scientists.
The UNC Virtual Science Expo and UNC Science Week are official events of NCSciFest.