Carolina Science Cafe: From headlines to insights 
By Christopher Katella
CHAPEL HILL, N.C. (July 25, 2023) – It is the first Tuesday night of the month at Chapel Hill's Gizmo Brew Works. On tap? Beer, wine, and a tall glass of science. 
After a three-year break due to the COVID-19 pandemic, Morehead Planetarium and Science Center's Carolina Science Cafe program is once again connecting curious adults with the scientific topics of today and tomorrow. Since its reintroduction in April, attendees have learned about the ins and outs of ChatGPT, how researchers are shaping how urban landscapes are utilized, and what is to come in NASA's Artemis Program – the first effort to send humans back to the Moon since Apollo 17 in December 1972.
"It is a way of not only engaging the community and science, but it's also a way of building trust," said Will Freund, a community engagement specialist at Morehead. "It's staying connected with the community where the community is at."
Originally launched in October 2007 with a talk on the rise of a social media platform called "Facebook," the program eventually moved out of Morehead's building and into various locations around the Chapel Hill community before settling at Gizmo. Over the course of the program's history, Cafe guest speakers have included recipients of the MacArthur Foundation's "Genius Grant," members of the U.S. National Academy of Sciences, and authors on the New York Times bestseller list.
Freund explains the Cafe also provides an opportunity for UNC researchers to introduce themselves to the local community, such as University of North Carolina at Chapel Hill faculty member Adam Rosenthal, Ph.D., whose presentation on bacteria was the subject of June's event. "Not only are the community attendees getting a positive experience out of it, but it's a great opportunity for the presenters as well," said Freund.
Produced by Morehead, Carolina Science Cafe is sponsored by The University of North Carolina at Chapel Hill chapter of Sigma Xi, The Scientific Research Honor Society. "The (Carolina) Science Café is in direct support of Sigma Xi's #1 priority to 'advance STEM education,'" said treasurer Drew Coleman, Ph.D., chair of the Environment, Ecology and Energy Program and a professor in the Department of Earth, Marine and Environmental Science. "We are at a time in history when it has become more important than ever to help the public understand complex science issues. The Cafe helps accomplish that."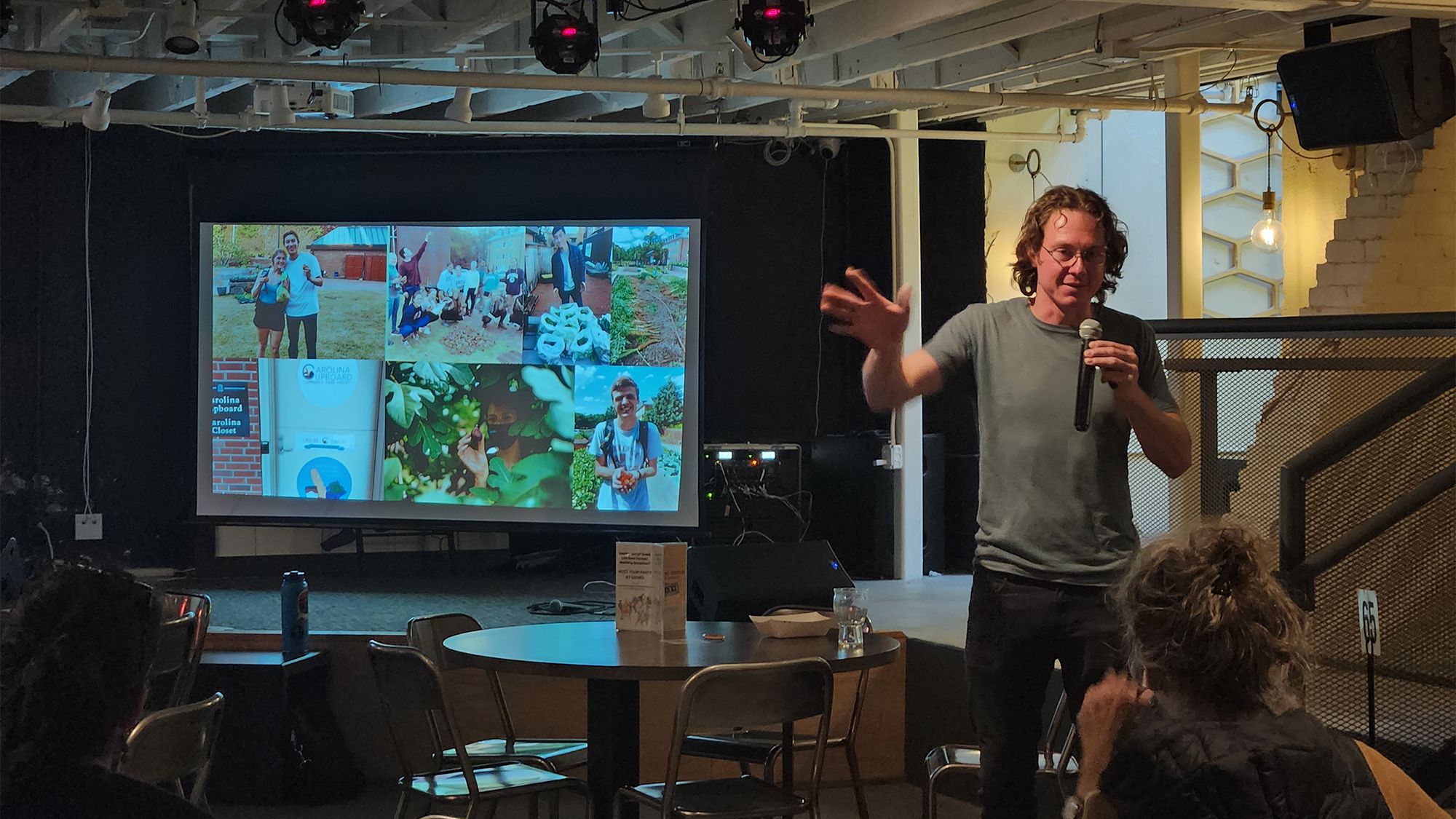 With an eye on the future, Freund is busy planning the further development of the Cafe platform, such as incorporating lightning talks and broadening the topics covered. Another goal is finding ways to expand the audience of the program, including marketing toward undergraduate and graduate students at UNC-Chapel Hill, among others. "We need more programs like the Cafe and we need creative ways to bring things like the Cafe to a more diverse audience," said Coleman.
"I think it's a great opportunity to make science fun and creative and diverse in a lot of different ways," said Freund. "I'm looking forward to exploring those ideas and having some fun along the way."
Learn more about Carolina Science Cafe and see a list of future dates and topics here.