Carolina Science Cafe Archive
Carolina Science Cafe Archive
Morehead Planetarium and Science Center introduced its Carolina Science Cafe program in October 2007
Morehead Planetarium and Science Center introduced its Carolina Science Cafe program in October 2007. At that time, the program was known as the Current Science Forum and met in a room within the Morehead Building.
The first speaker, Fred Stutzman, talked about Facebook, a social media channel that was just beginning to become known beyond its original audience of university students.
Fast-forward ten years: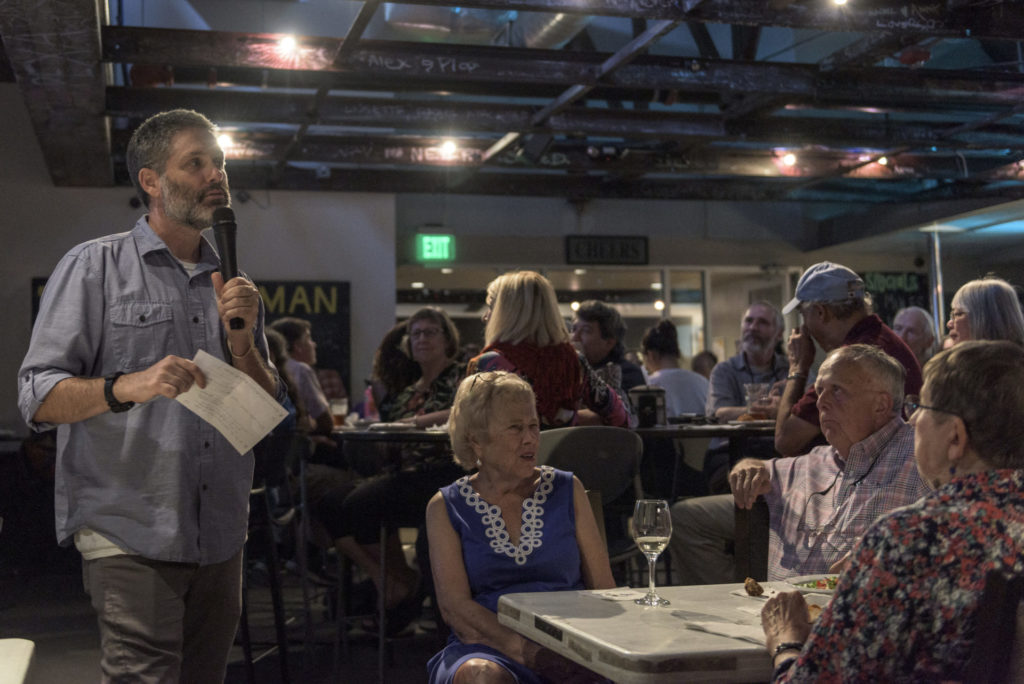 The Current Science Forum has become the Carolina Science Cafe
Attendance has increased by more than 400 percent
Sigma Xi and Gizmo Brew Works (our current program venue) sponsor Carolina Science Cafe
More than 100 professors and other experts have shared their research as guest speakers
Our guest speakers have continued to make headlines as leaders in their fields: MacArthur Foundation "Genius Grant," U.S. National Academy of Sciences, New York Times bestseller list, N&O "Tar Heel of the Year" and more
And Facebook, the topic of our first program … well, you know what happened with that
Today, Carolina Science Cafe is presented through the North Carolina Science Festival, a statewide initiative that Morehead Planetarium and Science Center founded and continues to administer. Will Freund, Community Engagement Specialist at Morehead, is the manager of the Carolina Science Cafe program.
You can learn more about the current Carolina Science Cafe program by clicking here. Want to know who has presented research in past programs? You'll find a complete list of every past program here on this page.
April: Dr. Shashank Srivastava || Let's Chat about ChatGPT
May: Kyle Parker || Rethinking How We Use Our Landscapes
June: Dr. Adam Rosenthal || Bacteria Get Hangry Too
July: Nick Eakes || Artemis II: There and Back Again
July: Bin Gu || CBD Oil: A Therapeutic Cure-all?
June: Barbara Fredrickson || Science of Connection in the Pandemic Age
May: Amy Sayle & Nick Eakes || Let's Talk About Space
April: Paul Abeda || National Biomechanics Day + Science of Skipping
March: Brian Southwell || Science of Misinformation
February: Frank Graff || Stories from Science TV
January: David Weber || Update on the Coronavirus
November & December: Ayse Belger || FPG Child Development Institute
October: John Bruno || How Freaked Out Should We Be? (IPCC Oceans Report)
September: Missy Cummings || Driverless Vehicles
August: Amelia Goranson || How Do We Feel About Dying? Insights from Social Psychology​
March: Richard Watkins || Chancellor Science Scholars
February: Eric Spana || Genetics of Harry Potter
January: Steve Young || CRISPR and Gene Editing
December: Ken Brown || Quantum Computing
November: Suzanna Harris || SciComm in the Age of Social Media
October: Justin Baumann || Corals and Climate
September: Robert Tarran || E-cigarettes
August: Rebecca Fry || Heavy Metal: Arsenic and Drinking Water
June: Mark Strynar || Everything You Wanted (and Didn't Want) to Know About GenX and Your Drinking Water
May: Duane Deardorff || Life Lessons from Physics
April: Diego V. Bohórquez || The Neurobiology of Gut Feelings
March: Grace White​ || The Science of Art Conservation
February:  Dr. Louise Dolan || String Theory & the Substructure of Matter
December: John Wambaugh || The Chemicals All Around Us: What's In My Couch Beyond Coins, Crumbs, and Dust?
November: Dan Costa || Intersecting Realities of Air Science and Policy
October: Melissa McCullough || Sustainability Science: The Big Picture and the Long View
September: Dr. Drew Pilant || Modern Mapping: From Photons to Crowdsourcing
August:  Tony Rice, Amy Sayle and Mickey Jo Sorrell || The 2017 U.S. Solar Eclipse
July: Dr. Anthony Hackney || Exercise & Sex: Too Much of a Good Thing?
May: Dr. Allen Glazner || Weird Death Valley
April: Dr. Kevin Stewart || When Chapel Hill Was In South America
March: Dr. Drew Coleman || SUPERVOLCANO! Coming Soon To A Theater Near You
February: Jeremy Whitley || The Unstoppable Wasp
January: Dr. Jason West || Climate Change: What Now?
December: Jonathan Frederick || Public Science in Post-Fact America
November: Dr. Jennifer Mersereau || Setting Your Biological Clock: A Look at Optimal Timing
September: John Martin || Privacy and Oversharing Online: A Look at 21st Century Trust
August: Dr. Vineet Menachery || High Stakes Science: Researching Future Pandemics
July: Dr. Fred Gould || Are GMOs Safe to Eat?
June: Drs. John Wikerson, John R. Parker & Louise S. Parker || Going Underground to Study the Sun
May: Dr. Jonathan Heckman || After the Higgs Boson
April: Dr. Lee Weisert || The Music of Science
March: Dr. Sergey Krupenko || Diet, Current Science and Cancer
February (Special Edition): Dr. Helen Lazear || Fighting Zika
February: Dr. Summer Goodson || Male Fertility, Dining for Two?
December: Dr. Clint Penick || One Billion Beats: The Unanswered Question of Heart Rate and Lifespan.
November: Dr. Gail Henderson || GeneScreen: Testing Healthy Adults for Rare Conditions
October: Dr. Kurt Gray || The Mind Club- Who Thinks, What Feels and Why it Matters
September: Anthony Arceci, Jeremy Ford, Soo Kim, Colleen O'Neil || NeuroNostix- New Treatment Options for Schizophrenia
August : Dr. David Margolis || Shock and Kill-Accelerating the Search for an HIV Cure
July: Dr. Adrienne Erickcek || Big Bang 101
June: Erich Jarvis || Bird Songs & Human Speech: The Neuroscience of Vocal Learning
May: Tori Ekstrand & Kevin Jeffay || Net Neutrality: The Devil Is In The Details
April: Dr. Marc Lange || The Laws of Nature.
March: Dr. Ty Hedrick || A Look the Biomechanics of Birds
February: Jeff Powell || The Helping Hand Project
January: Dr. Barton Cobert || Medication & Drug Safety: Great Expectations or Bleak House?
December: Dr. David McNelis || The Future of Nuclear Power and Energy Innovation
November: Dr. Jonathan Berg || Opening Pandora's Box: A Look at Genomic Sequencing in Newborns
October: Dr. Dan Ariely || The Psychology of Money
September: Dr. Mary Jane Epps || Fungal-insect Interactions: Explorations Into the Wild and Wacky
August: Dr. Joel Meyer || Mitochondria and Environmental Toxins
June: Dr. David Weber || Ebola from a Scientist's Perspective
May: Dr. Mary Jane Epps || Fungal-insect Interactions: Explorations Into the Wild and Wacky
April: Dr. Flavio Frohlich || Electrifying the Brain: Engineering meets Neuroscience meet Psychiatry
March: Adrian Down || Fracking in North Carolina. It's Complicated.
February Bonus: Dr. Stephanie Engel || Endocrine Disruptors and Child Development
February: Dr. Rebecca Fry || Toxic metals in your children's food, cause for alarm?
December: Dr. Zhen Gu || Smart Insulin Delivery
October: Dr. Greg Appelbaum || Video Game Playing and Visual Perception
September: Dr. Rochelle Schwartz-Bloom || The Pharmacology Behind "Breaking Bad"
June: Dr. Kenneth Hanson || The Water Series: Creating Tomorrow's Fuels Today
May: Dr. Heather Patisaul || The Water Series: What's In My Water?
April: Dr. Lee Weisert || The Water Series: Cryoacoustic Orbs
March: Dr. Jamie Bartram || The Water Series: Water to Live by and Die for
February: Ed Kerwin || The Water Series: Water, Second Only to Air
December: Dr. Chris Clemens || The Doomsday Series: Predicting Future Earth Impacts
November: Dr. William Goldman || The Doomsday Series: Plague
October: Dr. Stan Riggs || The Doomsday Series: Sea Level Rise
September: Dr. Gretchen Stuart || Hot Topics in Contraception
August Bonus: Dr. Joseph Piven || Clues to Autism
August: Brent Lane || "Lost Colony" Science
April: Dr. Andrea Lucky and Dr. Holly Menninger || The Role of Citizen Science
March: Dr. Dan Ariely || Irrational Behavior
February: Dr. Orrin Pilkey || Global Climate Change
December: Dr. Marcey Waters || Molecular Architecture
November: John Withey || The Science of Beer
October: Dr. Dan Stout || Bed Bugs
September: Dr. Mark Schoenfisch || Just Say NO (Nitric Oxide)
August: Don Goss and Dr. Michael || Gross Barefoot Running
July Bonus: Dr. Ted Bateman || Mice in Space
July: Dr. Myron Cohen || Slowing the spread of Human Immunodeficiency Virus
June: Dr. David DeMarini || Chlorinated Chromosomes: Swimming and Your Genes
May: Dr. Matt Ewend || Brain Surgery While You're Awake?
April: Dr. Cort Pedersen || Spring Series: The Biology of Love Oxytocin and the Evolution of Love, Intelligence and Mental Health
March: Dr. Sabrina Burmeister || Spring Series: The Biology of Love Sensory Neurobiology and The Search for A Mate
February: Sarah Williams || Spring Series: The Biology of Love Is It All in Your Head?
January: Michael Mineiro || International Space Law
December: Ken Varner || Photovoltaics: Harnessing the Sun
November Bonus: Dr. Maureen Berner and Dr. Sharon Paynter || Food Security in North Carolina
November: Dr. Peter White || The Science of Seed Banks
October: Dr. Marcia E. Herman-Giddens || Causes of Early Puberty
September: Dr. Kevin Guskiewicz || Concussions in Sports
August: Dr. Joseph DeSimone || Nanomedicine
July: Dr. Rich McLaughlin || Oil Rigged: Quantifying the BP Spill
June: Paul Jones || Is Internet Addiction Real?
May: Patricia Devers || Spring Series: Science and Ethics Designer Babies
April: David DeBatto || Spring Series: Science and Ethics Super Soldiers
March: Dr. Russell Harris || Spring Series: Science and Ethics Breast Cancer Screening
February Bonus: Dr. Lara Wagner || Aftershocks: The Science of Earthquakes
December: Dr. Kevin Weeks || Decoding the HIV Genome
November: Dr. Reyco Henning || Restarting the Big Bang Machine
October: Dr. Keith Payne || Prejudice and Perception
September: Dr. Chris Clemens || Summer Series: The Future of Energy A Look at the Business Side
August: Dr. John Papanikolas || Summer Series: The Future of Energy Powering Our Way to 2050
July: Dr. Gerald Cecil || Summer Series: The Future of Energy Peaking Beyond the End of Cheap Oil
June: Dr. David McNelis || Summer Series: The Future of Energy A Nuclear Renaissance?
May: Dr. Kathleen Sulik || In Utero
April: Special Program — Thomas Harriot Conference
March: Dr. Barbara Frederickson || Positivity
February: Dr. Jonathan Lees || The Volcano Hunter
December: Dr. Peter J. Mucha || An Inside Look at Network Science
November: Dr. Alex Roland || NASA at 50
October: Dr. George Rabinowitz || The Science of Elections
September: Dr. Cynthia Bulik || Eating Disorders
August: Dr. Kelly Giovanello || Summer Series: The Brain How The Brain Makes Memories
July: Dr. Charlotte Boettinger || Summer Series: The Brain Exploring Addiction
June: Dr. Aysenil Belger || Summer Series: The Brain: Brain Breakthroughs & Breakdowns
May: Dr. Jack Griffith || Astrobiology & Life on Mars
April: Dr. John Bruno || Climate Change & Coral Reefs
March: Dr. Daniel Pomp || Cloned Meat
February: Dr. Mario Ciocca || Performance-Enhancing Drugs
December: Dr. Greg Characklis || The Drought in N.C.
November: Dr. Noel Brewer || HPV Vaccination
October: Fred Stutzman || Facebook & Social Media