You're invited to the biggest star party in the universe
April 20, 2017
By Amy Sayle
North Carolina hosts the biggest star party for the public in the universe (at least we think it's the biggest) – and you're invited!
The 5th annual NC Statewide Star Party happens April 21 and 22, 2017, when 49 sites across the state, from the mountains to the coast, offer skywatching events for the public. These Star Party hosts include state parks, astronomy clubs, planetariums, nature centers, universities, schools, and a cemetery.
What might you do at a Star Party event?
1. Look through a telescope. Virtually every Star Party event will offer telescope observing (weather permitting), many of them with the generous help of volunteers from local astronomy clubs. The telescope operators will help you look at a variety of celestial objects.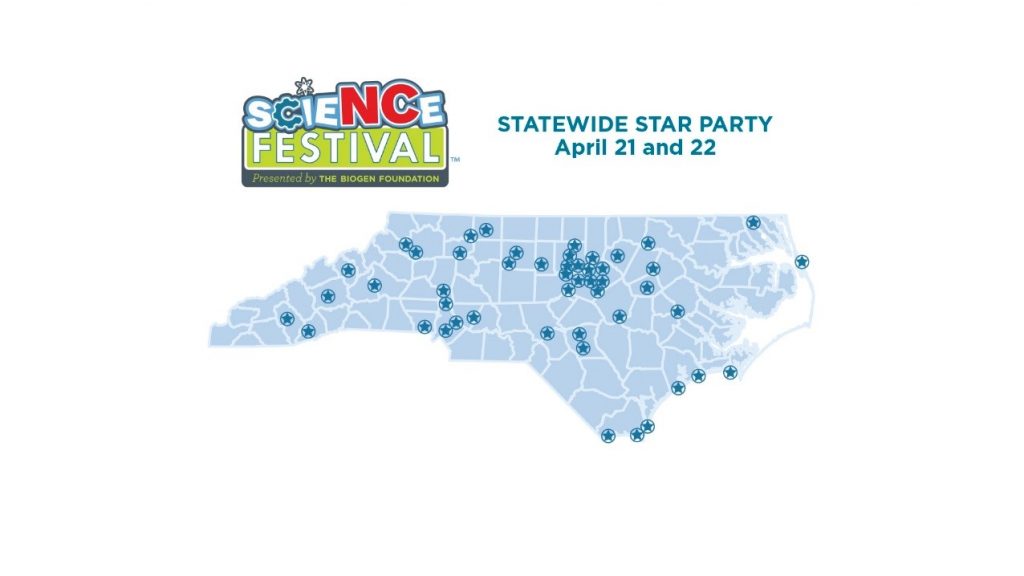 2. Observe the Sun. Several sites will offer daytime events with safe solar observing, including Yadkin County Park (Yadkinville), City Lake Park (Rocky Mount), and the UNC Science Expo (Chapel Hill).
3. View Jupiter. This planet is currently well placed in the sky at nightfall and is easy to spot with just the unaided eye. Peek through a telescope to see up to four of Jupiter's moons. If you go to a Star Party event on April 21 and then another on April 22, you'll discover what Galileo did more than four hundred years ago: the moons are orbiting Jupiter.
4. Do hands-on activities. Thanks to the generous funding of NC Space Grant, all Star Party hosts have been provided with a kit full of astronomy activities on the theme of "Star Light, Star Bright." Depending on which activities your Star Party host decides to use, you might wish on a star (and then draw it), take home a double star, participate in a celestial treasure hunt, act out the life cycle of a star, do nuclear fusion with marshmallows (and then eat them), and make a supernova.
The Statewide Star Party is part of the annual North Carolina Science Festival. You can find a Statewide Star Party event near you by checking the NC Science Festival website. To see a listing of all Star Party events, go to https://ncsciencefestival.org/starparty/. Most events are free. A few have limited space and require advance registration.
Important! Most Star Party events are weather permitting. Check with individual sites about any back-up plans they may have in case of clouds or rain.
Hope to see you under the stars.