Teen Science Cafe recap: How do you put CO2 back in the ground?
December 5, 2022
By Violet, Teen Advisory Board
For our November Café we were joined by Dr. Megan Plenge, a Teaching Associate Professor in the Department of Earth, Marine and Environmental Sciences at UNC-Chapel Hill. Her presentation, titled "Back to the Geosphere: Impacts of CO2 Sequestration Underground," dove into the fascinating realm of how scientists are trying to find a solution for our ever-warming climate. Dr. Plenge began by giving us background on how CO2 warms our atmosphere. The earth absorbs ultraviolet light from the sun then radiates this light out into the atmosphere, and greenhouse gases in our atmosphere absorb it. In addition, a large quantity of CO2 is absorbed by the ocean. In this way, the ocean is helping to slow climate change. But the ocean is being negatively impacted by this CO2 when CO2 causes the water temperature to rise and the pH to decrease, resulting in damage such as bleached coral.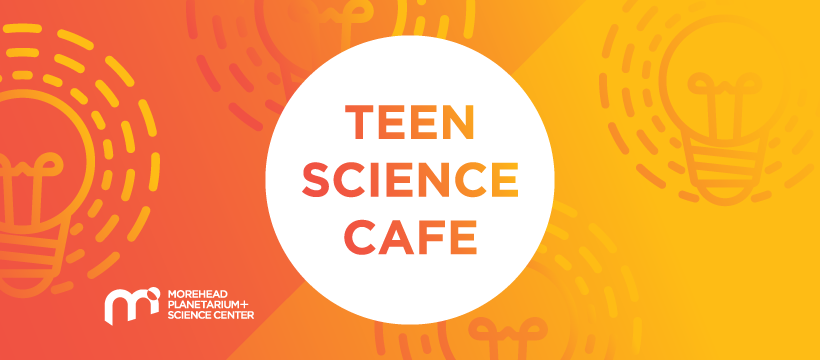 Dr. Plenge then went on to explain how geologic sequestration works. This is just one type of sequestration that is utilized. Special pipelines for geologic sequestration are often connected to power plants, where CO2 is emitted, and these pipelines convert the CO2 into what is called a supercritical fluid and inject it into aquifers in the ground. Dr. Plenge then introduced the topic of Eh, which is basically a concentration of electrons that is similar to pH and important for the solubility of a mineral. Eh is very important for trapping CO2 underground because an increase in CO2 changes pH and Eh, which in turn change the stability of minerals in the aquifer used for the CO2 sequestration.
Finally, Dr. Plenge explained the conclusions of two experiments that she conducted, measuring how high CO2 alters the metabolic functioning of iron-reducing and methanogenic microorganisms. She found that iron-reducing microorganisms do metabolize until the CO2 concentration becomes too great. 
Dr. Plenge presented on a topic that is so relevant and important today. It is thanks to the work of Dr. Plenge and other scientists that we are finding ways to solve our climate crisis. Thank you, Dr. Plenge, for a fun and enlightening Teen Science Café! 
---
About the author: Violet is a 10th grade student and has been a part of the Teen Advisory Board since 2019 after regularly attending Teen Science Cafes as a participant. She is most interested in the field of botany due to the vital importance of plants to the environment and tendency to be overlooked."
---
Visit our Teen Science Cafe page for more information on program updates and upcoming events.