You're invited to a Star Party! April 16 & 17, 2021
April 15, 2021
By Amy Sayle
North Carolina Statewide Star Party returns, celebrating "Moon and Mars"
North Carolina hosts the biggest* statewide star party for the public in the entire universe—and you're invited!
The 9th annual NC Statewide Star Party happens Friday, April 16, and Saturday, April 17, 2021. This year's theme is "Moon and Mars," in celebration of two of the most prominent objects in the mid-April 2021 evening sky.
Most Star Party events are free. Some events are in-person; others are virtual.
What might you do at an in-person Star Party event? Depending on which event you choose, you might: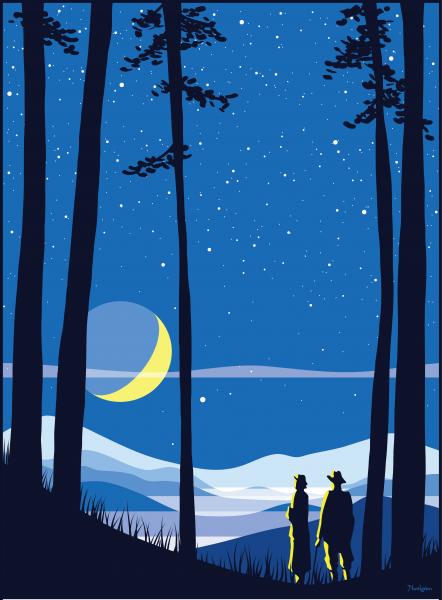 Gaze through telescopes from an airport, a beach, an island, a park, an observatory, a science center, or several other locations.
Participate in a space-themed storytime with songs, dance, and puppets.
Take a moonlit hike with a naturalist.
Go on a solar system walk and do hands-on activities at a nature preserve.
Build a cardboard rover, make a paper Mars helicopter, and create Oreo moon phases at a city park.
And more! Search for the event closest to you at this webpage.
Please Note
All Star Party hosts have been asked to follow state and local public health guidelines. Remember to protect yourself and your community by wearing a face mask and observing social distancing.
Prefer to participate in a virtual Star Party event? You have lots of options! This is just a sampling:
See live stream telescope views of the Moon, Mars, and other celestial wonders, hosted by various Star Party partners, including UNC-Chapel Hill and Raleigh Astronomy Club, UNC Asheville's Lookout Observatory and the Astronomy Club of Asheville, and Appalachian State University's Dark Sky Observatory.
Hear the story of how Neil Armstrong and 61 other NASA astronauts visited Chapel Hill to train at Morehead Planetarium.
Explore the collections of hands-on astronomy activities and resources provided by Davidson College.
Find out about family stargazing aps with Rowan Public Library.
Learn about the Moon and Mars in an interactive event at Asheboro Public Library with a NASA Solar System Ambassador.
Create a Moon myth and make your own home stargazing map with Cape Fear Museum.
Click here to see ALL your Star Party options. Please note that many events, whether they are in-person or virtual, require advance registration.
The NC Statewide Star Party is made possible by funding from NC Space Grant and with the support of 35 Star Party hosts from the mountains to the coast, including parks, libraries, historic sites, nature centers, museums, planetariums, and colleges and universities.

The Statewide Star Party is part of the annual NC Science Festival, which features science events throughout North Carolina during the entire month of April. Find a Star Party event—and more science events—at the Festival website.
(*we think it's the biggest, anyway)