Skywatching At Home: How dark is your sky? Leo knows.
April 17, 2020
By Amy Sayle
How well can you see the stars from where you live?
Through April 23, 2020, you and your family can collect scientific data right outside your home for Globe at Night, an annual international citizen-science campaign to measure the impact of light pollution on the night sky.
To participate:
1) Go outside at least an hour after sunset between now and April 23, and wait 10 minutes or more for your eyes to adjust to the dark.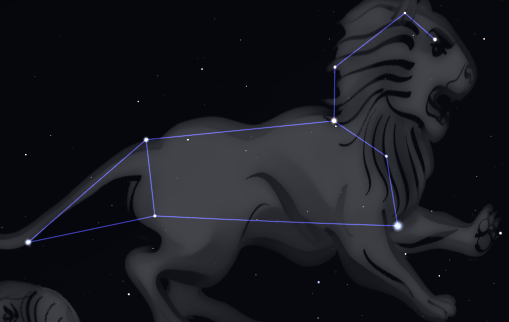 2) Find the constellation Leo the Lion, and compare what you see with the Globe at Night magnitude charts.
3)  Go online to report your results. You'll provide information about when and where you made your observations and what the sky conditions were.
Afterwards, your data will be visible on the Globe at Night interactive data map.
To find out why you are almost certainly not seeing as many stars from your neighborhood as you could be, try the NC Statewide Star Party activity, "Light pollution and shielding." You'll need the following:
Flashlight, preferably with an exposed bulb
White surface, such as a white counter, table, or paper plate
Figurine, or any small object
Shield (your hand will work)