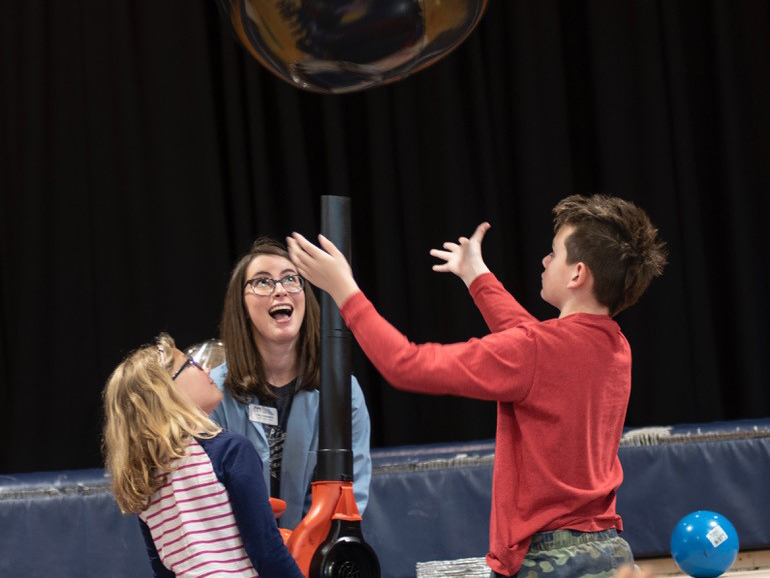 Bring energetic live science demonstrations to your school or community
Science on Stage will captivate your audience with interactive experiments and demonstrations performed by a Morehead educator in your gym, auditorium, or outdoor stage.
Program content is aligned to NC education standards, making Science on Stage a fun and unique way to supplement classroom learning and deepen learning for young explorers.
Science on Stage
For Grades K-5
Length: 45 or 60 minutes
Maximum Participants: 200 students per session
Maximum Sessions: 2 per day
45 minutes
Learn about forces and motion as we launch rockets and make objects levitate in midair. Experiment with phase changes using balloons and bubbles, perform chemical reactions to create cascades of colorful foam, and so much more. This show will have younger audiences on the edge of their seats as we introduce them to the wonderful world of science.
60 minutes
Explore Newton's laws of motion with "magic" tricks and rocket launches, then conduct hair-raising experiments with electricity using a Van De Graaff generator. Learn about human body systems with a digital microscope, discover phase changes with liquid nitrogen, and more. We'll even perform a chemical reaction to create a giant, colorful foam explosion as our grand finale! This dynamic show will amaze your students while reinforcing key scientific concepts.
Base Fees
One-day visit: $300
Each additional, consecutive day: $200 per day
Travel Fees
Sites within 90 miles of Chapel Hill: $50 per day
Sites more than 90 miles from Chapel Hill: $200 per day
Scholarship assistance is available pending qualifications.
2 sessions per day
Maximum of 200 students per session
Minimum of 30 minutes between sessions to reset
This program requires a space that can accommodate 200 students and has access to power outlets. A gym, multipurpose room, or auditorium is recommended.
Your Morehead educator will arrive 90 minutes before your first program begins to set up and will need to stay one hour after the last show ends to pack up. The space must be available for the full duration of that time.
Carla Robinson | Community Outreach Educator
carlarob@live.unc.edu
919.962.8435