Morehead Planetarium & Science Center awarded multi-year $2.86 million grant from National Science Foundation
August 9, 2019
Updated: May 24, 2021
Morehead Planetarium & Science Center awarded multi-year $2.86 million grant from National Science Foundation
The five-year grant will expand science education to additional communities across North Carolina
Chapel Hill, NC— Morehead Planetarium and Science Center (MPSC) has been awarded a five-year $2.86 million grant from National Science Foundation as a part of the Advancing Informal STEM Learning (AISL) program. The grant will support the expansion of informal science education opportunities to diverse audiences in the state of North Carolina.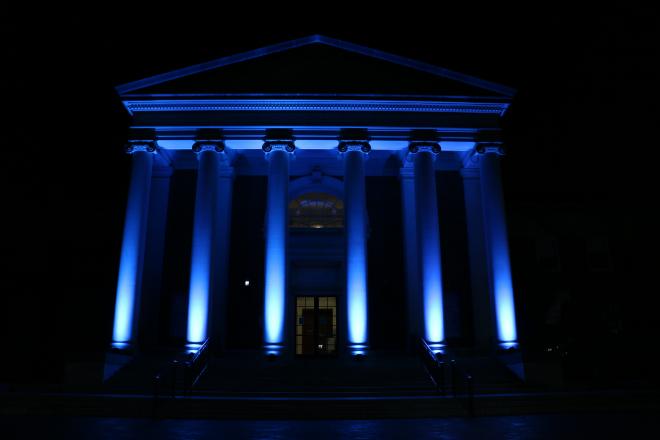 As defined by the National Science Foundation, informal science education is "lifelong learning in science, technology, engineering, and math (STEM) that takes place across a multitude of designed settings and experiences outside of the formal classroom".
MPSC's Hidden No More: Shedding Light on Science Stories in the Shadows will help bridge gaps in representation by developing exhibits that include simulations of historical scientific experiments enacted by little-known scientists of color, virtual reality encounters that immerse participants in the scientists' discovery process, and other content that allows visitors to interact with the exhibits and explore the exhibits' themes.
"We are pleased that NSF has awarded this grant. The Morehead team will develop exhibits and programs highlighting scientific contributions that are not very well known while researchers from the School of Education will study the efficacy of our efforts," says Todd Boyette, Director of Morehead Planetarium. "At its core, this project is designed to broaden participation in STEM and has the potential to make significant contributions to STEM education."
MPSC will develop transportable, interactive exhibits that explore the characteristics of light—Color, Energy, Time—in multiple ways: short documentary and animated films, virtual reality experiences, interactive "photobooths," and technology-based inquiry activities.
The exhibits will also tell two other types of science stories: how contemporary research related to light, particularly in astrophysics, is unveiling the hidden stories of our universe; and hidden stories of STEM innovators, past and present, women and men, from diverse backgrounds. These stories will provide needed role models for the adolescent learners, helping them learn complex STEM content while showing them how scientific research is conducted and the diverse community of people who can contribute to STEM innovations and discoveries.
The grant award aligns with Morehead's current and long-term strategies to reach more diverse populations and provide additional learning and engagement opportunities for communities across the state.
The National Science Foundation developed the Advancing Informal STEM Learning program to promote informal science education across the United States through research, innovative projects, and conferences.
Each year National Science Foundation allocates 93% of its $8 billion budget to support research and other projects like MPSC's Hidden No More: Shedding Light on Science Stories in the Shadows. They currently fund projects in all 50 states and US territories; and awards over $200 million in grants each year to organizations in the state of North Carolina.
---
About Morehead Planetarium and Science Center
Morehead Planetarium and Science Center is a unit of the University of North Carolina in Chapel Hill. Morehead works to serve North Carolina and beyond by bringing together the unique resources of UNC to engage the public for an improved public understanding of science, technology and health. For more information, visit moreheadplanetarium.org.
Learn more about our Hidden No More initiative here.
About National Science Foundation—Advancing Informal STEM Learning Program
The National Science Foundation's Advancing Informal STEM Learning (AISL) program seeks to advance new approaches to and evidence-based understanding of the design and development of STEM learning opportunities for the public in informal environments; provide multiple pathways for broadening access to and engagement in STEM learning experiences; advance innovative research on and assessment of STEM learning in informal environments; and engage the public of all ages in learning STEM in informal environments. For more information, please visit the National Science Foundation website.
Contact:
Malenia Swinton​
Marketing & Communications Manager | Morehead Planetarium & Science Center
malenias@unc.edu
919.843.3474