Jupiter Ball Through the Years
Jupiter Ball Through the Years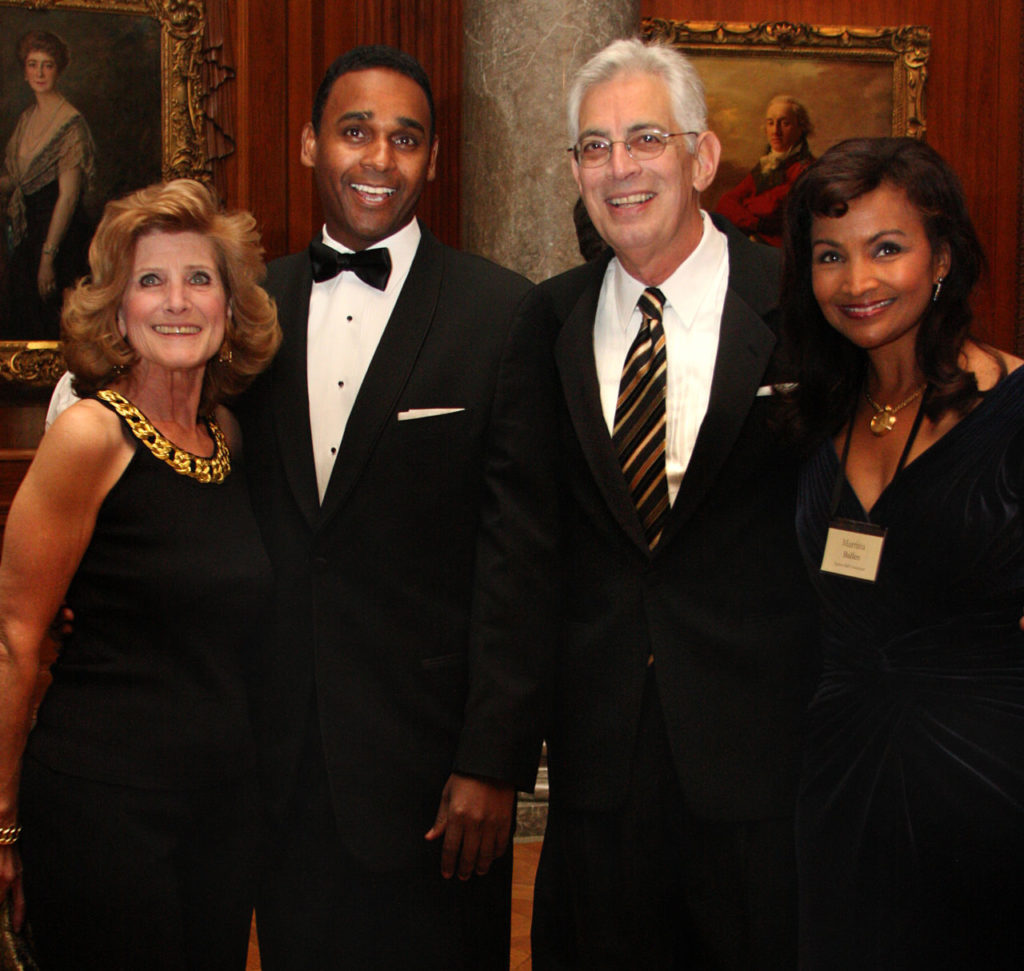 Learn more about previous Jupiter Ball fundraisers
Jupiter Ball is the premier philanthropic event in Chapel Hill. In 2019, we celebrated 20 years of giving to support science education for all North Carolina children.
Proceeds from this black tie gala support field trips to Morehead and visits from Morehead mobile programs to schools across the state.
Read below for information on honored guests, caterers, sponsors, and more.
Date November 22, 2019
Honored guests
Chancellor Emeritus James Moeser: During his time at The University of North Carolina at Chapel Hill, Chancellor Moeser oversaw a campus-wide genomics initiative that grew into an unprecedented physical transformation of the campus: the expansion of genome research, the University's most successful private fundraising campaign, and record-setting faculty research funding. Additionally, he introduced the Carolina Covenant initiative, which helps students from low-income families attend the University debt-free.
Steve Butts and Addie Miller were 2019 honorees due to their dedication and commitment to underserved rural communities of northeastern North Carolina. Their continued and increasing support has been pivotal in Morehead's efforts to provide science enrichment and resources to Gates County.
Representatives from the Saunders Science Scholars program in Gates County
Caterer Spread Catering
Band Night Years
Activities Hard-hat tours of the renovated Morehead building, star tours in the planetarium dome, and interactive science activities
Date November 16, 2018
Honored guest
Joan Higginbotham: Joan Higginbotham's NASA career began at the Kennedy Space Center where she supported a total of 53 space shuttle missions. In 1996, Joan was selected as an astronaut candidate, and ten years later, she blasted into space on the shuttle Discovery, becoming the third African American woman to accomplish this amazing feat. After a 20-year career at NASA, Joan pursued other opportunities before returning to her aerospace roots as director of community affairs and corporate social responsibility activities at UTC Aerospace Systems.
Caterer Snap Pea Catering
Band The Headliners
Of-note First Jupiter Ball away from the Morehead Planetarium, located at The Barn of Chapel Hill. Additional performances by Cadence acapella group and UNC Ballroom team
Date November 17, 2017
Honored guests
Ann Goodnight: Ann Goodnight is the Senior Director of Community Relations for SAS Institute, Inc. Goodnight consistently shows support for STEM education. In 1996, she co-founded Cary Academy, placing an emphasis on the use of technology in the classroom. As the secretary of the University of North Carolina Board of Governors, Goodnight uses her influence to enhance educational accessibility, including providing scholarships to students at North Carolina State University. Goodnight was one of the founding members of the North Carolina Science Festival Advisory Board and continues to serve North Carolina with her participation in the North Carolina Science Festival.
Stephani Page: Dr. Stephani Page is a postdoctoral researcher in the Pharmacology Department at UNC Chapel Hill. She holds a bachelor's in chemical engineering and a master's in biology from North Carolina A&T, as well as a doctoral degree in biochemistry and biophysics from UNC Chapel Hill. Dr. Page sparked an online community through the hashtag "#BlackandSTEM" in 2014 as a source of support, encouragement, and connection for Black STEM professionals online. Dr. Page has been a driver of change and fosterer of community for Black STEM students and professionals in North Carolina and beyond.
Ann Vaughan Hammond: Dorothy Vaughan made history as NASA's first African American female supervisor and expert in FORTRAN, one of the earliest programming languages – but for Ms. Ann Vaughan Hammond, she was just 'mama.' The story of Dorothy Vaughan has recently gained more exposure with the release of the 2016 film Hidden Figures in which Vaughan is portrayed by Octavia Spencer. Because of their mother's influence, Ann, and the rest of Vaughan's children and grandchildren, graduated with one or more college degrees. Ann wants to inspire children and other hidden figures to show the world what they can do.
Jamila Simpson: Dr. Jamila Simpson was the first African American woman to receive a bachelor's degree in meteorology at North Carolina State University, and went on to receive her doctorate in Science Education from NC State as well. She has previously worked at Morehead Planetarium and Science Center as a science education specialist and is currently the Assistant Dean for Academic Programs, Student Diversity, and Engagement for the College of Sciences at NC State. Dr. Simpson is at the forefront of diversity efforts, focusing on the recruitment, retention, and graduation of students from underrepresented groups in the sciences.
Caterer Snap Pea Catering
Band The Headliners
Of-note Performance by Tar Heel Voices, wines donated from Chehalem Winery in Oregon's Willamette Valley by Harry Peterson-Nedry (UNC class of 1969)
Date November 18, 2016
Honored guests
Aziz Sancar: Aziz Sancar is a Turkish-American biochemist and molecular biologist. He is the Sarah Graham Kenan Professor of Biochemistry and Biophysics at the UNC School of Medicine and a member of the UNC Lineberger Comprehensive Cancer Center. He specializes in DNA repair, cell cycle checkpoints, and circadian clock. Dr. Sancar is also the co-founder of the Aziz & Gwen Sancar Foundation, a nonprofit that promotes Turkish culture and offers support to Turkish students in the U.S. In 2015, Sancar was awarded the Nobel Prize in Chemistry for his work in the mechanic studies of DNA repair.
Paul Modrich: Paul Modrich is an American biochemist. He is the James B. Duke Professor of Biochemistry at Duke University where he has worked since 1976. He is also a member of the Duke Cancer Institute. Modrich is known for his research on DNA mismatch repair. He also works as an investigator at the Howard Hughes Medical Institute. In 2015, Modrich was awarded the Nobel Prize in Chemistry for his work in the mechanic studies of DNA repair.
Caterer Snap Pea Catering
Band The Headliners
Of-note Performances by Cadence acapella group and The Pitchforks acapella
Date November 20, 2015
Honored guests
Mary Pope Osborne: Mary Pope Osborne is the writer of the beloved "Magic Tree House®" children's book series, as well as biographies, mysteries, picture books, novels, and reimagined fairy tales and mythologies. She wrote the first "Magic Tree House®" book in 1992 and has since continued to create exciting adventures for Jack and Annie, as well as for her legion of fans.
Will Osborne: Will Osborne began his career as an actor before turning his imagination to storytelling and music. He collaborates with his wife on writing projects and has worked on "Magic Tree House®: The Musical" with composer Randy Courts and the script for "Magic Tree House® Space Mission" with Morehead Planetarium and Science Center.
Jeff Powell: Jeff Powell, who hails from Red Oak, N.C., is a recent graduate of the biomedical engineering program at UNC Chapel Hill. While still in school, he began creating low-cost prosthetic hands using 3D printing technology. Jeff started the Helping Hand Project to help make affordable prosthetic hands that are donated to children with limb differences. Currently, Jeff works as a research and development engineer with TransEnterix in Research Triangle Park.
Catering Durham Catering Company
Band The Headliners
Of-note Performance by Sophie Lackey. At the time, Sophie Lackey was a 14-year-old student in the seventh grade at Culbreth Middle School.
Date November 21, 2014
Honored guests
Sylvia Branzei: Sylvia Branzei is a children's nonfiction author, performer of educational shows for kids, and an educational consultant and former teacher. Born in Michigan, she received her bachelor's degree in microbiology from the University of Michigan in 1980 and her master's degree in science education from California Polytechnic University in 1986. She is the originator of Grossology, the concept of engaging kids with "gross" science, and created the Grossology series of children's books with illustrator Jack Keely. The Grossology books have been adapted into museum exhibits, a television show, and now a fulldome planetarium show developed by Morehead Planetarium and Science Center.
Jack Keely: Jack Keely is an illustrator, graphic designer, and author who has illustrated over thirty children's books. Born in upstate New York, he received his bachelor's degree in illustration from Rhode Island School of Design and his master's degree in design from the Cranbrook Academy of Art. His playful illustrations bring author Sylvia Branzei's Grossology series to life, both on the page and as part of Morehead's new Grossology and You planetarium show. They take a lighthearted approach to the science of the human body, fascinating (and grossing out) young readers. He and Branzei have also collaborated on Branzei's "icky history" series for beginning readers, Ickstory. His first young adult novel will be published in 2015 by Permuted Press.
Mayo Boddie Sr.: Born in Rocky Mount, NC, Mayo Boddie helped to found Boddie-Noell Enterprises in 1961. The family-owned company is now the largest Hardee's franchise in the United States, headquartered in Boddie's hometown. In 2003, he and his family launched the Nicholas Bunn Boddie Sr. and Lucy Mayo Boddie Foundation Scholarship Program at Morehead Planetarium and Science Center. Named in honor of his parents, it aimed to help students from Edgecombe, Nash, and later Halifax Counties to take field trips to Morehead. In 2011, program support extended to include children from an additional five counties. More than 10,000 children have been inspired by the planetarium trips and visits from Morehead's traveling planetarium and laboratories that the generosity of the Boddie family has made possible.
Caterer Catering Works
Band The Headliners
Of-note Performance by NC Youth Tap Ensemble