November 17
@
5:30 pm
–
7:00 pm
Join us for our November Teen Science Cafe!
Please join us at Morehead Planetarium on Friday, November 17th for a very exciting Teen Science Cafe! We will be joined by Esteban Agudo, a marine ecologist interested in how environmental characteristics (i.e. temperature, structural complexity) affect marine communities in a time of global change. Our guiding question will be "How is climate change affecting predation in marine communities?"
The western doors up the big stairs will open at 5:30 for pizza and conversation. The cafe will start at 6:00 and wrap up around 7:00.
Temperature affects every aspect of the biology of ectotherms (cold blooded animals). Through my research I study the effects of temperature changes on predation rates (e.g., how much an organism eats) of marine organisms including whelks, starfish, and reef fishes in the Galapagos Archipelago. As climate change is causing the ocean to get warmer, we need to know how temperature affects the interactions between species to better predict the future of marine communities.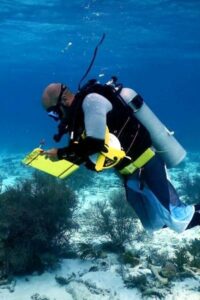 About Esteban:
I was born in Caracas, Venezuela. While I was an undergrad majoring in Biology, I learned to scuba dive and found I could combine my passion for science and my passion for the ocean into a career. After finishing my undergrad, I went into graduate school and did my master also in my home country, studying the importance of corals as provider of shelter for reef fishes. Afterward I worked as lab manager in the same lab for a couple of years, where I spend most of my time traveling across the Venezuelan coast and islands studying the health status of coral reefs and helping students to develop their own projects. In 2019 I moved to North Carolina to start my PhD at UNC in the Bruno Lab where I had been studying the effect of temperature on interactions between species on reefs in the Galapagos.
---
Program Schedule
5:30 pm – Arrive and check in. We will gather inside the west, main entrance of Morehead.
5:30 pm – 6:00 pm: Pizza social. Pizza social will take place in our classrooms, located on the 2nd floor.
6:00 pm – 7:00 pm: Discussion & activities. Presentations will take place at the Full Dome Theater.
*Please Note: Depending on scheduled activities, the program may end between 7:00 p.m. and 7:15 p.m.
Morehead Planetarium and Science Center