Morehead announces $5.2 million renovation to #TakeUpSpace
April 3, 2017
CHAPEL HILL, NC – "#TakeUpSpace" is Morehead Planetarium and Science Center's $5.2 million building project to reimagine the North Carolina icon as a modern-day, technology-advanced science hub, to be unveiled at a launch party Thursday, April 6, 5 p.m. to 7 p.m., 250 E. Franklin St., Chapel Hill, NC. More than 200 invited community stakeholders are expected to attend.
The building was completed in 1949, thanks to the generosity of John Motley Morehead III, who gave the Planetarium to UNC-Chapel Hill out of gratitude for its contribution to his professional success. Despite Morehead's decades-long popularity as a destination for school groups and visitors, this beloved icon on the UNC-Chapel Hill campus has not had significant upgrades to its teaching and exhibit spaces since it opened.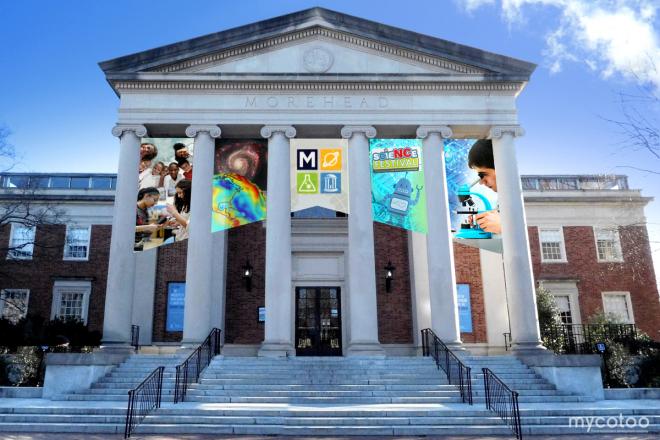 "Morehead will retain its majestic exterior, while inside, it will soon provide the kind of experiences visitors and students expect today," said Todd Boyette, Morehead's director. "The results will be transformative. We will be solidly positioned among America's leading university-based science outreach centers. We are grateful to our generous partners who help Morehead "#TakeUpSpace."
The #TakeUpSpace celebration will include an unveiling of plans for the renovation. They include moving the main entrance to the building's west end facing McCorkle Place; a modern, reconfigured lobby space; an exhibit hall that will pay tribute to UNC's history as a pioneer of science exploration; an interactive "maker space" that's part exhibit, part program; an updated science demonstration stage and expanded exhibit galleries showcasing the advances researchers are making in science, health and technology.
With #TakeUpSpace the theme of the evening and the building project, the launch event will celebrate science, technology, engineering and math (STEM).
Sign up for the Morehead monthly e-newsletter to receive updates about the renovation project. Morehead will hold a grand reopening in Fall 2020.