Morehead awarded $50,000 grant to provide science education resources for rural NC
November 25, 2019
Morehead Planetarium & Science Center awarded $50,000 grant from Alfred P. Sloan Foundation to provide science education resources for rural NC
CHAPEL HILL, NC— The Alfred P. Sloan Foundation has awarded a $50,000 grant to Morehead Planetarium and Science Center for a new project that will help address equity in access to high quality science education resources in northeastern North Carolina. Morehead will collaborate with Elizabeth City State University (ECSU) on the project.
Through Science Rising!, Morehead and ECSU will provide STEM education resources and opportunities in rural northeastern North Carolina via planetarium show programming and summer camp programming.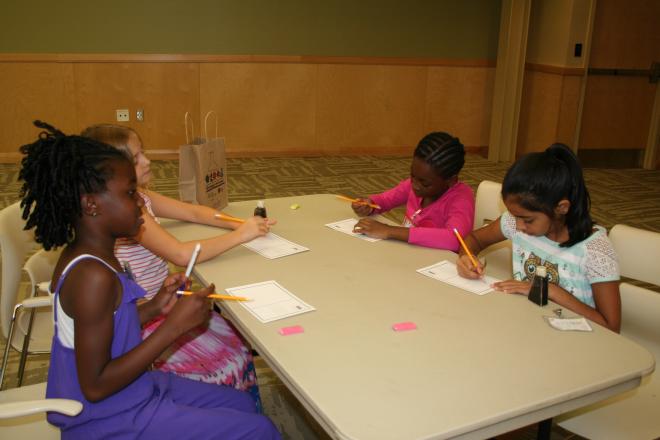 "This project is a unique opportunity to partner with a historically black college and university (HBCU) and serve an under-resourced community," says Todd Boyette, Director of Morehead. "It also demonstrates our commitment to forging meaningful, collaborative relationships across the state to provide opportunities for all North Carolinians to engage with science."
Morehead will adapt three of its educational planetarium shows for use at ECSU's recently reopened Khan Planetarium: Earth, Moon and Sun; Solar System Odyssey; and Take Flight. Each show is aligned with elementary and middle school science guidelines for NC Standard Course of Study and augmented with standards-based curricula.
This project will also make possible a total of five summer science enrichment camps for children in upper elementary and middle school grades over two years. Morehead staff will collaborate with ECSU faculty and staff to develop the camp curricula, train staff and volunteers and evaluate the project.
Research shows that there are a number gaps in STEM (science, technology, engineering, math) knowledge and participation among students in rural communities like northeastern North Carolina. Sociocultural and systemic factors play a role, as well as lack of infrastructure, unstable economies, and geographic isolation. The impact is that rural students may not see the relevance of science in their daily lives or as a viable career interest.
"This collaboration between Elizabeth City State University, the Morehead Planetarium Science Center, and the Alfred P. Sloan Foundation represents our mutual interest in inspiring individuals to reach for the sky in their exploration and pursuit of knowledge," says Farrah Jackson Ward, Provost and Vice Chancellor for Academic Affairs at ECSU.
"We are excited about the impact that this partnership will have on increasing access to experiential learning opportunities for students and teachers in the northeastern region of North Carolina."
---
About Morehead Planetarium and Science Center
Morehead Planetarium and Science Center is a unit of The University of North Carolina at Chapel Hill. Morehead works to serve North Carolina and beyond by bringing together the unique resources of UNC to engage the public for an improved public understanding of science, technology and health. For more information, visit moreheadplanetarium.org.
About Elizabeth City State University
Elizabeth City State University is a public, historically black college located in Elizabeth City, North Carolina and a constituent of The University of North Carolina. Its mission is to promote economic, social, and environmental progress for the people of northeastern North Carolina, the state, and the nation. For more information, visit www.ecsu.edu.
About Alfred P. Sloan Foundation
The Alfred P. Sloan Foundation makes grants primarily to support original research and education related to science, technology, engineering, mathematics, and economics. The Foundation believes that these fields—and the scholars and practitioners who work in them—are chief drivers of the nation's health and prosperity. The Foundation also believes that a reasoned, systematic understanding of the forces of nature and society, when applied inventively and wisely, can lead to a better world for all. For more information, please visit the Foundation's website.
Media Contact:
Malenia Swinton​ | Marketing & Communications Manager
Morehead Planetarium & Science Center
malenias@unc.edu
919.843.3474