Experts in original fulldome planetarium show production
Morehead Planetarium and Science Center is a leader in the production of original fulldome planetarium shows. Theaters across the United States and around the world have leased Morehead productions – our shows can be seen on four continents and in more than 30 states!
Morehead has partnered with leaders in the field to distribute our shows. Please visit the websites of these partners to learn more about leasing a Morehead production: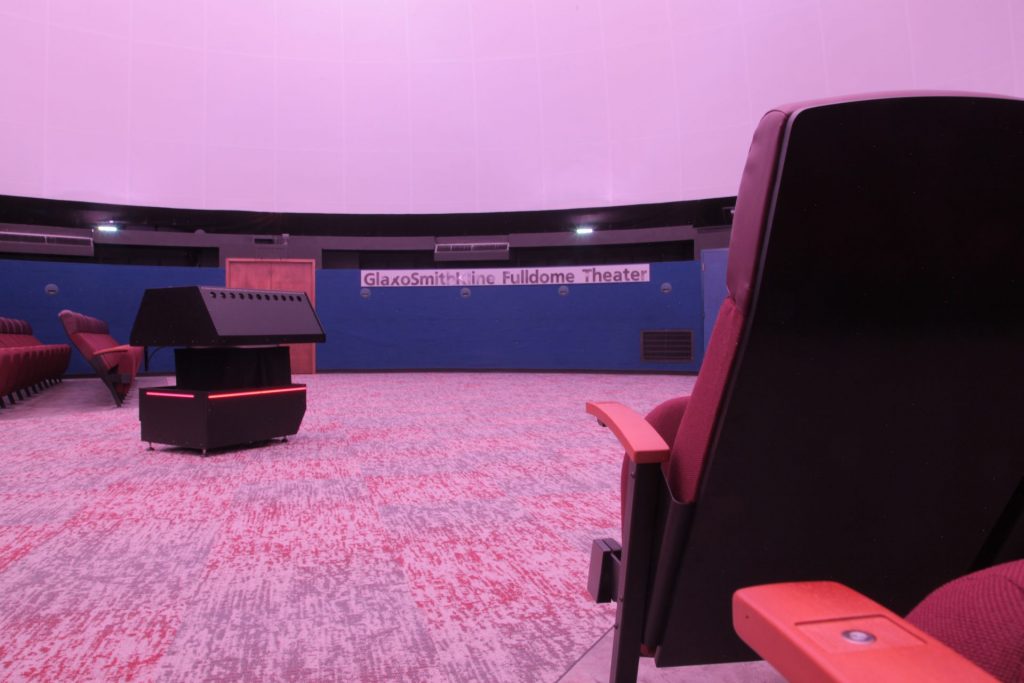 Check out our July 2021 feature in The Well
Interested in hiring us?
Contact Jay Heinz, Assistant Director of Digital Production and Strategy, at jayheinz@email.unc.edu.
Show Marketing Kits
If your planetarium is leasing one of Morehead's original productions, Morehead offers marketing materials (including graphics, templates, and other resources) to help you promote your show to your audience. These materials may be used ONLY to promote Morehead original productions. If you have questions about marketing a Morehead original production, please contact Morehead's marketing office at moreheadplanetarium@unc.edu for assistance.
Morehead Planetarium and Science Center, a unit of University of North Carolina at Chapel Hill, distributes its fulldome planetarium show production Grossology & You via Sky-Skan or Spitz to fulldome planetariums worldwide.
Planetariums that have leased Grossology & You are invited to use the resources below for print, broadcast and online marketing. Please contact Morehead's marketing office at moreheadplanetarium@unc.edu if you encounter any problems with these resources.
The following statements are required in "Grossology & You" marketing:
This presentation and all related materials are based on the book "Grossology and You" published by Price Stern Sloan. GROSSOLOGY® is a registered trademark of Penguin Young Readers Group, a division of Penguin Random House LLC.
"Addressing the Science of Really Gross Things: Engaging Young Learners in Biomedical Science Through a Fulldome Show and Supporting Curricula" is supported by a Science Education Partnership Award (SEPA), Grant Number #1R25OD010522-01, from the National Institutes of Health (NIH). Its contents are solely the responsibility of the authors and do not necessarily represent the official views of NCRR or NIH.
Asset Downloads
Please contact Morehead's Marketing Team at moreheadplanetarium@unc.edu for the Grossology & You  24″ x 36″ display poster (52 MB) file.