NC students to speak with NASA astronauts during July downlink
NC Students to Speak with NASA Astronauts during July Downlink
CHAPEL HILL, N.C.—North Carolina students will pose questions and hear from astronauts aboard the International Space Station during a live educational downlink on Monday morning, July 12. Viewers will be able to watch on NASA Television and the agency's website.
NASA astronauts Megan McArthur and Shane Kimbrough will answer prerecorded questions from students participating in Morehead Planetarium and Science Center outreach and summer camp programs. As programs resume this summer, Morehead will serve hundreds of students in more than 10 counties in North Carolina, in addition to ramping up its onsite operations.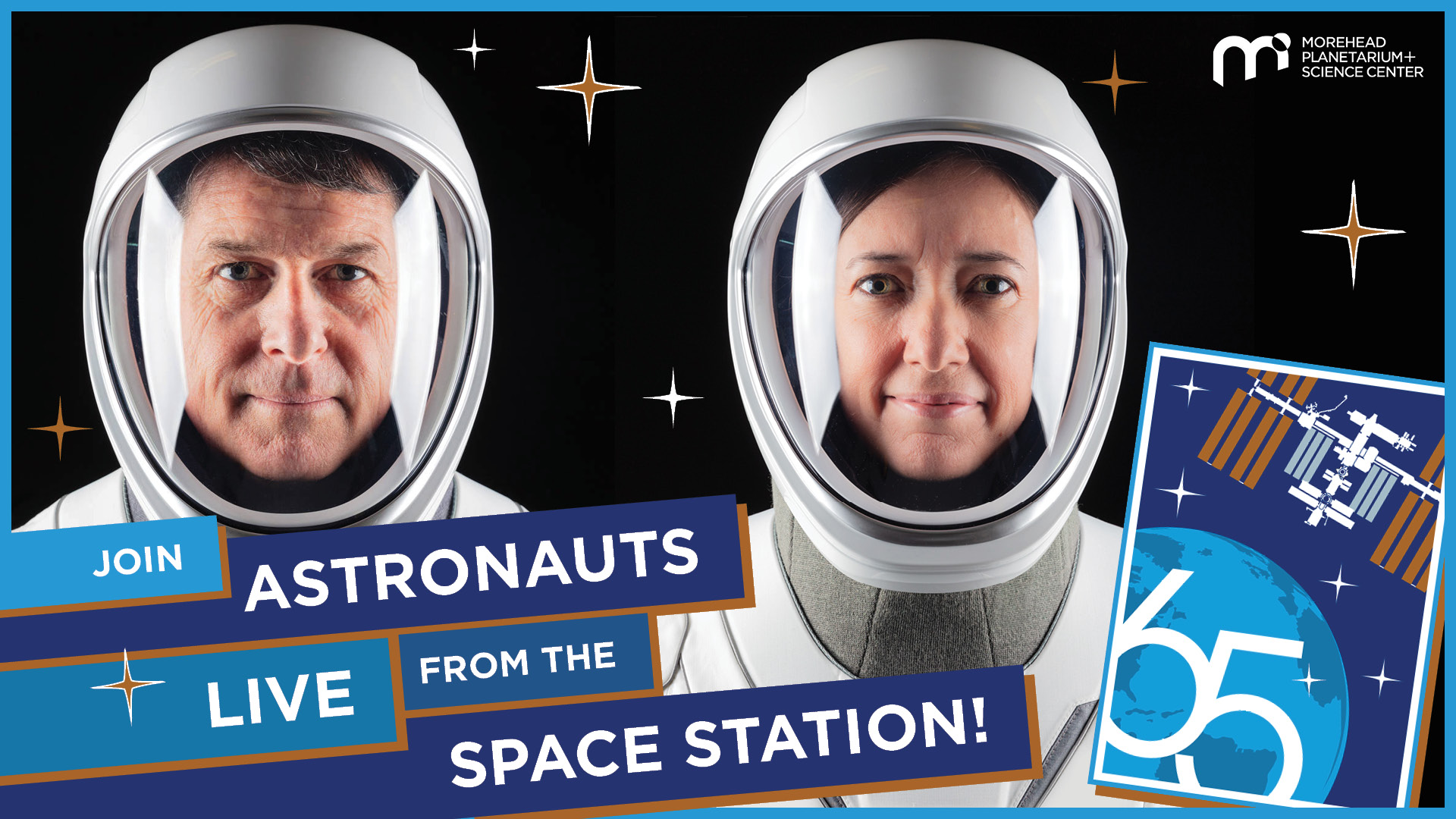 "Providing rich experiences like this is a core part of our purpose and mission," says Todd Boyette, Director of Morehead. "We are excited to partner with NASA to give our students the opportunity to connect with real-life astronauts and experience the wonder of space."
Morehead and NASA have a long partnership that began with astronaut training programs in the 1960s and 70s. Since then, Morehead has collaborated with the agency to develop planetarium shows, support the research of NASA-funded scientists, and bring astronauts to North Carolina for special appearances. Morehead is also a longtime member of NASA's Museum Alliance, a community created to encourage sharing of best practices across institutions.
"Working with NASA always feels like an opportunity to honor our roots as a planetarium and as a place where people can learn about the stars and beyond," added Boyette.
This in-flight education downlink event will be held virtually, and in-person with strict limits for camp students and special guests.
The confirmed time for the start of the downlink is 11:40 a.m. EST. Media interested in covering the event onsite should contact Jonathan Frederick at jfred@unc.edu.
Bookmark this page and check back next week for the exact time and the live stream of the downlink.
---
ABOUT MOREHEAD PLANETARIUM AND SCIENCE CENTER
Morehead Planetarium and Science Center is a unit of the University of North Carolina at Chapel Hill. Morehead serves North Carolina and beyond by bringing together the unique resources of UNC to engage the public for an improved public understanding of science, technology, and health.
ABOUT NASA DOWNLINKS
In-flight education downlinks are opportunities for students and educators to interact with astronauts aboard the International Space Station during a live, 20-minute question-and-answer session. Linking students directly to astronauts aboard the space station provides unique, authentic experiences designed to enhance student learning, performance, and interest in science, technology, engineering, and mathematics. Learn more here.