IDEA in Action: Morehead's commitment to equity and inclusion
CHAPEL HILL, N.C. (May 4, 2023) – "Science historically has not been for all…Morehead is open and clear about that. It has not been accessible for all. There has not been equity in science for all," said Crystal Harden (any pronouns), Ed.D., Director of Program and Inclusion Initiatives at Morehead Planetarium and Science Center.
The phrase "Science for All" is frequently mentioned inside the walls of Morehead. However, it's more than just a motto for those who call the planetarium home. It reflects a mindset and commitment to a mission of embracing people of all ethnicities, races, genders, sexualities, and cultures in the world of science education and outreach.
On April 5 and 6, 2023, Morehead hosted its first Science for All Summit. The inaugural event saw more than 170 people including educators, non-profit leaders, and other change agents come together to share knowledge and strategies as a community. The Summit exemplified Morehead's commitment to producing diversity, equity, and inclusion initiatives designed to move towards a better future for the planetarium and the communities it impacts.
"We had representatives from everywhere. We had different races, different sexes. We had different generations, and that's one thing that really blew my mind," said Davron Rorie, M.Ed. (he/him), Inclusion and Diversity Specialist at Morehead.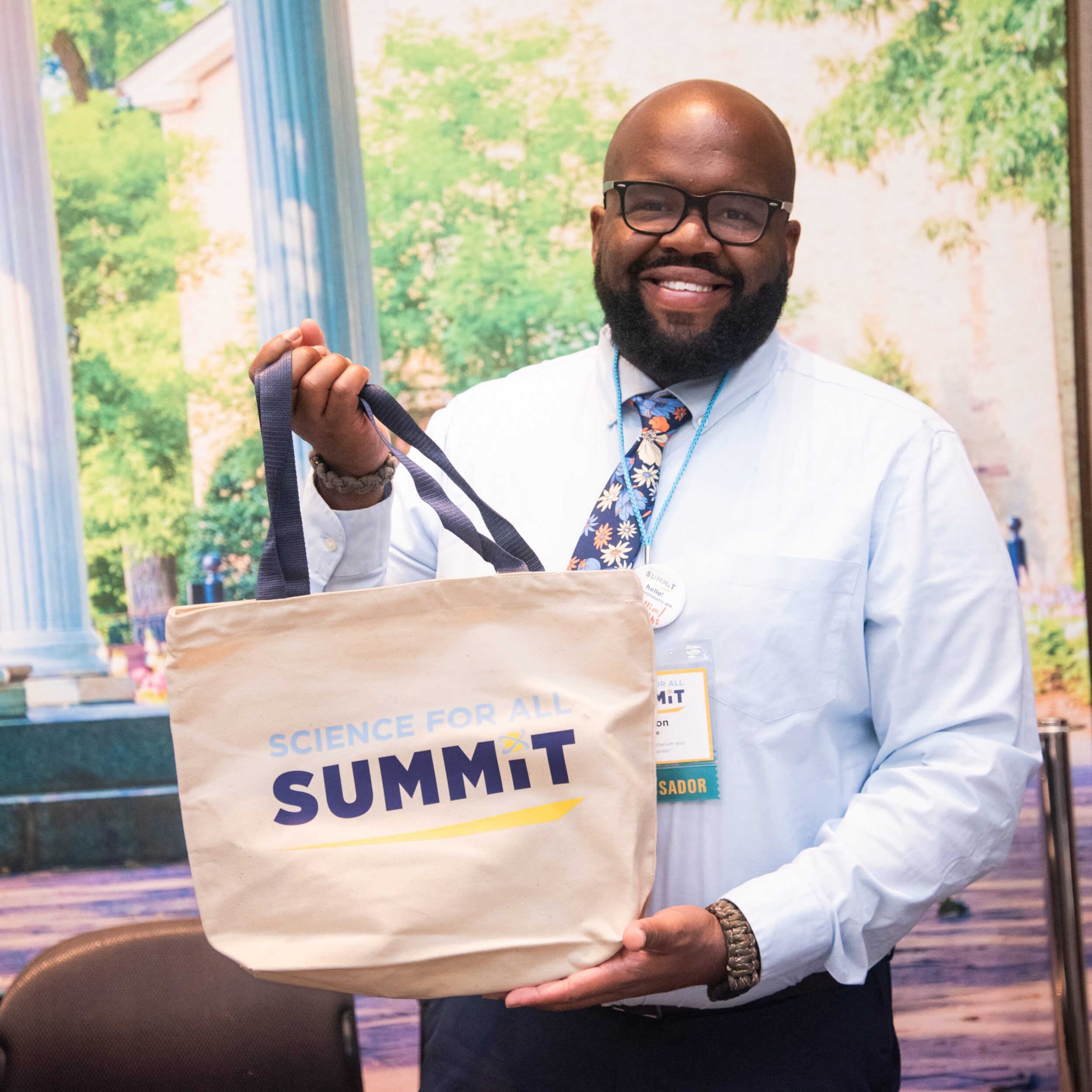 Rorie joined the Morehead team in early April and hit the ground running, helping move "From IDEA to Action"—the theme for this year's Summit—and contributing to his first major event as a staff member. In just a few weeks on the job, he has already begun to craft ideas for Morehead's immediate future.
"I want to have an IDEA (inclusion, diversity, equity, and access) week or day…I want that week or day to include community partners, staff, and scientists," said Rorie.
First conceptualized in 2022, Rorie's role became a reality when he was hired as the first full-time DEI (diversity, equity, and inclusion) specialist of its kind at Morehead.
"We realized last year with the volume of strategies that Morehead had, we needed someone here to hold us accountable. The role of the equity and inclusion specialist is that accountability partner that Morehead needed to keep its strategic initiatives moving forward," said Harden.
"I just call myself an agent of change, because I would like to say once I know something, I want to relay that message to somebody else who may not know it," said Rorie. "I love a teachable moment because I'm a lifelong learner. I like to learn continuously. I don't want that to stop."
Along with the hiring of Rorie, Morehead is also pleased to announce the establishment of a new Equity and Belonging Fund, which will support internal and external activities that promote a sense of belonging at Morehead. The fund will provide opportunities for trainings and support creating safe spaces for our entire community, including staff and students. It will also provide opportunities to work with STEM (science, technology, engineering, and math) communities beyond Morehead's walls to create events where others feel supported too.
"We had a private donor who respected the work that we've been doing around equity and inclusion in STEM," said Dr. Harden. "Through their generous gift, we have this opportunity to nurture a staff that feels safe and supported."
While there has been tangible progress made with regard to DEI initiatives, Morehead's staff is aware that the work is far from over. "Looking at ourselves through a lens…we are not complete. We are not perfect."