How to view the October 14th solar eclipse from North Carolina
By Amy Sayle
This Saturday, October 14, 2023, the Moon will pass in front of the Sun, creating a solar eclipse.
For those in an approximately 125-mile-wide path that cuts from Oregon through Texas and parts of Mexico and Central and South America, this will be a special type of solar eclipse called an annular eclipse. This "ring of fire" eclipse happens because the Moon is a bit farther away from Earth than on average. Thus, the Moon takes up less angular size in the sky and can't completely cover the Sun, leaving an annulus (Latin for ring-shaped) or "ring of fire."
For all of North Carolina, though, this will be a partial solar eclipse. If it's not cloudy, you can see it—as long as you take the proper safety precautions. You must use specially designed solar eclipse glasses or another proper solar filter for viewing. Or you can watch a live feed.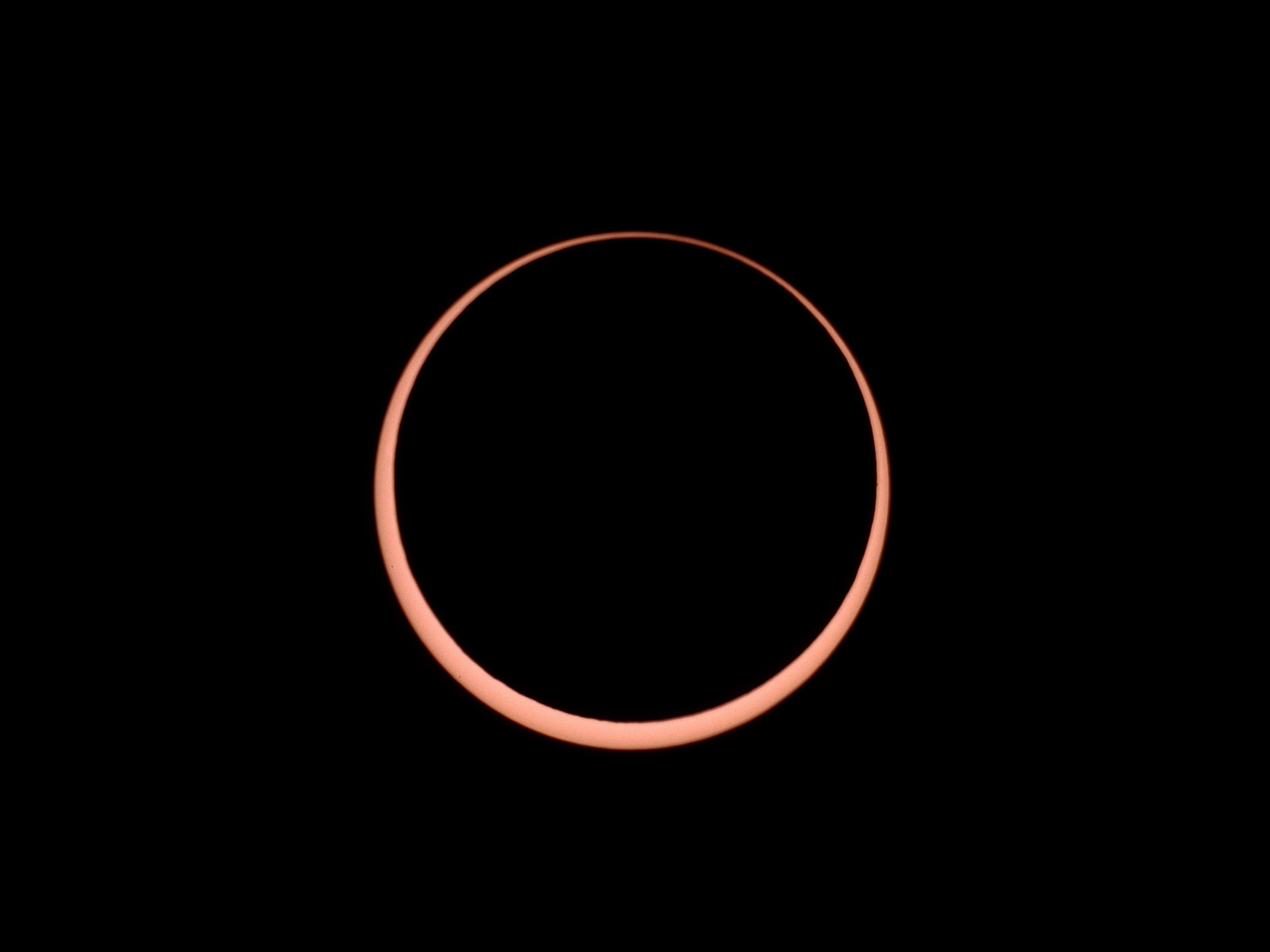 If the weather cooperates in Chapel Hill, you can join us outside the Morehead Planetarium building for an eclipse event on Saturday, October 14, from 11:45 a.m. to 2 p.m. Feel free to drop by anytime in that window. Note: Please allow extra time for travel and parking due to the UNC home football game on Saturday evening. Expect limited campus parking, including the Morehead Lot. If you need additional parking options, be sure to visit our "Plan a Visit" page for more information.
Activities outside the building, including safe eclipse observing via our Sun Spotter and a telescope equipped with a proper solar filter, are free. Inside the building, you can watch a live stream of the eclipse and learn a little more about eclipses during one of our planetarium shows. Eclipse glasses are available for purchase ($2 each) at the front desk or at Morehead's gift shop, which is open during our public hours.
For viewers in Chapel Hill, the eclipse starts just seconds before 11:55 a.m. Eastern Daylight Time (EDT), when the Moon appears to touch the disk of the Sun. Then, the Moon will gradually cover more of the Sun – looking as if it's biting into the Sun – until maximum eclipse at 1:19 p.m. EDT, when about half the Sun's diameter is covered by the Moon. The eclipse ends at 2:45 p.m. EDT, when the edge of the Moon leaves the edge of the Sun. During the eclipse, the Sun will be in the south, roughly halfway up the sky. See an eclipse simulation for Chapel Hill here.
If you'll be in another town in North Carolina, or somewhere else entirely, check an eclipse map or timeanddate.com to get the details for your location. For maps that give times in Universal Time, you'll need to convert to your time zone.
There are several methods for safely viewing a solar eclipse. We recommend using eclipse glasses (important: these are NOT the same as sunglasses). Be sure they meet the transmittance requirements of the ISO 12313-2 international standard for filters for direct solar viewing. Also, check that they are in excellent condition, e.g., no scratches, no rips, no punctures, and not coming loose from the frame. The Eclipse glasses for sale at Morehead are from Rainbow Symphony, one of the suppliers that meet the safety requirements.
In just another six months, on April 8, 2024, look for another solar eclipse! It'll be another partial eclipse for North Carolina, but total in some other locations in the U.S., Mexico, and Canada.