GSK renews Science in the Summer™
December 2, 2019
More than 2,000 students will participate in free science education summer programs in 11 North Carolina counties
NORTH CAROLINA — GSK, a global healthcare company with offices in Research Triangle Park, North Carolina, has renewed its partnership with Morehead Planetarium & Science Center to deliver the GSK Science in the Summer™ program to thousands of children in North Carolina. GSK has awarded a grant of $1.4 million to Morehead so that more than 2,000 students a year can benefit from Science in the Summer in 2020 and 2021.
The program, which provides free, high-quality science education to underrepresented and underserved populations during the summer, was designed to combat the "summer slide." The "summer slide" affects children who do not participate in stimulating educational activities during the summer, leading to low retention of information from previous academic years.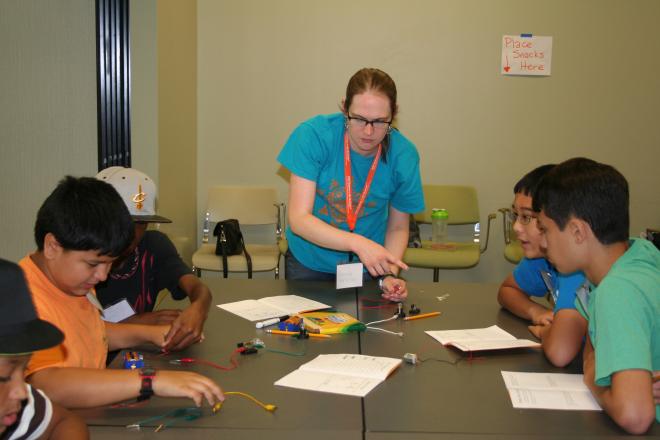 "We're excited to deliver Science in the Summer for the 12th year with a thoughtful partner like GSK," says Crystal Harden, Director of Programs and Strategic Initiatives at Morehead. "This program will provide high-quality science education that is important to the long-term academic success of students who participate."
Science in the Summer encourages students to love science by engaging in hands-on experiments and exciting activities led by certified teachers. The program is comprised of week-long, half-day camps that align with state educational standards and promote science, technology, engineering and mathematics (STEM), as well as literacy and other disciplines.
As demand for professionals with STEM backgrounds continues to grow, the need for resources and learning outside of the school year has become a critical education issue, particularly among those who are traditionally underrepresented in STEM fields.
"We are thrilled to continue our partnership with Morehead Planetarium & Science Center to bring high-quality, hands-on science to kids across North Carolina," said Becki Lynch, Director, US Community Partnerships at GSK. "Morehead is committed to bringing science education to students that need it most and we are proud that GSK Science in the SummerTM is part of their critical outreach to communities across the state."
For 2020, GSK will also support the expansion of Science in the Summer to Gates County. This will be the first time that the program will be offered in the northeastern part of the state, Science in the Summer currently focuses on Alamance, Orange, Durham, Chatham, Harnett, Johnston, Wake, Franklin, Granville and Vance counties.
In addition to students served by the Science in the Summer program, an additional 3,000 students will benefit from year-round science enrichment through an afterschool partnership with Boys & Girls Clubs in seven counties (Chatham, Durham, Franklin, Granville, Johnston, Vance and Wake) for 10 days per semester.
---
About Morehead Planetarium and Science Center
Morehead Planetarium and Science Center is a unit of the University of North Carolina in Chapel Hill. Morehead works to serve North Carolina and beyond by bringing together the unique resources of UNC to engage the public for an improved public understanding of science, technology and health. For more information, visit moreheadplanetarium.org.
Media Contact:
Malenia Swinton | Marketing & Communications Manager
Morehead Planetarium & Science Center
malenias@unc.edu
919.843.3474
About GSK
GSK – a science-led global healthcare company with a special purpose: to help people do more, feel better, live longer. For further information please visit www.us.gsk.com.
Media Contact:
Evan Berland
GSK
evan.a.berland@gsk.com
215.751.5497