GSK Science in The Summer™ returns for 2022
More than 3,000 students will participate in free science education summer programs in 11 North Carolina counties.
March 28, 2022 | North Carolina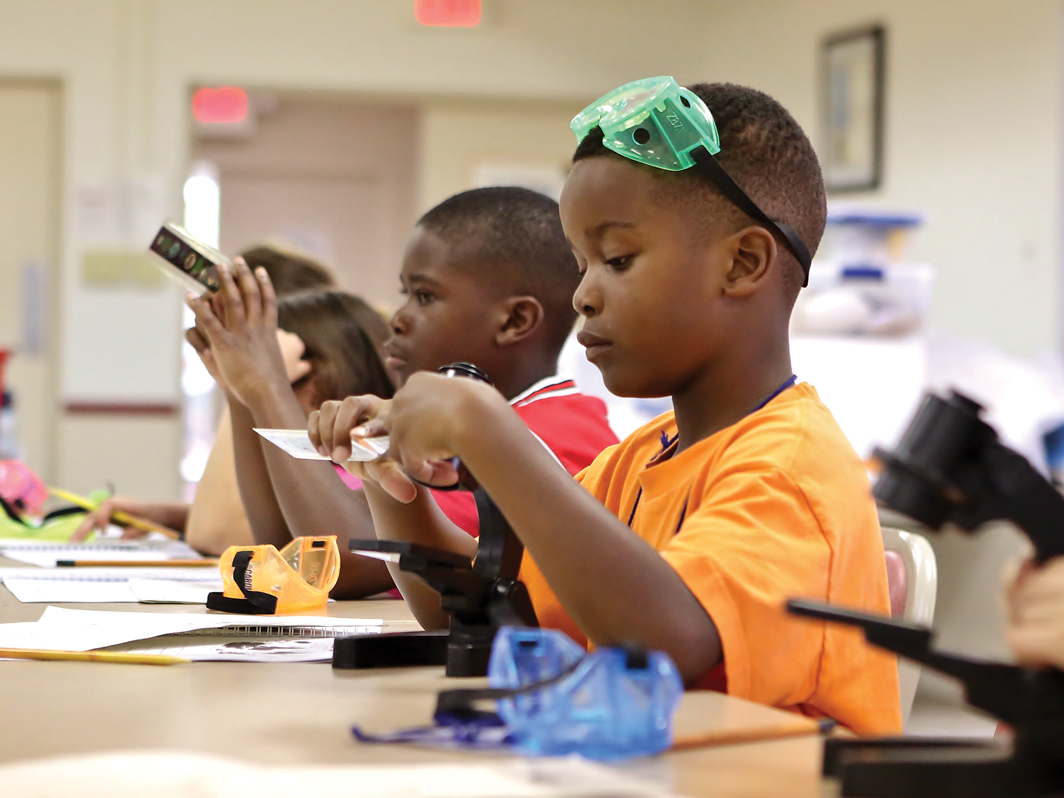 Morehead Planetarium and Science Center and GlaxoSmithKline (GSK) join forces for the 14th year to present GSK Science in the Summer™, a free program designed to provide high-quality science education directly to local communities. The partnership will work in cooperation with participating local libraries and community centers at nearly 50 sites, serving 11 counties across North Carolina.
The free program aims to inspire the next generation of scientists and engineers. Through engaging activities, students in second through eighth grades will explore projects and topics that will spark confidence and interest in pursuing STEM studies and careers. The program continues its strong commitment to serving historically excluded and underserved communities, hosting camps at local sites.
"We're excited to bring back GSK Science in The Summer™ in 2022," says Dr. Crystal Harden, Director of Programs, and Inclusion Initiatives at Morehead. "Delivering our full program this year, we have the opportunity to reach more students, providing a hands-on and immersive science exploration experience that is important to their long-term academic success."
Through this year's theme – "Be A Biologist: Discover the World Around You!" – students will explore the unique biological systems of life forms from the past to the present and from the deepest oceans to their backyards here in North Carolina. GSK Science in the Summer™ encourages students to love science by engaging in scientific investigations, model-making, and interactive games led by local educators. The program is comprised of week-long, half-day camps that align with state educational standards and promote science, technology, engineering, and mathematics (STEM), as well as literacy and other disciplines.
As demand for professionals with STEM backgrounds continues to grow, the need for resources and learning outside of the school year has become a critical education issue, particularly among underserved communities.
"Scientists are encountering problems today that we never thought we would face, which is why it's important to foster students' interest in science early so they can see themselves as future scientists and engineers," said Maya Martinez-Davis, President, US Pharmaceuticals at GSK. "GSK Science in the Summer™ allows students to take on the role of scientists by identifying a problem, finding solutions and testing the results. This unique, first-hand experience puts them on the path to become our next generation of leaders."
Additionally, students will benefit from year-round science enrichment through an afterschool partnership with Boys & Girls Clubs in eight counties (Chatham, Durham, Franklin, Granville, Orange, Johnston, Vance and Wake) for 10 days per semester.
GSK Science in the Summer™ registration is now open for all North Carolina sites. Registration can be found at www.moreheadplanetarium.org/sis.
About Morehead Planetarium and Science Center
Morehead Planetarium and Science Center is a unit of the University of North Carolina in Chapel Hill. Morehead works to serve North Carolina and beyond by bringing together the unique resources of UNC to engage the public for an improved public understanding of science, technology and health. For more information, visit www.moreheadplanetarium.org. Media Contact: Rosario Vila, 919-843-3474, rvila@unc.edu
About GSK
GSK is a science-led global healthcare company. For further information, please visit https://www.gsk.com/en-gb/about-us/. Media Contact: Sydney Dodson-Nease, 215-370-4680, Sydney.a.dodson-nease@gsk.com