GSK sponsors GSK Science in the Summer™ with Morehead
December 18, 2018
GSK sponsors GSK Science in the Summer™ with Morehead Planetarium
CHAPEL HILL, NC — Morehead Planetarium & Science Center is partnering with GSK for the 11th year to present GSK Science in the Summer™, a free program aimed at providing high-quality science education for kids in underserved communities during the summer. As demand for professionals with science, technology, engineering and math (STEM) backgrounds continues to grow, the need for STEM resources and learning outside of the school year has become a critical education issue, particularly among those who are traditionally underrepresented in STEM fields.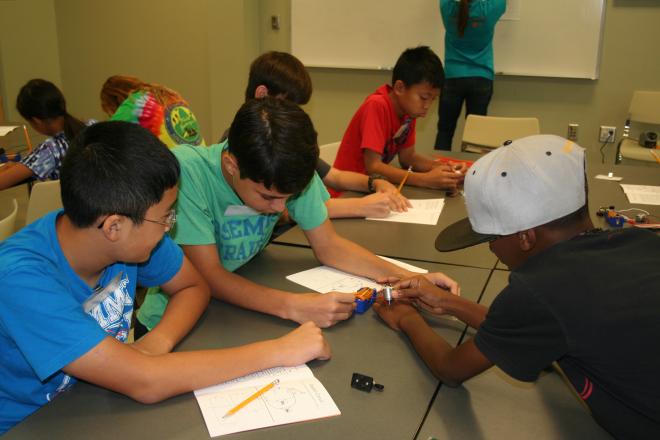 Science in the Summer encourages kids to learn to love science by engaging in hands-on experiments and exciting activities. The program also aims to prevent what is known as the 'summer slide,' to continue learning from grade to grade and to prevent students from forgetting what they learned from the school year over the summer months. "We are thrilled to continue the strong partnership with GSK to offer Science in the Summer in 2019. Research shows that summer enrichment initiatives like Science in the Summer help close the achievement gap among underserved populations. Through Science in the Summer, GSK and Morehead work together to provide equity of access to summer science experiences that are important to long term academic success." said Todd R. Boyette, Ph.D. Director, Morehead Planetarium and Science Center.
The program is comprised of weeklong, half-day summer camps led by certified teachers for students in grades 2-8. Camps for children in grades 6-8 will feature more hands-on science exploration, engineering design, and access to the Science on Your Street vehicle. Each year there is a different theme. This year's theme is "The Science of Me".
The free summer program helps children to explore the biological systems that make humans fundamentally alike and the elements that interact to create a unique individual. Through engaging hands-on exploration, students discover how food becomes our body's fuel, where oxygen goes when we breathe it, how our brains interpret the world, and what role DNA plays in making us who we are.
Science in the Summer is expected to reach at least 40 venues including libraries or other community-based organizations in 10 counties: Alamance, Chatham, Durham, Franklin, Granville, Harnett, Johnston, Orange, Vance, and Wake.
For 2019, GSK will also provide a summer opportunity of science education for Robeson County in light of the devastation to the region from Hurricane Florence and Hurricane Matthew. The centerpiece of the GSK Science in the Summer – Robeson County is a one-week, full-day summer enrichment camp in Pembroke or Lumberton, North Carolina during the month of July 2019. This summer enrichment camp will offer exciting and engaging science content for 100 American Indian students. Registration will be handled internally through the school district.
In order to serve the community year-round, GSK and Morehead Planetarium will also offer Science After School during the school year at Boys & Girls Clubs in seven counties (Chatham, Durham, Franklin, Granville, Johnston, Vance and Wake) for 10 days per semester.