GSK Sponsors GSK Science in the Summer™ with Morehead
May 6, 2018
NORTH CAROLINA —Morehead Planetarium & Science Center is once again partnering with GSK to present GSK Science in the Summer™, a free program aimed at providing high-quality science education to underrepresented and underserved populations during the summer. Science in the Summer works to prevent what is known as the 'summer slide,' when students forget what they learned from the school year in the summer.
The program is comprised of weeklong, half-day summer camps led by certified teachers for students in grades 2-8. Camps for children in grades 6-8 will feature more hands-on science exploration, engineering design, and access to the Science on Your Street vehicle. Each year there is a different theme. This year's theme is "The Science of Space."
Science in the Summer is expected to reach at least 40 venues including libraries or other community-based organizations in 10 counties: Alamance, Chatham, Durham, Franklin, Granville, Harnett, Johnston, Orange, Vance, and Wake.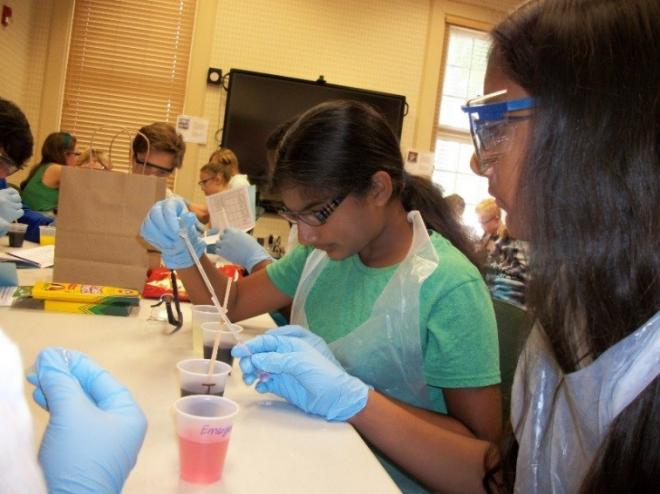 In order to serve the community year-round, GSK and Morehead Planetarium will also offer Science After School during the school year at Boys & Girls Clubs in seven counties (Chatham, Durham, Franklin, Granville, Johnston, Vance and Wake) for 10 days per semester.
---
About GSK
GSK – a science-led global healthcare company with a special purpose: to help people do more, feel better, live longer. For further information please visit www.gsk.com
About Morehead Planetarium and Science Center
Morehead Planetarium and Science Center is a unit of the University of North Carolina in Chapel Hill. Morehead works to serve North Carolina and beyond by bringing together the unique resources of UNC to engage the public for an improved public understanding of science, technology and health.
Registration for Science in the Summer opens 3/5, register here.