Generous gift provides new projector for mobile planetarium program 
By Christopher Katella
CHAPEL HILL, N.C. (September 25, 2023) – For over a decade, students across North Carolina have learned about the night sky within the walls of their own schools through Morehead Planetarium and Science Center's Mobile Planetarium program.
Through a recent gift made by Sunil Nagaraj '04 on behalf of his daughter Anavi, Morehead will be able to continue inspiring future generations of curious minds with the purchase of a new, state-of-the-art projection system. "The Nagaraj family gift is a crucial investment in science enrichment for the students of North Carolina," said Nick Eakes '12, a Science Education Specialist with Morehead who focuses on school and interpretative programs. 
Since its inception in 2010, the Mobile Planetarium program has served as a valuable resource for schools across North Carolina, traveling to between 40-60 schools each year, reaching nearly 10,000 students annually. Additionally, when not in use during the school year, the Mobile Planetarium can be reserved by community and educational groups, including 4-H events, homeschool groups, and YMCA programs.
Standing 13 feet (4 meters) in height and spanning 20 feet (6 meters) in diameter, the affectionately nicknamed "giant blueberry" by Eakes does not contain juice but rather holds "all the wonders of the cosmos." It achieves this by featuring live presentations crafted by Morehead educators, which delve into the mysteries of the night sky, constellations, and more.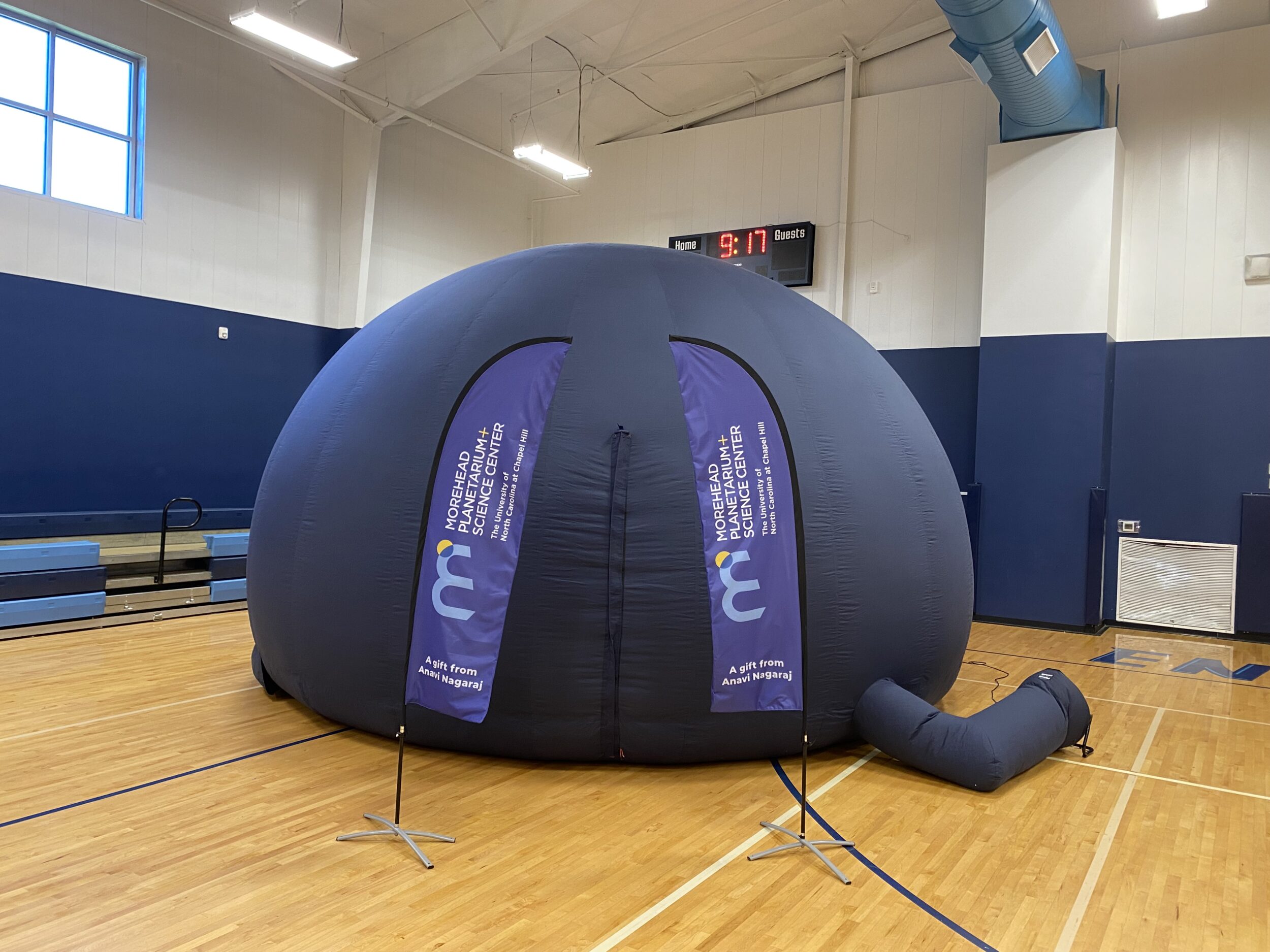 "The excitement of any type of field trip is contagious, but seeing a giant dome set up inside of your own school gym makes for a pretty exciting day," said Eakes.
A Lifelong Passion Sparks Giving Back
For Nagaraj, astronomy has been a lifelong passion. Growing up in Raleigh, he would check out every library book about the solar system and spend his evenings gazing at the night sky while dreaming of becoming an astronaut.
"For some kids, it was dinosaurs," he said. "For me, it was always astronomy, especially what you might call practical astronomy. Not just looking at the sky, but also learning about science and different planets, diving into the math, and pondering where our universe came from."
Throughout his undergraduate studies at UNC-Chapel Hill where he majored in Computer Science, Nagaraj attended live shows at Morehead's Fulldome Theater with friends and would marvel at the famous Zeiss VI projector that was its centerpiece for over 40 years.
"While beautiful, astronomy is a hobby that is experienced slowly, meaning that if you go out with a friend to look at the stars, you will never be able to convince a friend that the stars are rotating around the North Star," he said. "But if you're going to a planetarium, in like 3 seconds, you can show them that."
Now based in California, Nagaraj continues to actively engage in space, astronomy, and science-related initiatives. In his capacity as the Founder and Managing Partner of Ubiquity Ventures, he has invested in technology and commercial space ventures, including prominent launch provider Rocket Lab and space infrastructure company Loft Orbital.
Beyond his professional pursuits, Nagaraj previously held the position of President at the Astronomical Society of the Pacific, the world's largest astronomy education society. He has also supported organizations such as the SETI Institute, UC Berkeley Astronomy, and the Computer History Museum.
Upgrading the "Blueberry"
After providing a major gift to UNC Computer Science to help renovate their facilities, Nagaraj returned to Chapel Hill with his 7-year-old daughter Anavi to show her the planetarium where he once watched the night sky come alive. In the company of members from Morehead's leadership team and staff, including Eakes, Nagaraj and Anavi learned about the Mobile Planetarium program and were deeply impressed by the program's extensive reach and its significant impact throughout the state.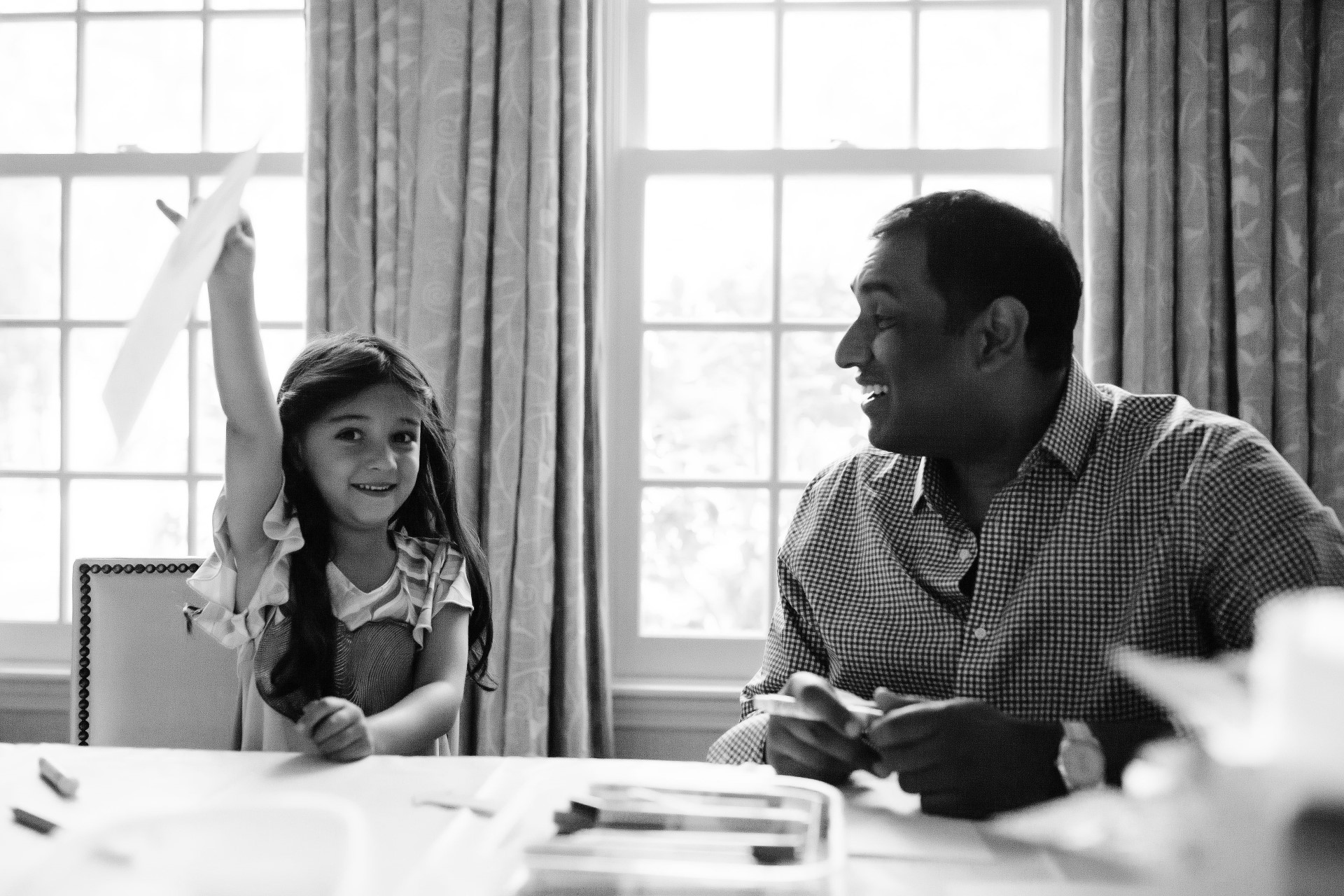 "To see how excited she was, and then to think about this mobile planetarium going around to all the schools across North Carolina and the science coming to people who wouldn't be able to access it otherwise, was incredibly inspiring," said Nagaraj. "My daughter was listening in and asked me, 'Can they bring the planetarium to my school too?'"
"This program gives schools with difficulty reaching UNC's campus a great chance to experience our programs and receive high-quality, engaging science enrichment," said Eakes. "For teachers, this content provides connections to the essential science standards and helps to reinforce tough science concepts taught in the classroom."
During the presentation led by Eakes, Nagaraj learned of the need to supplant the Mobile Planetarium's current system, a Digitalis Digitarium Zeta projector purchased in 2016, with a newer system better equipped to serve Morehead's needs. "That was a very motivating part of this donation — knowing that the money will be in good hands and the equipment will be taken care of carefully by a major institution that has a track record of making a major impact," said Nagaraj.
With the introduction of the new Digitalis Digitarium Theta2 projector, productions typically featured in Morehead's Fulldome Theater, such as Magic Tree House: Space Edition and Mars: The Ultimate Voyage, can now be presented to students at their own schools. This state-of-the-art projector made its debut in September 2023 and has already been brought to schools as far away as Ocracoke Island. The previous projector will continue to be deployed by Morehead due to the high demand for the program.
"This (Theta2) 2K laser phosphor projection system will bring brighter, sharper images of the cosmos to students across North Carolina," said Eakes, adding that the Nightshade G3 software used by the new system will allow for more control over what groups experience during their "out-of-this-world ride through space."
"In my mind, this gift has the very specific goal of sparking interest in astronomy – and astronomy often serves as the gateway for kids to fall in love with science and math," remarked Nagaraj.
In recent years, Nagaraj began to think more about engaging in philanthropic efforts and a new model of engagement for those in his generation.
"Years ago my professor Noam Wasserman taught us to challenge the typical philanthropy model of 'learn, earn, then return.' He encouraged us to learn, then earn while returning. At least part of that is an acknowledgment you don't know how long life is so don't wait. Then there's the benefit of being able to witness some of that impact if you give earlier in your career."