Inclusive work environment where you can thrive
Morehead Planetarium and Science Center is a great place to work. We look for talented, dedicated, high-energy team members who are committed to offering inspiring science education opportunities.
To view and apply for available positions at Morehead, visit the UNC careers website. The link should filter the results to show just Morehead openings. If it does not, set all filters to "Any" except for "Department." Set the "Department" filter to "Morehead Planetarium."
Additional opportunities are listed below under "Current Openings."
As part of the university, we believe that it is part of our mission to offer real-world learning opportunities to university students. As a result, we have openings for students every year across the organization. Most of our student hiring takes place at the beginning of the fall semester for the academic year and in the spring for our summer programs.
University student employment opportunities will be posted to this page and on Handshake. We also hire work-study students. Work-study positions are posted to the UNC federal work-study webpage.
Seasonal opportunities are also available for UNC students. Please see Seasonal Opportunities for more information.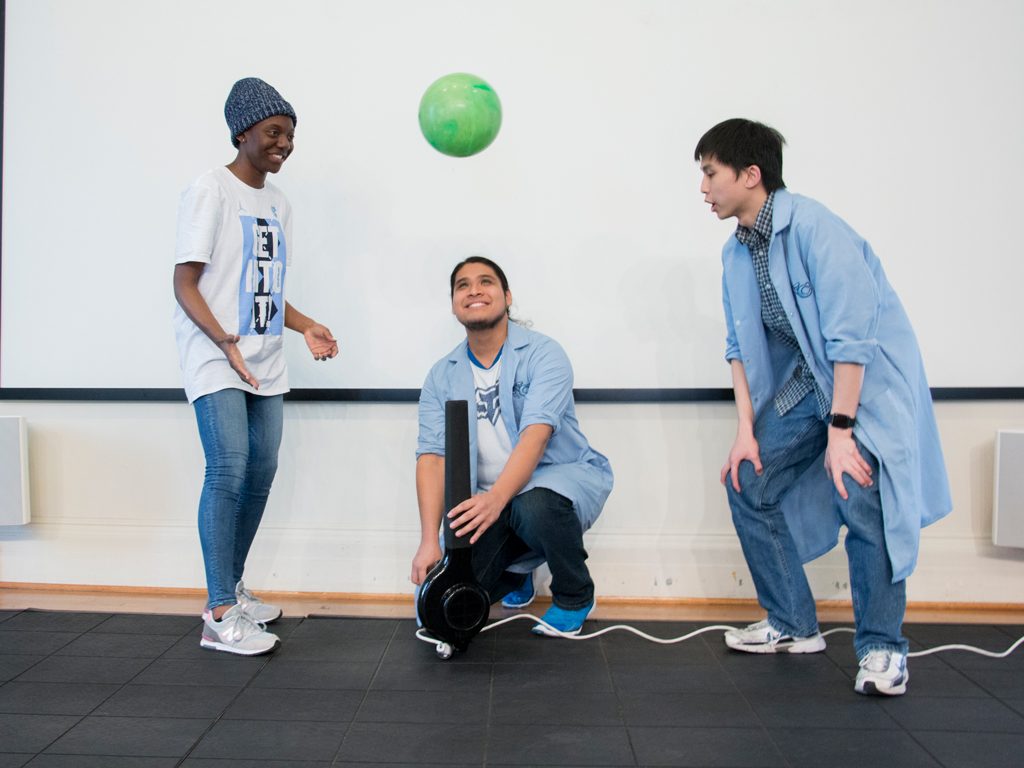 Current Openings
FT Permanent Positions
Science in the Summer Lead Coordinator
This position coordinates the Science in the Summer Program as well as supporting other K-12 programs at Morehead and across North Carolina.
Responsibilities include:
Coordinating the implementation of Science in the Summer activities in the field, primarily by developing curriculum, organizing and carrying out summer camps and site visits, professional development workshops, and related events that promote quality summer science learning for all students.
Assisting in designing and administering instruments to assess the impact of the Science in the Summer program (as well as other Morehead programs) on attitudes about science and science education decision-making for all levels of participants: community leaders, parents, school board members, administrators, teachers, and students.
Disseminating demographic data and effectiveness of summer camps, professional development workshops, and mobile science programs/vehicles use through publications and/or presentations at state and national meetings and conventions.
Actively facilitating collaborations among faculty, teachers, public school officials, and corporations to achieve equity of access for students to quality science education and to garner the resources to sustain positive change.
Contributing to grant writing efforts and annual reports to maintain and expand the Science in the Summer program (as well as other Morehead programs).
Application Due Date: 10/21/2022
Apply here: https://unc.peopleadmin.com/postings/241386
---
Community Engagement Specialist
This position will work directly with the Community Engagement Unit within Morehead's Programs Division to coordinate, lead, and co-lead community science programming for Morehead Planetarium and Science Center statewide, including onsite, on campus, and in offsite community environments with family stakeholders, and with statewide partners including K-12 school districts, science clubs, afterschool programs, local library systems, and other cultural institutions.
This position is responsible for coordinating science cafes programming, the SciMatch program that connects scientists to middle school classrooms, as well as larger-scale community events, such as the UNC Science Expo and NC Gravity Games. This role will also provides program delivery and administrative support for other Community Engagement initiatives, including the FUTURES science communication training program and NC Science Festival initiatives.
Morehead Planetarium and Science Center (MPSC) is the primary science outreach unit of the University of North Carolina at Chapel Hill. Its mission is to serve North Carolina and beyond by bringing together the unique resources of UNC to engage the public for an improved understanding of science, technology and health.
Morehead engages the public through a mix of onsite and offsite programs, exhibits and fulldome digital planetarium shows. Over 150,000 people participate in onsite programs each year, with 25,000 engaging in offsite activities. In addition, Morehead produces the annual North Carolina Science Festival, a two-week statewide celebration of science. This effort engages over 300,000 people each year.
Application Due Date: 10/07/2022
Apply here: https://unc.peopleadmin.com/postings/241255
---
General Student Positions
Positions will be posted as they become available on UNC's Handshake Portal. Work-study positions are posted to the UNC federal work-study webpage.
Guest Relations
The Guest Relations staff at Morehead Planetarium and Science Center is part of the Guest Services team, and is primarily responsible for providing customer service and wayfinding service for field trip groups and the general public, in addition to supporting special events, and programs. Common duties include assisting groups with unloading/loading buses, navigating groups to/from programs, and answering questions about their itinerary or programs. Most such reservations occur on weekdays, and occasionally, on weekends. Finally, the Guest Relations staff also supports wayfinding and customer service during public operating hours (such as ticket taking), and supporting general operations at private shows, events, and birthday parties.
As a unit of The University of North Carolina at Chapel Hill, Morehead Planetarium and Science Center is an equal opportunity and affirmative action employer. All qualified applicants will receive consideration for employment without regard to age, color, disability, gender, gender expression, gender identity, genetic information, race, national origin, religion, sex, sexual orientation, or status as a protected veteran.