May 19
@
5:30 pm
–
7:00 pm
Join us for our May Teen Science Cafe where we will talk about FIRST Robotics as an organization, our guest's most recent robot, and how they function as a team and meet their goals each year.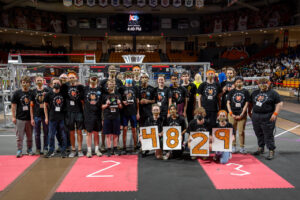 The Titanium Tigers is a FIRST Robotics Competition (FRC) team hosted at Chapel Hill High School in Chapel Hill, NC, and run by its students. The group is made up of many bright students including Eera S., Kira M., Logan F., Avani H., Jasper E., Andrew C., Jack E., and Matthew M.
The team participates in the annual robotics competitions hosted by an organization called FIRST. They must build a new robot each year to meet the unique challenges of the annual game. Last year they won their first district event, were state finalists in the state championship, and attended the FIRST (world) Championship–all firsts in the team's 10-year history.
Their mission is to enrich STEM education in their school and greater community. When they aren't participating in competitions, they make a point of reaching out into the community and hope to inspire others to find their place in STEM.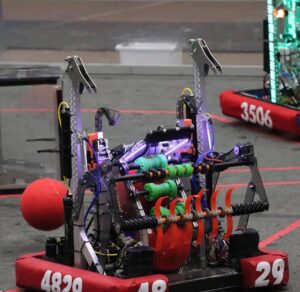 ---
Schedule
5:30 pm – Arrive and check in. We will gather inside the west, main entrance of Morehead.
5:30 pm – 6:00 pm: Pizza social. Pizza social will take place in our classrooms, located on the 2nd floor.
6:00 pm – 7:00 pm: Discussion & activities. Presentations will take place at the Science LIVE! Stage.
*Please Note: Depending on scheduled activities, the program may end between 7 p.m and 7:30 p.m.
Morehead Planetarium and Science Center