May 2
@
6:00 pm
–
7:00 pm
How do we rethink our landscape usage? Let's start with three positive outcomes: benefits to mental health, alleviation of food insecurity, and conservation for pollinators by planting habitats. Using data from mental health research and case studies on food insecurity on campus, we will explore the benefits of reconnecting with the natural world through gardening. Edible Campus UNC is currently partnering with the Chicago Botanical Garden on the community science project Budburst, a collection of researchers, educators, gardeners, and community scientists working together to illustrate the human impacts on the natural world around us.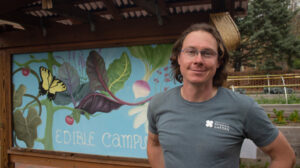 This month we will be joined by Kyle Parker, a former UNC philosophy graduate who has spent the last decade working directly with UNC students growing organic produce for the UNC community. Now in his third year as coordinator at Edible Campus UNC, Kyle is at his best leading groups of students during volunteer workdays or engaging with visitors and foragers out in the gardens.
In recent years, he has consulted with students and staff from dozens of universities within the US and internationally regarding Edible Campus' unique model for utilizing landscapes within urban environments to not only grow food but to also serve as pollinator habitats. Edible Campus is at the forefront of rethinking urban landscape usage to provide maximum utility to both humans and the environment.
Designed for adults, this program explores science topics making national and international headlines and offers the chance to meet the experts behind the headlines. The Carolina Science Café will be hosted at Gizmo Brew Works on Tuesday, May 2nd, starting at 6:00 p.m. 
You do not need to register…just show up!
Morehead Planetarium and Science Center