Astronauts on the front porch: Tales of astronaut training at Morehead
February 12, 2018
CHAPEL HILL, NC – On Tuesday, February 13, 2018 at 7:00 p.m., Michael G. Neece will provide insider knowledge about NASA astronauts training at Morehead Planetarium and Science Center during the 1960s and 70s. Neece will share some of his research from his upcoming books and documentary film about Morehead, focusing on the director of the planetarium at that time, Tony Jenzano. This event is hosted by the Chapel Hill Astronomical & Observational Society (CHAOS) at Morehead's Science Stage. The talk will be followed by a question and answer session, and admission is free.
About the Presenter
Author Michael G. Neece lives in North Carolina and writes non-fiction and novels. In his free time, he works at Morehead and practices martial arts.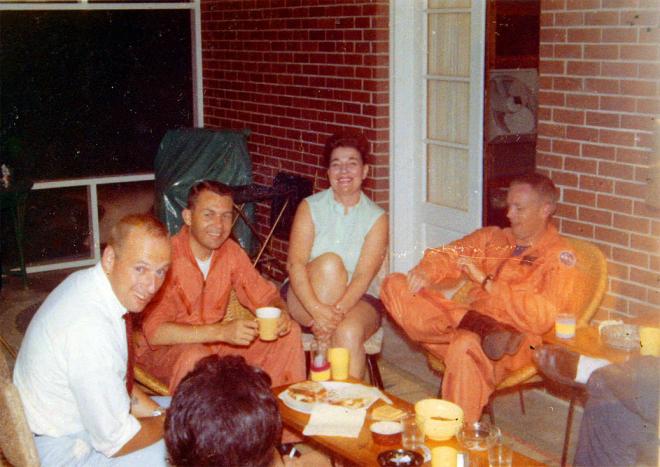 When searching for books about the 1960s and 70s astronaut training at Morehead Planetarium & Science Center, he found that there were none. He decided to research and write this history himself. Sanctioned by Morehead, he is writing two books and creating a documentary film with Argyle Rebel Films.
Neece holds a degree in physics from UNC-Chapel Hill and a MAT from Marygrove College.
For More Information
To read more about Michael Neece, go to www.michaelgneece.com or follow on Facebook or Twitter.
For information about CHAOS, access https://chaosastro.org/ or follow on Facebook or Twitter. To learn more about Morehead Planetarium and Science Center, call 919-918-1155 or go to https://moreheadplanetarium.org/.
About the Chapel Hill Astronomical & Observational Society (CHAOS)
The Chapel Hill Astronomical & Observational Society (CHAOS) is an organization focused on sharing the love of astronomy with the public with regular free sky-watching events. CHAOS welcomes everyone interested in Astronomy.
CHAOS provides friendly sessions where participants can increase their knowledge of astronomy, enjoy the wonders of the night sky, and most importantly, have fun with others in the club. Members vary widely in experience and knowledge, from beginners to professional astronomers, but all share an interest in the night sky.
CHAOS holds monthly meetings on the second Tuesday of every month at Carol Woods Community Center at 7 PM. These include some club business, discussion of upcoming astronomical events, a presentation, and some socializing. Presenters include CHAOS members, astronomy faculty from local universities, and Morehead Planetarium & Science Center staff.
CHAOS holds observing sessions twice per month, and often participates in sessions sponsored by Morehead. All experience levels are welcome at observing sessions. If you don't have equipment, you'll be welcome anyway: CHAOS observers love to share. Other club benefits include discounts on publications and membership in the Astronomical league.
About the Morehead Planetarium and Science Center
Morehead Planetarium and Science Center, located at 250 E. Franklin. St., UNC-Chapel Hill, Chapel Hill, N.C. 27514, is a unit of the University of North Carolina in Chapel Hill. Hours are Tuesday through Saturday, 10 AM through 3:30 PM, and Sunday, 1 through 4:30 PM. The Morehead Building houses the GSK Fulldome Theater, as well as the Science Stage, exhibits, and Morehead classrooms. The UNC Visitors Center, Morehead-Cain Foundation and UNC Morehead Observatory are also in the Morehead Building. In front of Morehead, along Franklin Street, you will find our large iconic sundial. Nearly 160,000 people visit the Morehead Planetarium and Science Center annually, including 85,000 schoolchildren.
Morehead's programs include classes for adults and children, special courses for teachers, summer camps for children, afterschool programs, memberships, public viewings of astronomical events and public lectures. Since 2010, Morehead has produced the North Carolina Science Festival. Between traditional onsite offerings and its state outreach, Morehead serves more than a half million people every year.