Viewing tips for the 2019 Perseid meteor shower
August 7, 2019
By Amy Sayle
The annual Perseid meteor shower is already happening, and is predicted to peak the night of August 12/13, 2019. That's a Monday evening into early Tuesday morning.
Meteors, sometimes called "shooting stars," are streaks of light that appear in the sky when bits of cosmic debris interact with Earth's atmosphere. In the case of the Perseids, the debris is left over by Comet 109P/Swift-Tuttle.
Hoping to view the Perseids on the peak night of August 12/13, 2019? Here are a few tips for optimal viewing:
Adjust your expectations. This year's peak coincides with an almost full moon that's up almost all night. The bright moonlight will hide all but the brightest meteors from your view.
2. Have what you need.
Reasonably clear skies. Not that you can control the amount of cloud cover, but you can check predictions for your location using various sources, such as ClearDarkSky.
Warm clothing. Even summer nights can feel quite chilly when you're outside for a while and not moving around.
Reclining chair or blanket. Sitting or lying down keeps you from having to crane your neck.
Your eyes. No fancy equipment is needed to view meteors.
Patience. Your eyes need time to adjust to the dimmer light at night, and meteors can come in clumps with long minutes in between. There's also that moonlight problem this year, which will prevent you from seeing as many as you might otherwise. Try staying outside at least 30 minutes.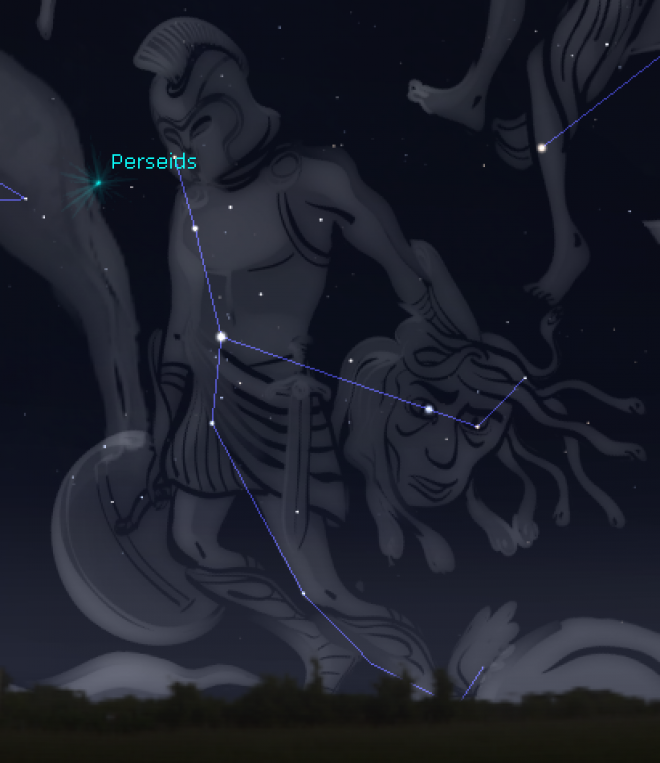 3. Choose a time to look. We often advise people wanting to see the most Perseids to go out during the last dark hour before dawn, approximately 4 to 5 a.m. for the Triangle area. This year, though, there will be bright moonlight for much of that hour on Tuesday morning, August 13. Even from an otherwise dark site you likely won't see the usually stated average of a Perseid meteor or more per minute during the early morning hours that day.
Therefore, you may wish to choose late evening on Monday, August 12, 2019. Or you could aim for the small window between when the Moon sets and when the sky starts to brighten from the approaching sunrise, roughly around 5 a.m. and a bit before, on Tuesday morning, August 13. You can check moonset and astronomical twilight times for your specific location at the US Naval Observatory's Astronomical Applications website. This site provides standard times; add 1 hour to convert to Daylight Time.
Also consider doing some viewing pre-dawn on the days before the peak, such as the early mornings of Friday, August 9 through Sunday, August 11, 2019, when moonset is earlier.
4. Look toward the darkest part of your sky. The meteors are called Perseids because they appear to radiate away from the direction of the constellation Perseus. But you do not need to know how to identify Perseus to see the meteors. They can appear in any part of the sky. Try looking away from the Moon (if it's up) and toward the darkest part of your sky.
5. Choose a viewing spot. Find a dark spot with an open view of the sky. If you have a small telescope or a pair of binoculars, you may be able to view three of the very best objects: Saturn, Jupiter, and the Moon.
What if the weather is terrible for the Perseids this year? Well, we always have clear skies inside Morehead Planetarium. See some (simulated) Perseid meteors and hear the famous story of how Perseus killed Medusa and rescued Andromeda, by joining us on Saturday, August 10, 2019, at 3:30 p.m., at Star Families: Greek Myths and Legends. Check out other upcoming Star Families program sessions here.