The All-New MPSC
Discovery, Reimagined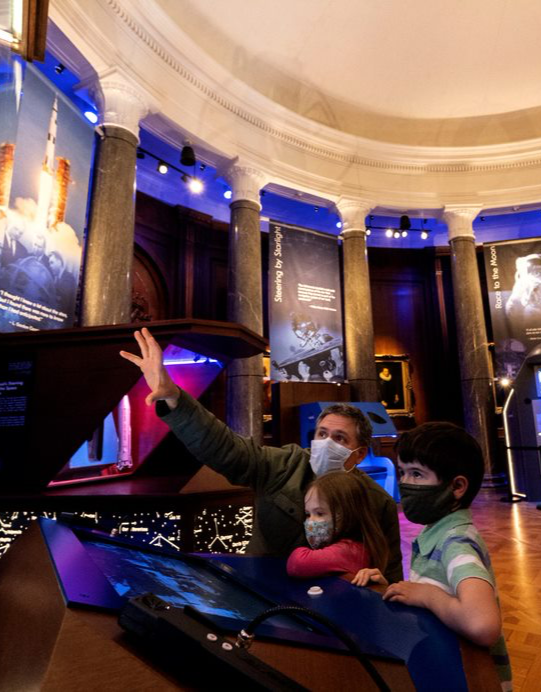 The All-New Morehead Planetarium and Science Center represents the process of discovery, reimagined!
After a $9.2 million renovation, the new Morehead embarks guests on their own journey of learning while telling the story of research and innovation at UNC-Chapel Hill. Visitors will be treated to state-of-the-art exhibits, new and revamped planetarium shows, and a safer, more accessible Morehead.
When Morehead opened in 1949, scientific discovery changed dramatically as it was the first planetarium on a college campus, upholding UNC-Chapel Hill's reputation as one of the world's premier institutions for innovation and discovery. To make sure that mission is honored, we've changed everything yet again. Take a look around and see what's new!
The new exhibits at MPSC are a tour of science past, present and future, and a chance to feel like a scientist yourself.
Box Office & Entrance
Visitors will now enter through the easily accessible west entrance of the building and into the Joan Gillings Atrium with a box office area. This change puts visitors in front of exhibits the moment they walk in, signifying Morehead's development into a full-service science center, as opposed to solely a planetarium.
Ivan R. King Gateway Gallery
The Gateway Gallery is located in Morehead's rotunda and contains exhibits that tell the history of UNC-Chapel Hill and Morehead. Guests may also enjoy the building's historic portrait gallery in this space.
Breakthrough Hub: A Lab to Life Exhibit
The Breakthrough Hub is an exhibit space that focuses on research UNC-Chapel Hill scientists are currently conducting. There are nine exhibits exploring five themes: Public Health, Astronomy, Marine Science, Plant Ecology, and Biomedical Engineering.
Hidden No More
The Hidden No More project allows visitors to explore the relationship between light and color through hands-on activities, virtual reality experiences, and more. This project will continually be updated to highlight the range of contributors to STEM fields today and throughout history.
To The Moon and Back
This life-sized exhibit commemorates the historic mission to the moon and highlights the impact of the space race.
Launch Lab
The Launch Lab is Morehead's new tinker space where visitors can participate in self-guided activities promoting discovery and exploration through hands-on, maker-centered activities. The Lab is complete with open worktop spaces, tools, and a 3D printer!
Science Stage
This exhibit has been updated with new audio and visual technology to enhance Morehead's science education programming. Visitors can enjoy live science demonstrations by a Morehead educator or participate in special events.
Morehead has always been known for the dynamic, entertaining, and educational fulldome shows we offer. Today, we have one of the best show catalogs we've ever had. Our show schedule is always changing too, so you may see something for the first time on repeat visits. Check out some highlights of our new and revamped shows in regular rotation:
Our Violent Planet: Earthquakes, Volcanoes, and Tsunamis
One of Morehead's newest shows, this fascinating presentation examines Earth's massive tectonic processes, and explores the powerful and occasionally disruptive "growing pains" of our home world.
Astronaut
Narrated by renowned actor Ewan McGregor, this show echoes Morehead's history of training astronauts for space navigation. Launch off into space from the point of view of an astronaut and witness the effect of space travel on the human body.
Tales of the American South
A break from our typical fare of science shows, audiences can experience a dramatic and important story of the South's past, present and future in this full-dome film.
Carolina Skies
Our longest running show where no two shows are alike! This "live" star show takes Morehead visitors on a guided tour of the nighttime sky as it appears at that moment. The MPSC classic also features a new "fly-out" that travels far from our Solar System and into our universe!
These shows and more are shown in our state-of-the-art GSK Fulldome Theater that has been outfitted with new seats, carpets and paint, and has become a more ADA compliant space.
MPSC believes that science is for everyone and there should be no barriers to learning; our new accessibility-centric updates put those beliefs into practice.  We've also spent a long time figuring out how to reopen safely. Now equipped with great resources, we are confident we have made a safe and healthy environment for all guests.
ADA Upgrades
Built in 1949, our historic building required extensive renovations to bring the MPSC into compliance with the Americans with Disabilities Act (ADA). Visitors can now access every floor via newly installed ramps and elevators.
Special Needs Accommodations
MPSC will make accommodations for guests with special needs upon request. Such requests, with more information on our capabilities, can be made by contacting our Guest Services staff at mpsc_tickets@email.unc.edu and 919-962-1236
COVID Precautions
New cleaning and sanitization procedures have been implemented in accordance with CDC guidelines.