Morehead in Motion: Lab to Life
PROGRAM TO RETURN 2023
This program is currently unavailable and will resume in Winter 2023. The reservation request form for this program in the 2022-23 school year will open in August 2022 (with a confirmation in Fall 2022)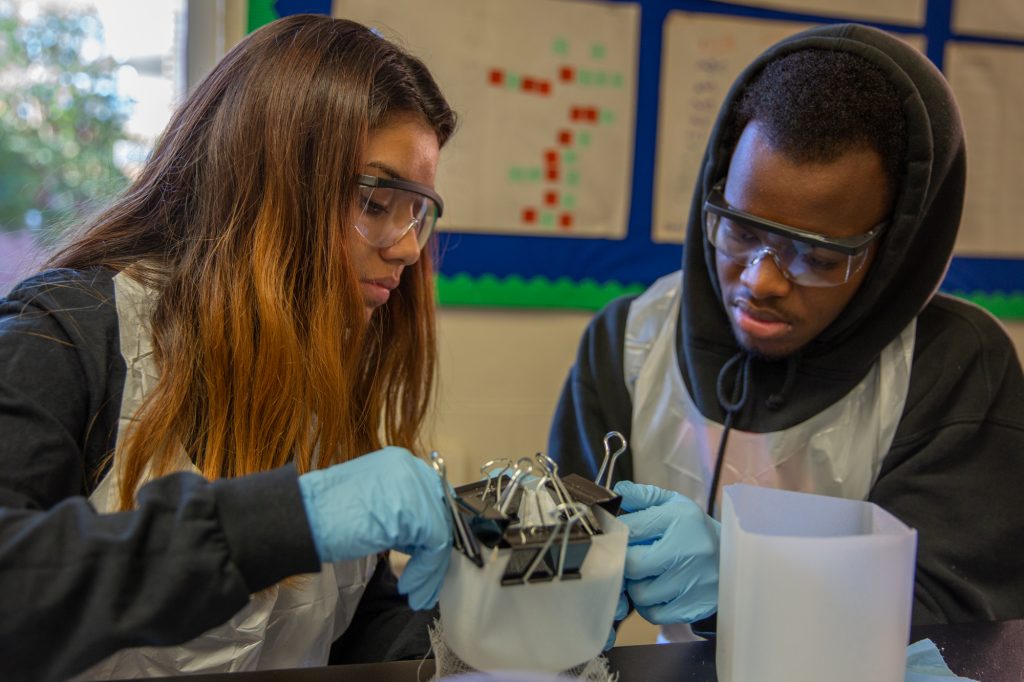 Lab to Life is a selection of hands-on, narrative-driven lessons for middle and high school students.
Students will take on the role of a scientist performing an everyday task or investigation that they might do as part of their job. Through these chemistry- or biology-focused labs, students will have a chance to experience what it would be like to work in a variety of STEM careers and see the direct application of the skills and standards they are learning in their classes. Lab to Life curricula strive to cover the diversity of STEM itself and include both laboratory work and field work. See below for program options.
Lab to Life
For Grades 6-12
Length: 75-90 minutes
Maximum participants: 30 students per session
Maximum sessions: 3 per day
Base Fees
One-day visit: $350
Each additional, consecutive day: $175 per day
Travel Fees
Sites within 90 miles of Chapel Hill: $50 per day
Sites more than 90 miles from Chapel Hill: $200 per day
All travel fees are calculated using Google Maps.
Maximum participants: 30 students per session. Please see COVID-19 Safety Precautions for Lab to Life for details.
Scholarship assistance is available pending qualifications.
The earliest time class can start is 8:30 A.M. This is due to the amount of time it takes to initially set up the lab stations, which can be up to 90 minutes.
Labs are led by a Morehead educator. A school staff member must be present during labs.
A staff member must also be present to greet the educator when they arrive at your school. This person should be available to help unload and set up.
If your visit is for one day, the lab must be in the same location all day. If your visit is for multiple days, the lab should remain in the same location for each day.
Visits canceled two weeks prior to visit date are eligible for a refund of fees. Visits canceled less than two weeks prior to visit date are not eligible for a refund of fees. Morehead may waive this policy if the visit is canceled due to school closure for inclement weather, fire or other emergency condition.