Morehead in Motion: Lab to Life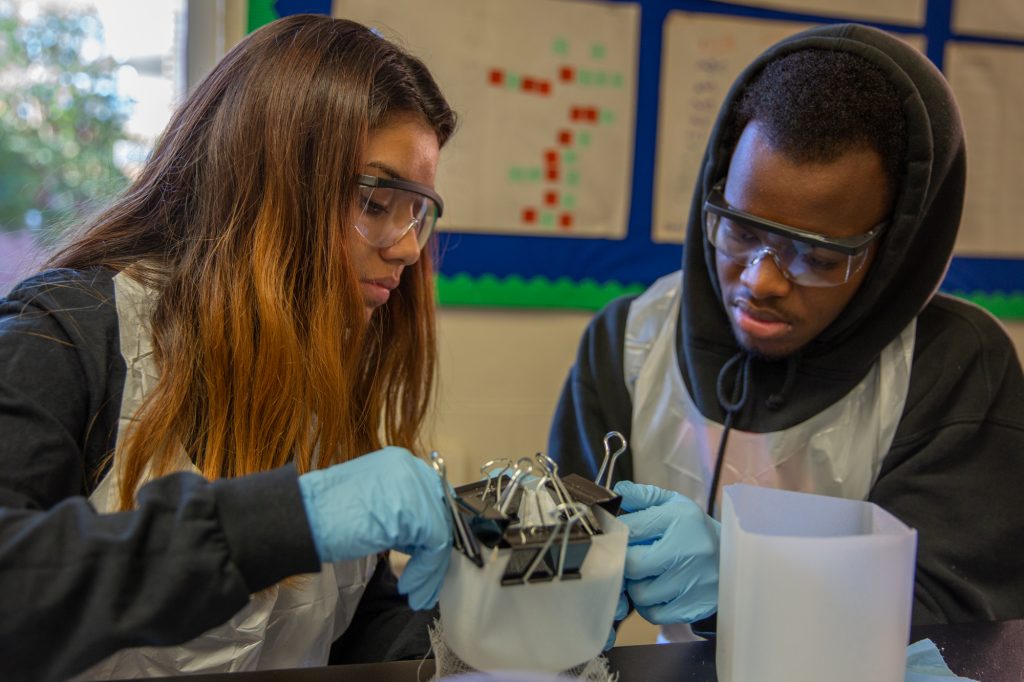 Lab to Life is a selection of hands-on, narrative-driven lessons for middle and high school students.
Students will take on the role of a scientist performing an everyday task or investigation that they might do as part of their job. Through these chemistry- or biology-focused labs, students will have a chance to experience what it would be like to work in a variety of STEM careers and see the direct application of the skills and standards they are learning in their classes. Lab to Life curricula strive to cover the diversity of STEM itself and include both laboratory work and field work. See below for program options.
Lab to Life
For Grades 6-12
Length: 90 minutes
Maximum participants: 30 students per session
Maximum sessions: 3 per day
Recommended for Biology, Applied Science, Anatomy and Physiology, Allied Health, or 7th and 8th grade science
Students will use an Enzyme Linked Immunosorbent Assay (ELISA) to test for a simulated antigen with real antibodies. This lab can be used to model how those in science and medical careers use this process to screen hypothetical patients for disease, test water samples for toxins, or another narrative that you request.
Recommended for Biology, Earth/Environmental Science, Forestry courses, Trigonometry, Geometry, or 6th, 7th, or 8th grade science.
Investigate complex relationships between organisms and the physical and biological environment, as well as the movement of energy and materials within an ecosystem. Employ various environmental sampling technologies to determine the disposition of both biotic and abiotic factors within an assigned study site. Students can also use and learn forestry techniques and tools to measure the size, weight, and carbon content of trees.
NOTE: This lab is conducted outside. As such, it is weather-dependent and is offered only in September, October, late March, April, and May.
Recommended for Biology, Forensics, or Oceanography courses.
Become an oceanographer and use gel electrophoresis (aka DNA restriction analysis) to analyze simulated seawater samples to detect environmental DNA in order to search for and document new species that call the ocean's mysterious twilight zone home.
Recommended for Biology, Anatomy and Physiology, Allied Health. 
Discover the molecular basis of sickle cell disease and use gel electrophoresis as a diagnostic tool to differentiate wild-type hemoglobin from mutated hemoglobin found in individuals with sickle cell disease.  Module developed by Boston University School of Medicine CityLab.
Recommended for Chemistry, Earth/Environmental Science, Biology, engineering courses, or 7th or 8th grade Science.
Investigate water chemistry and purity in this lab. We'll discuss pH to see the connections between water, acid/base chemistry, and life. Then, we'll simulate part of the water treatment process by creating a custom filter to clean a sample of polluted water.
 Recommended for Physics, Earth/Environmental Science, Physical Science, Biology, or 6th, 7th, or 8th grade science. 
Learn the fundamentals of all of our electrical power generation by researching the relationship between electricity and magnetism, and how this led to the development of the electric motor. We'll discuss renewable and nonrenewable energy sources, and engage in the engineering cycle to create a prototype hydroelectric turbine.
Base Fees
One-day visit: $300
Each additional, consecutive day: $150 per day
Travel Fees
Sites within 90 miles of Chapel Hill: $50 per day
Sites more than 90 miles from Chapel Hill: $200 per day
All travel fees are calculated using Google Maps.
Scholarship assistance is available pending qualifications.
The earliest time class can start is 8:30 A.M. This is due to the amount of time it takes to initially set up the lab stations, which can be up to 90 minutes.
Labs are led by a Morehead educator. A school staff member must be present during labs.
A staff member must also be present to greet the educator when they arrive at your school. This person should be available to help unload and set up.
If your visit is for one day, the lab must be in the same location all day. If your visit is for multiple days, the lab should remain in the same location for each day.
Visits canceled two weeks prior to visit date are eligible for a refund of fees. Visits canceled less than two weeks prior to visit date are not eligible for a refund of fees. Morehead may waive this policy if the visit is canceled due to school closure for inclement weather, fire or other emergency condition.
COMING SOON
Starting in Spring 2020, we will offer Morehead in Motion: Earth and Beyond for grades K-12.